On Tuesday, Crystal Hefner posted an update to her social media accounts, revealing to her fans that she removed her breast implants after they caused several major health problems and bad side effects.
In the photo, posted on her Instagram and Facebook pages, the 30-year-old Playboy model — who's been married to Hugh Hefner since 2012 — is seen lying convalescing on a hospital chair, wearing a blue gown, a robe and a towel resting on her forehead — an IV line attached to her hand.
"My Breast Implants Slowly Poisoned Me," she titled her post.
"Intolerance to foods and beverages, unexplained back pain, constant neck and shoulder pain, cognitive dysfunction (brain fog, memory loss), stunted hair growth, incapacitating fatigue, burning bladder pain, low immunity, recurring infections and problems with my thyroid and adrenals," she wrote.
Hefner went on to explain that symptoms started a few years ago but she ignored them, despite the fact that she was not feeling well.
"The aches, the bladder pain, brain fog, fatigue. I ignored it, labeling myself a hypochondriac, despite truly worrying that there was something wrong with me. I joked about losing my memory to age, and about getting 'lazy.'"
As the negative side effects worsened, her work as a model and DJ suffered.
"I began to cancel appointments and shoots because everything exhausted me," she said. "I've had days in 2016 when I couldn't get out of bed. I've felt such despair knowing life was happening all around me but I couldn't participate... the fatigue was so severe that I could barely leave the house or drive. I was afraid to get up there in front of a crowd and go blank with brain fog."
She also had to cut down keeping up with her demanding social media schedule, instead, posting old photos to stay active on her Twitter, Instagram and Facebook pages.
"I joked about losing my memory to age, and about getting 'lazy.'"
After announcing that she had been diagnosed with Lyme Disease and toxic mold, commenters said her symptoms were similar to the effects of those suffering from Breast Implant Illness.
She became a patient at The Lu-Jean Feng Clinic in Ohio, where, after discussing it with Dr. Lu-Jean Feng, she had her implants removed.
"Instantly I noticed my neck and shoulder pain was gone and I could breathe much better," she wrote about how she felt after the surgery. "I know I won't feel 100% overnight. My implants took 8 years to make me this sick, so I know it will take time to feel better. I also have other illnesses to address, but with the toxic bags removed, my immune system can focus on what it needs to."
On Wednesday, the Playmate took to Instagram to reveal her smaller chest, calling herself "The new me."
"Using 2016 to reclaim my health and embrace and love myself for the real me," she wrote on her Instagram page. "Thank you for the overwhelming support on my post yesterday, I love you. ❤️
Here's to wishing Crystal a safe, and healthy recovery.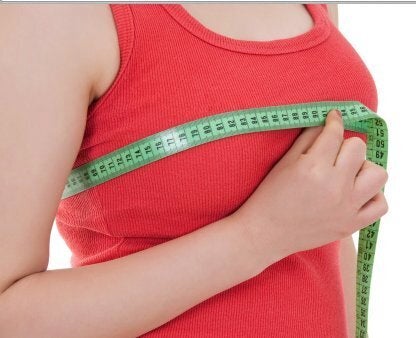 10 Things You Don't Know About Breasts
Popular in the Community