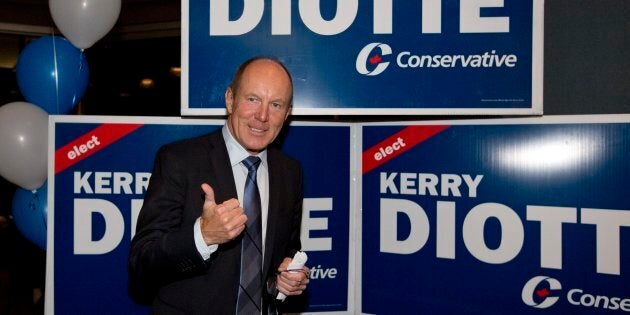 Almost two weeks after threatening legal action against some Twitter users, Edmonton MP Kerry Diotte is suing a student newspaper for calling him racist.
The Gateway at the University of Alberta published a news story and editorial online earlier this month that criticized Diotte for supporting white nationalist Faith Goldy. Diotte claims the articles made "unfounded and defamatory comments" and he is seeking $150,000 in damages through the defamation lawsuit. If he wins, Diotte said he will donate the money to an Edmonton charity.
"I find racism and racists abhorrent," Diotte said in a Facebook statement Monday. "My grandmother was an indigenous woman and my family has been on the receiving end of deplorable and racist comments. My constituency of Edmonton Griesbach is made up of very ethnically diverse communities and I'm proud and happy to serve them."
After receiving Diotte's notice to sue for defamation, The Gateway retracted the statements within the articles, added an editor's note, and apologized. "The Gateway is in the process of reviewing the statement of claim, and will be filing a statement of defence in due course," said a statement from the newspaper.
Canadian University Press (CUP), an organization of post-secondary campus publications, said The Gateway's actions of retracting and contextualizing comments and adding editor's notes were an appropriate remedy.
"Mr. Diotte's choice to continue in his pursuit of legal action against The Gateway shows that his intentions go beyond protecting his own reputation and extend onto the dangerous territory of stifling and financially devastating an independent student publication," CUP's communications officer Kurtis Rideout told HuffPost Canada.
Diotte filed the lawsuit because The Gateway did not "fully retract and apologize for the damaging articles," the MP said.
"Kerry Diotte has been injured in his personal credit, character and reputation as a citizen, in the practice of his profession and has been brought into public scandal, odium and contempt," said the statement of claim filed on Monday.
It comes a week and a half after Diotte threatened legal action against at least four people in their early 20s who called him "racist" on Twitter. Diotte has so far not pursued claims against them in court, even though two people, including Edmonton writer Bashir Mohamed, left their tweets up.
Mohamed's tweet referenced a February 2017 tweet from Diotte's account that praised Goldy for "making media great again." The Gateway included those tweets the articles that Diotte is suing over.
Diotte denies supporting Goldy, who lost her job with far-right outlet Rebel Media after she gave sympathetic coverage to white supremacists at the 2017 Charlottesville rally.
"The most dangerous and disturbing comment was that I was referred to as 'a racist' in not one, but two articles," Diotte said. "It was also falsely alleged I supported candidate Faith Goldy in her campaign to be mayor of Toronto."
Silencing criticism
While there are circumstances where politicians may need to protect their reputation in court, it's not the ideal way to quell criticism, said Cara Zwibel, director of fundamental freedoms at the Canadian Civil Liberties Association.
"Anytime you resort to courts, it sends the message criticism is going to result in punishment in court," said Zwibel. "People should have the opportunity to express opinions about someone without fear they'll end up in court."
Zwibel pointed to "counter speech" as a way politicians can respond to criticism while staying away from lawsuits. Counter speech could mean a politician has their say on social media, or requests that publications issue corrections and apologize.
It's important politicians have a thicker skin than the rest of us.Hilary Young, University of New Brunswick
Alberta has no legislation to protect people from lawsuits intended to censor or intimidate critics. Such cases are known as SLAPP, strategic lawsuits against public participation. But if Alberta did have such a law, the defence would likely argue this case fits the definition, said Hilary Young, a law professor and defamation expert at the University of New Brunswick.
"It's important politicians have a thicker skin than the rest of us," Young said. "The concern is that people with democratic power can silence criticism by threatening lawsuits, and that's a really big problem."
While calling someone a racist is defamatory, the Edmonton newspaper will have the chance to prove the statements are true or a product of responsible journalism as part of the legal proceedings, said Young. The Gateway will also have to show that it checked the facts and gave Diotte the opportunity to respond, and in the case of the editorial, that it counts as a fair comment of opinion, she added.
As a former journalist and former director of the Canadian Association of Journalists, Diotte said he's "a strong defender of free speech."