Quebec's new Minister of Health and Social Services, Gaétan Barrette, has longed to take this post for many years. He likely has a clearer vision of the changes he would like to make than the vision espoused by the Liberal Party during the election campaign. I am not under any illusions about the nature of his intentions, but what I would like to see is an attitude of openness towards what stakeholders such as our unions have to say to him. Because workable solutions for the health and social services network have one thing in common: they will rally all workers and they will be pragmatic, rather than ideological.
The pile of files awaiting the minister is high. As president of a union federation that has a presence in every department of every type of institution in the network, I know that resources are stretched to the limit. It's a miracle something hasn't snapped. There are some projects that are top priority, in my view, because they will help right the ship, change the culture. I list five here. Where would you start?
New governments are always quick to comb through the spending habits of the former regime. It's a healthy exercise, clearly. Yet, they rarely examine the impact of the budget cuts introduced by their predecessors with the same fervor. Now, after nine years of neoliberal measures by the Liberal Party and 18 months of the PQ, which didn't really stray from the path in that respect, the impacts are numerous and very concrete. The never-ending shrinkage in the level of services and coverage is there for all users of public services to see, not to mention the workers who diligently endeavour to maintain them. Every cut has a direct impact on service. Institutions no longer have room to manoeuvre. This opinion is shared even by the AQESSS, which has asked the government to tell it what services to carve away if the cutbacks continue.
I expect to see a Minister of Health and Social Service defend government services rather than unrealistic budget cuts. In the name of transparency and openness in particular, please don't tell us yet again that new cuts can be made without an impact on service. This is an impossibility that we witness for our own eyes every day.
Outsourcing, privatization, private personnel agencies, private surgical clinics, private insurance, management contracts, public-private partnerships, transferring users from public to private services... more and more chinks are appearing in the foundations of our public system. The private sector is often seen as a short-term solution to deal with the system's inefficiencies. Sometimes, local administrations make this choice, not knowing what else they can do to live within their budgets in this difficult context. Resorting to private sources is often funded from other envelopes than the general budget, allowing institutions to maintain service even though it costs the taxpayer much more in the end. Elected officials may also be tempted to do it, more often out of ideology or a desire to thank the friends of the government than out of a genuine desire to improve service.
We can hope that the PPP furor has died down, given the failures observed in health institutions in terms of cost control and management transparency. However, to come full circle, these institutions need to be reincorporated into the public sector. Any Minister of Health and Social Services worth his salt must take the consequences of privatization seriously: less transparency, less accountability, higher costs, primarily due to the need to turn a profit, and loss of control and expertise in the public sector.
Most of the time, there are public solutions to real problems, regardless of what the problem is. It is preposterous that all too often we don't even take the time to truly assess the problem before we hand it off to the private sector.
Workers in the health and social services network are its greatest asset. They have the technical and professional knowledge, they are the experts in our industry. In most workplaces where changes have been made for the better, whether in terms of work structure or services, it has been done in conjunction with, and often at the instigation of, employees. To improve services, we must urgently recognize the contribution of wage earners in all departments at all institutions. We must rely more heavily on the professional autonomy, professionalism and expertise of workers. Increasing the number of managers, resorting to management methods used in private sector assembly lines and increasingly making use of outsourcing: these moves aggravate the situation more than they improve it.
Social services is the forgotten cousin in the Ministry and the services provided to young people in distress, particularly at youth centres, are worthy of serious attention. For decades, we have not collectively questioned the level and value of services for troubled young people, whether they need better family support or whether, in the case of those without close family, they actually need long-term housing and support. Their reality is often harsh and sad. Our network accomplishes small miracles every day with these young men and women who many believed were lost. This success rests entirely on the shoulders of devoted case workers who feel increasingly bereft of support and who see budget constraints endangering everything they have worked patiently to accomplish.
Compensation: Attract the Next Generation
Last but not least: compensation. Addressing this issue pragmatically, we must first acknowledge that wages in the public sector lag behind the rest of society. Since 2004, wages have increased on average barely 1% per year, significantly below the inflation rate. As a result, public sector compensation is behind the times. Employees outside the public sector can expect to earn at least 8 per cent more than their private sector counterparts for the same work. This statistic comes from the Institut de la statistique du Québec (ISQ), a government agency, and it takes into account both benefits and number of hours of work. The myth of the public sector "fat cats" is simply that: a myth.
Half of all workers in the health and social services network earn less than $40,000 per year. Most jobs in the health network require a college or university education. Now more than ever, the network needs people to take over the reins, as we enter the most intense period of labour renewal we have ever seen. The government cannot ignore these facts and consider yet again freezing government employee wages, as I was stunned to read in the newspaper on Tuesday. Competition for top candidates among employers in the job market is fierce and it will only increase. The public sector needs to become a prime career choice once more.
We will begin talks soon. We believe that the common good for users and the general public alike dictates a pragmatic approach. Attempting yet again to balance public finances on the backs of public employees would do serious damage to the future of the public system. The new Minister of Health and Social Services, in his former position as President of the Federation of Medical Specialists, fought to give physicians alone a 30 per cent share of total system compensation, under the guise of wage adjustments. He should understand that the health care system is much, much more than physicians and that regular employees, unlike physicians, have been getting poorer by the year for the past 30 years. We will not ask for wage parity with the other Canadian provinces, as the medical specialists did. Our demands will be both reasonable and justified. It would be a mistake not to listen to us.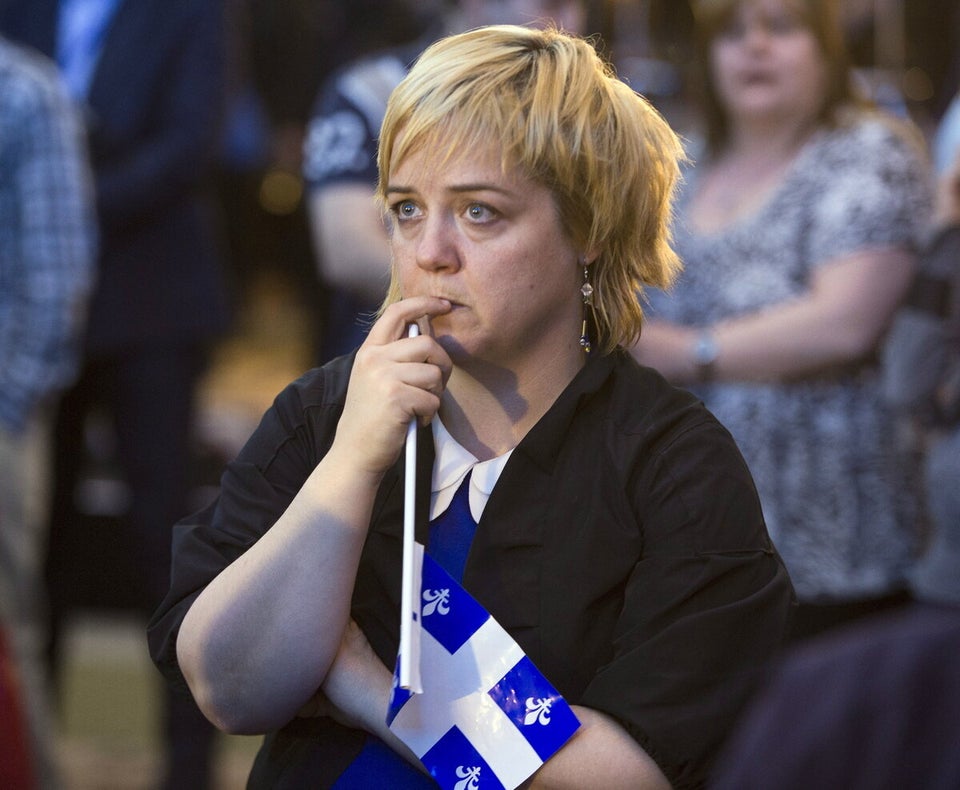 Quebec Election 2014 Day In Pictures
Popular in the Community