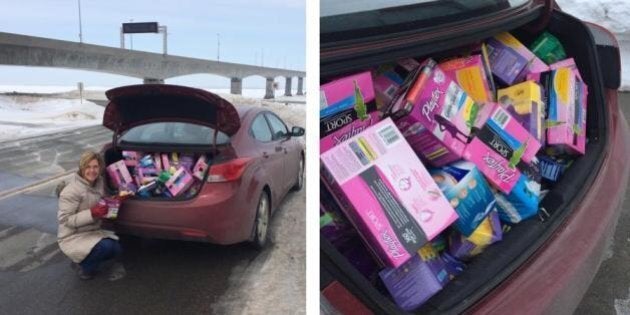 "Because I had never thought of such a thing until I read the story, I could assume others also had not," she tells The Huffington Post Canada. "So I talked to ladies in a dining group that I am part of -– they indicated that they never would have thought to donate such a thing to food banks, adding that it was expensive to purchase products. Comments on the Facebook page confirmed many others never thought of donating feminine hygiene products and that's essentially why people were inspired to share the idea."
As Comeau adds, the issue affects the unemployed and working poor as much as the homeless. "Food insecure families are on the rise across the country. I know my feminine hygiene product purchases come from my grocery budget, so I can assume that is the case for many others."
Kicking off last month, the 28-day effort has seen considerable success in the province with 18 collection boxes spread out across the island in pharmacies, grocers, fitness centers and elsewhere, with the number of donations closing in on their goal of 1000 boxes by March 28. People have also been spreading awareness on social media — and as you can see in the slideshow below, it's not just women.
"I'm so impressed with the number of men engaged in this campaign. I think it's opened up the subject. One man who was part of the crew filming the CBC interview looked at the display of feminine hygiene products behind me and said, 'my daughter is 12 years old and I know nothing about these. I mean nothing,' and indicated he was going to learn. I call that progress."
She notes another man from Ontario sent $100 to his cousin to buy products for the campaign, out of respect for his grandmother and aunt who raised him.
Of course, the issue also exists off Prince Edward Island as well. As HuffPost's Eleanor Goldberg wrote in the piece that inspired this campaign, "the fact that menstruation is a taboo topic to begin with means that people who are able help often aren't even aware that such a vast need exists."
In a recent feature called "Hygiene and heartache: Homeless women's daily struggle to keep clean," Al Jazeera America spoke to a shelter worker who said they were running out of tampons and there was only one contribution during a donation drive last fall. "When you get to specific items like female hygiene products, you have to specifically ask for it," she said.
"It's one of the most-requested, least-received items," a staffer told her, adding that people just think of food, not menstrual products when donating. This is where raising awareness can make a concrete difference.
The column reached radio personality Michelle Cattani on QX 104 FM, who organized a "Winnipeg Women Helping Women" drive, telling Zoratti, "I thought that was shocking. And I personally never thought about it as a donation."
Numerous pharmacies and grocery stores came on board and others donated directly to Winnipeg Harvest, increasing their number of menstrual products twentyfold in days. By the end of the QX drive, 700 pounds of feminine hygiene products had been gathered for donation.
The "Taking Care of Women's Business. Period" campaign ends this Saturday, but the monthly need in P.E.I. and everywhere else does not.
Comeau's efforts have raised awareness across the country and beyond thanks to social media, inspiring many to donate directly to their local food banks. She also hopes that parents and grandparents begin talking about periods more openly, so that it stops being an uncomfortable topic, and that her campaign becomes just one of many.
"All it takes is one more person to get a spark of the idea to collect for their local food bank," she says. "I'd be happy to help anyone who feels inspired to do so in their community."