Canada is reeling on Wednesday with news that Gord Downie, lead singer of The Tragically Hip, has passed away at the age of 53 from terminal brain cancer.
Downie died Tuesday night "with his beloved children and family close by," the band said in a statement on its website Wednesday morning.
Downie, a father of four and husband of Laura Leigh Usher, was diagnosed with cancer in December 2015. The band officially announced the singer's disease in May 2016 before embarking on their final tour together.
In the wake of his diagnosis with glioblastoma, the musician became a symbol of perseverance in the face of his mortality.
"Gord knew this day was coming — his response was to spend this precious time as he always had — making music, making memories and expressing deep gratitude to his family and friends for a life well lived, often sealing it with a kiss on the lips,'' said the statement, which was attributed to the Downie family.
"Gord said he had lived many lives. As a musician, he lived 'the life' for over 30 years, lucky to do most of it with his high school buddies. At home, he worked just as tirelessly at being a good father, son, brother, husband and friend. No one worked harder on every part of their life than Gord. No one.''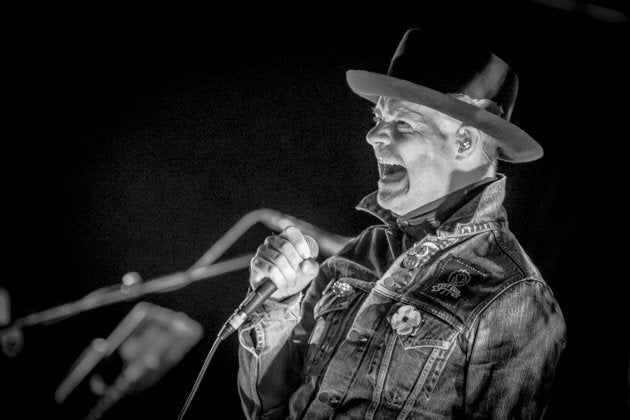 The Tragically Hip: Childhood friends and bandmates
Born in Amherstview, Ont., Downie is widely recognized as a Canadian icon. From writing songs about small towns like Bobcaygeon and making nods to landmarks like Algonquin Park and the prairies in his lyrics, he mapped the country in his songs.
He penned a steady stream of 1990s rock radio staples with The Tragically Hip, including "New Orleans is Sinking,'' "Blow at High Dough,'' "Courage (For Hugh MacLennan),'' "Ahead by a Century'' and "Bobcaygeon.'' While Hip albums released in the 2000s didn't produce as many hits, the band hung on to its unofficial status as Canada's favourite rock band.
The Tragically Hip, consisting of childhood friends Downie, Bobby Baker, Gord Sinclair and Johnny Fay (with Paul Langlois joining later), formed in Kingston, Ont. in 1983. They rose to fame with a show at Toronto's Horseshoe Tavern in 1986.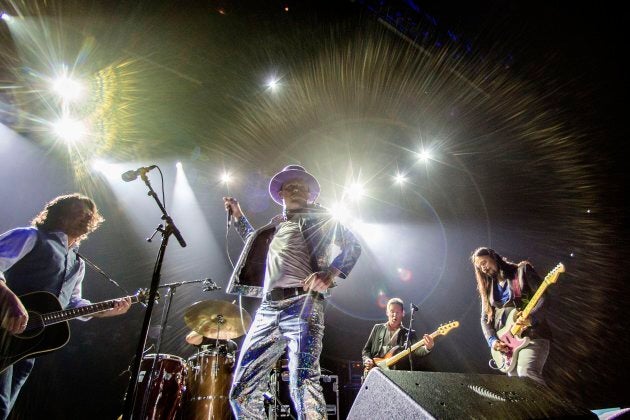 They went on to establish themselves as one of the country's greatest bands, getting inducted into the Canadian Music Hall of Fame, winning 16 Junos, and being one of very few Canadian bands to perform on "Saturday Night Live."
The Hip was frequently described as quintessentially Canadian, but Downie had dismissed the suggestion that he set out to celebrate his homeland in song.
"I haven't written too many political lyrics,'' he said in an interview with The Canadian Press in 2014. "Nor have I written any pro-Canada lyrics, any kind of jingoistic, nationalistic cant ... That stuff doesn't interest me and I don't even know if I could write that if I tried because I don't really feel it."
As an entertainer, Downie had a style of his own that his audiences wholeheartedly embraced. His voice took the best of Michael Stipe and Neil Young, and his signature dance moves were emotional expressions of his poetic songs.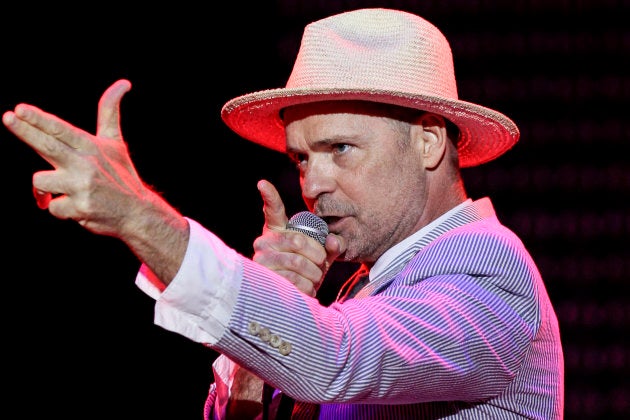 Downie's reputation for adding monologues to songs during live performances was started with a memorable rendition of "Highway Girl,'' which fans nicknamed the "double suicide rant'' version. Part of the mid-song rant would later make up the lyrics of the song "Locked in the Trunk of a Car.''
But it was the live "killer whale tank'' version of the fan favourite "New Orleans Is Sinking,'' off the band's 1989 followup "Up to Here,'' that cemented his legacy as a unique live performer always capable of surprising an audience.
In an interview with Peter Mansbridge in October 2016, Downie said the band's national tour was everything he'd hoped for an more.
"I took my time, I played every other day. So as far as a singer, it was just heaven on Earth," he said. "And all these sorts of provisions were made for me. Just every fantasy I've ever had for a show was coming true."
'Music brings people together'
But Downie was not merely a musician — he was a man who never feared speaking out about causes close to his heart.
"Social causes are quite obvious. Music brings people together. So my function in anything I do is to help bring people closer in,'' he said.
One of Downie's final projects, Secret Path, brought attention to the story of Chanie Wenjack, an Indigenous boy who died after running away from his residential school. The album, accompanied by a graphic novel and film, shone a spotlight on a topic that Downie believed had been ignored for too long.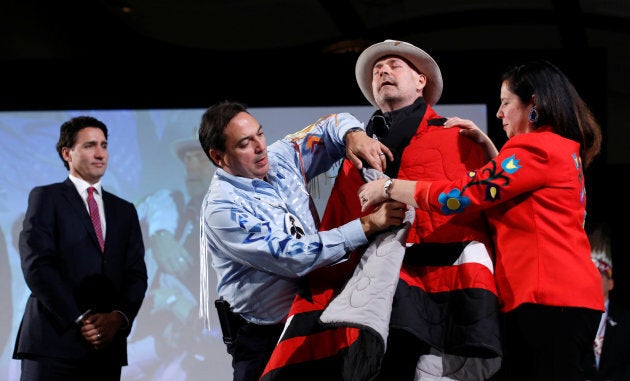 "First Nations have many many many stories like this one," he said in a pre-recorded acceptance speech during the Juno Awards in April, where Downie won three awards for the work. "My dream would be that this record, with Jeff Lemire's drawings, might help people. Might give teachers to help teach our young ones. This next generation will be the first among us to really, truly know about our country's worst aspects."
After receiving the news about his cancer, Downie decided he needed to do this project before he died. With it, he also created a foundation called "The Gord Downie and Chanie Wenjack Fund" that would help bring awareness to the Canadian Indigenous communities.
In June, Downie was inducted as a member of the Order of Canada for his work in raising awareness of Indigenous issues. He was also set to be honoured by the Order of Canada along with his bandmates for "their contribution to Canadian music and for their support of various social and environmental causes.''
The Tragically Hip's last release, "Man Machine Poem,'' won the Juno for rock album of the year, and the band also took home the group of the year prize, which was its third time winning the award, among 11 nominations.
Prime Minister Justin Trudeau was in tears on Wednesday as he paid tribute to Downie and how he devoted the last chapter of his life to advocating for the rights of Canada's Indigenous Peoples.
"He loved every hidden corner, every story, every aspect of this country,'' Trudeau said.
"He wanted to make it better, he knew as great as we were we need to be better than we are. That's why this last year's been devoted to Chanie Wenjack and to reconciliation. This is something I've certainly drawn inspiration and strength from.
"We are less without Gord Downie.''
With files from The Canadian Press.