One of the best things about social media is that it can bring families together even when they're far apart. One grandfather is a shining example of this, as he learned Instagram for the sole purpose of drawing pictures for his grandkids who moved away.
Ji Lee, a designer from New York, shared his father's sweet story in a Facebook video on Monday.
In the four-minute clip, Lee explains that his 75-year-old dad is Korean, but lives in Brazil. He used to drive his grandkids to school every day, until their parents (Lee's sister and her husband) decided to move their family back to Korea.
"After they left, there was nothing for him to do anymore," Lee explains in the video.
The family began to worry about the 75-year-old, which is when Lee got a brilliant idea: "I remembered when I was a kid, my dad used to draw for us. So I thought he could draw again and post it on Instagram."
Lee's father was completely opposed to the idea at first as he had "never heard of Instagram, never used email, not even Google." So Lee teamed up with his mom, who is far more tech-savvy, to persuade his father to come around.
Unfortunately, it didn't work. It wasn't until Lee's own son, Astro, was born that Lee's father reconsidered. He then began drawing pictures for his grandchildren every day.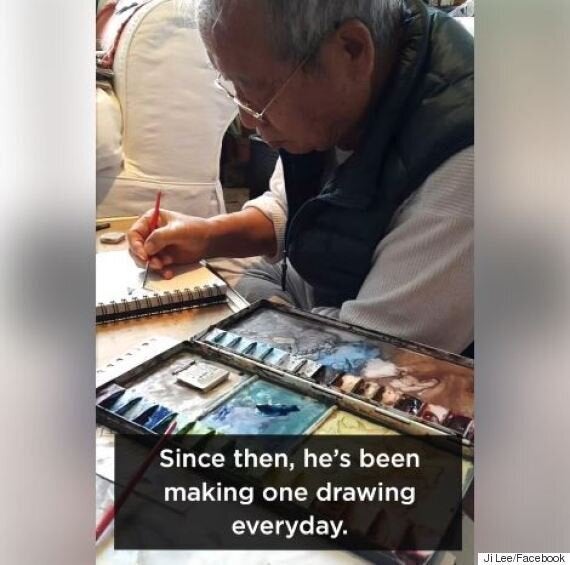 While his first drawings started off okay, the grandfather's skills steadily improved over time. He now draws images of almost anything, including plants, animals, landscapes, and even his grandchildren.
Lee's mother often writes stories for the photos, too. Together, the grandparents' Instagram posts help teach their grandkids about their Korean ancestry and culture, as well as important life lessons.
But sometimes they're just silly because, hey, kids love silly drawings.
"Because of my dad's project, our family talks to each other every day," Lee explains. "On Facebook Messenger, my mom sends the new story in Korean. Then my dad sends his drawing. I translate it into English, and my sister, into Portuguese."
After Lee posted the video about his father, it quickly went viral. In just one day, the grandfather's Instagram page went from 1,000 followers to 32,000. And now two days later, his followers are over 63,000!
"My grumpy dad had been saying his drawings are not that great and he can't imagine why anyone would be interested in them. Now, I think he will stop saying that," Lee wrote in a new Facebook post.
He also noted that the positive responses his family has received from strangers has been overwhelming.
"There were hundreds of messages saying our story inspired them to speak to their own aging parents to awake their inner passion and talent by teaching them new technologies to express themselves and connect their families," Lee wrote. "Hearing such messages was the most rewarding aspect of the whole experience so far."
Lee's father has now been drawing a picture for his grandchildren, Astro, Arthur and Allan, every day for over a year.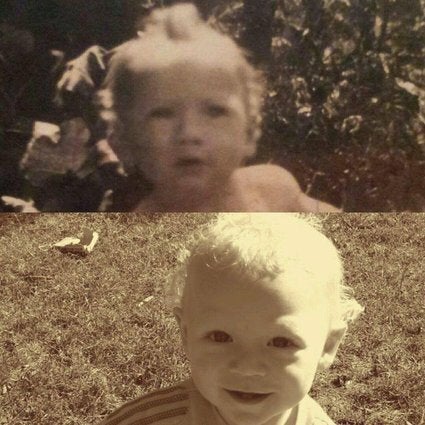 Kids Who Look Remarkably Like Their Grandparents