While the most recent projections show a close race between the New Democrats and the Conservatives (with the Liberals a little bit behind in third), let's not forget about the Green Party.
The Greens may not have a chance at winning the most seats, but they could gain some, even though the odds are not in their favour right now. In particular, the fact that Thomas Mulcair and his NDP are doing so well in the polls makes it very difficult for the Greens to win extra seats.
Elizabeth May is most likely safe in her riding of Saanich–Gulf Islands. Her victory there in 2011 was a little bit of a surprise (and was mostly owing to the strong candidacy and personal effect of May), but she doesn't have to worry this time around. If the election were tomorrow, she would have a near-100 per cent chance of winning her seat.
Some might object, saying that we can't predict anything with absolute certainty, but they should remember that the current model has never made a wrong call in such a case.
First of all, she won by almost 10 percentage points in 2011, not a small margin. Since then, the Green Party is up in British Columbia (received 7.7 per cent of the vote in 2011, currently polling in average about 9.5 per cent). The Conservatives — her main rival in the province — are down significantly. All in all, it'd be a massive and unprecedented surprise for May not to keep her seat, at least at the moment. Her performance during the first debate (and possibly the only one she'll be invited to) won't hurt her either.
The leader of the Greens probably knows that. She also knows that keeping one seat wouldn't be seen as a victory for her party this time. She wants to make gains, and the question is really: Where could they come from?
Technically, the Green Party has three MPs. Two of them were not elected under the Green banner though. Bruce Hyer left the NDP and joined the Greens at the end of 2013. He did so after being sidelined by his party over his vote in favour of abolishing the long-gun registry. He easily won his riding of Thunder Bay–Superior North in 2011, while the Green candidate received only three per cent of the vote (he had won there in 2008 as well after being defeated twice previously).
Unless Hyer takes with him half of his voters, all he can hope to achieve is to lower the NDP vote enough to allow another party (most likely the Liberals) to win. Keeping 50 per cent of the voters when switching parties is pretty much unheard of for an MP. Therefore, we do not expect him to be re-elected as a Green MP — especially not with the Green Party polling barely ahead of its provincial results of 2011.
In Quebec, José Nunez-Melo also decided to join the Green Party after being elected as a New Democrat in the "orange wave" of 2011. The difference here is that he actually failed to win the nomination in his riding this year. He thus decided to switch only after he wasn't allowed to run for the NDP. And the new riding of Vimy (where he's running) is quite unfriendly for a Green candidate.
The transposition of votes gives this party only 1.9 per cent. Given that the Greens aren't doing particularly well currently in Quebec (actually polling below their 2011 numbers), it'd be shocking for Nunez-Melo to win. On top of that, he can't realistically expect to keep as much of his past vote as Hyer, who had been involved in politics and elected in his riding for a longer time.
It seems the Green Party can't really expect much from its two "acquired" MPs. Nevertheless, there is one electoral district where they almost won a byelection in 2012. Donald Galloway came within three percentage points of beating the NDP in Victoria. For the Green Party, this represented a swing of 22 points compared with 2011.
Jo-Ann Roberts, a former CBC journalist, is running under the Green banner this time. Can she win? The short answer is yes, she can. The projections have some scenarios where she'd become the second elected green federal MP, although it's currently incredibly unlikely.
Results of byelections are accounted for in the projection model, but they are averaged with past results because byelections are different, not least in usually having lower turnouts. So, coming close to winning in a byelection is very different from doing so in a general one.
The other factor going against the Green Party is that the main opposition in this riding is the NDP, not the Conservatives. The New Democrats are currently dominating British Columbia, where they could make the necessary gains to form the next federal government. The Green Party, therefore, needs to persuade voters not to re-elect an NDP candidate in an election that the party could win for the first time.
That is not impossible. Elizabeth May showed in 2011 that, when her party targets a riding, it can beat an incumbent from a party likely to form the next government. But there is a giant difference between doing that when you are the popular leader of the party (appearing on two national TV debates) and doing it as a more typical candidate. No disrespect to Roberts, but replicating the strong candidate effect of May is incredibly hard in Canadian politics.
Remember, though, that models such as ours — based on national or provincial polls — are typically not at their best in projecting ridings with such strong local/candidate effects, mostly because those effects are unlikely to be reflected in those national or provincial polls. It might be a good idea to at least complement statistical projections such as ours with sites using input from people on the field, such as Election Prediction. In the case of Victoria, though, it seems we both agree on calling it an NDP victory at the moment.
All is not lost for the Greens. The situation in Victoria is very similar to what happened during the 2013 B.C. election. Andrew Weaver ran for the B.C. Greens in Oak Bay–Gordon Head and won. That was a massive achievement — it means that Weaver managed to increase his party's share of vote by more than 30 points while his party was increasing by only three points province-wide. This is a personal effect greater even than what we saw with May in 2011. Can Roberts and the federal Greens do the same? Possible, but unlikely.
So, the Green Party isn't currently in a situation where it can be predicted to win seats simply based on national or provincial swings, not even in B.C.
May is all but certain to keep her seat, but a victory by anybody else would require a strong and unusual star candidate and/or local effects. In Canadian politics, these are relatively rare and not important enough that there are any likely scenarios that would have the Greens winning more than one seat.
Although Thunder Bay–Superior North and, especially, Victoria do offer possibilities for surprises, any win for the Green Party other than May's would be unexpected.
Bryan Breguet has a B.Sc in economics of politics and a M.sc in economics from the University of Montreal. He founded TooCloseToCall.ca in 2010 where he provides electoral analysis and projections. He has collaborated with the National Post, Journal de Montreal and l'Actualité.
He will provide analysis and updates for The Huffington Post Canada throughout the federal election campaign. For riding by riding projections, visit his interactive simulator.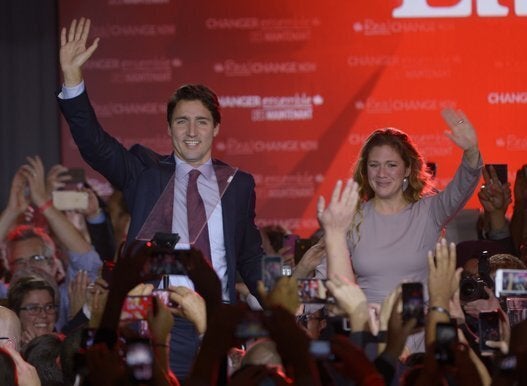 In Photos: Canada Election 2015