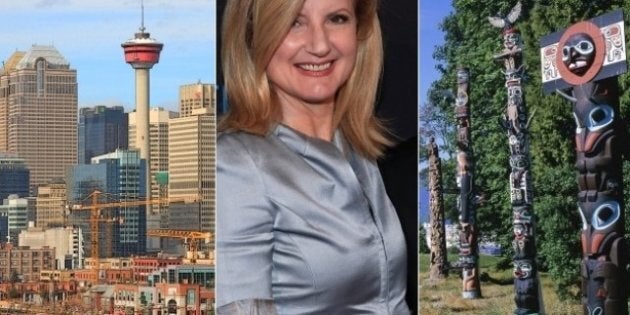 It may not be the ultimate cure for western alienation, but The Huffington Post Canada took a big step in recognizing the importance of its Western Canadian readership with the launch of Alberta and British Columbia editions on Thursday morning.
Two new bureaus -- one in Calgary and one in Vancouver -- will now support the online news and blogging site's existing offices in Toronto, Montreal and Ottawa.
"With close to one million people in Western Canada already visiting Huffington Post sites, expansion in this region was a logical choice," AOL Canada general manager Graham Moysey said in a statement.
The move is part of a large-scale expansion of the Huffington Post brand since AOL bought the news site in March of 2011. In that time, HuffPost has launched editions in Canada (its first venture outside the U.S.), the U.K., France and Spain.
But the site has also followed a strategy of localizing its coverage. In the U.S., that has meant launching metropolitan editions in cities such as Denver, Detroit and Miami. In Canada, the site has focused on provinces, launching the French-language HuffPost Quebec in March, and following up with the Western Canadian editions this month.
Arianna Huffington, president of AOL Huffington Post Media Group and co-founder of the website, said she was "delighted" to see the expansion take place.
"We're doubling down on our commitment to being a hub of reporting, comprehensive curation, group blogging and engagement across all of Canada," she said in prepared remarks.
Pablo Fernandez, the news editor of HuffPost Alberta, stressed creating a dialogue with readers as a primary goal of the new site.
"Alberta is a province that's being shaped by a young, connected, diverse and intelligent citizenry, a citizenry that needs a punchy, politically savvy, smart online publication that sparks ideas and stirs the imagination but that doesn't take itself too seriously," Fernandez, formerly the online editorial manager at the Calgary Sun, wrote in a blog post.
He suggested the site would not shy away from the more controversial elements of Alberta's economy.
"We'll cheer our thriving economy, but also [note] the price it exacts on our communities, our wild spaces and its effect on wage inequality," he wrote.
In British Columbia, HuffPost "will go beyond the superficial comment to truly reflect the wide-ranging social, ethnic and economic makeup of our province," B.C. news editor Andree Lau wrote in a blog posting. "We're here to present B.C.'s diversity of experience without judgement or limitation. But we also won't be afraid to cheer for the underdog."
She, too, stressed that HuffPost is a place for readers to engage in dialogue.
"A study this year suggested that despite scoring high repeatedly in livability ... Vancouver can be a lonely and unfriendly place to live," Lau wrote. "Perhaps it's time to push harder for real conversations."
HuffPost Canada managing editor Kenny Yum said a local presence in B.C. and Alberta would also give HuffPost's national audience a bigger lens into Western Canadian issues.
"The stories that our B.C. and Albertan readers will have access to will be available to a national audience. Having two operations in Western Canada will no doubt help our coverage overall of Alberta and B.C.," he said.
The new editions will also provide HuffPost with an opportunity to expand its signature roster of bloggers to include uniquely Western Canadian voices. Singer and Vancouver resident Sarah MacLachlan, for example, is among the people lined up to be a HuffPost contributor.
In a press release Thursday morning, AOL was unequivocal in proclaiming HuffPost Canada a success.
"The Huffington Post reaches 3.4 million online Canadians per month and has grown 117 per cent since launch," the company said. "Le Huffington Post Québec has seen a similar growth trajectory at 156 per cent since launch."
The company also boasted of HuffPost Canada's social media success -- 50,000 Facebook fans, more than 36,000 Twitter followers and more than 14,000 comments on articles per week.