It's well known that there is strength in numbers and wisdom in crowds. But what if we're only seeing half the numbers and hearing half the crowd?
At the World Economic Forum in 2015, women constituted just 17 per cent of participants. The number of women speakers at business conferences in general is zero to 25 per cent. However, at the Women in the World (WITW) summit in India, things were a little different. Not only did women vastly outnumber men, it was largely women's voices that were heard.
WITW summits were launched in 2010 by Tina Brown, the erstwhile editor of Tatler, Vanity Fair, New Yorker and the Daily Beast, and now the head of Tina Brown Live Media. Having conducted the first highly successful WITW summit in NYC, she now plans such summits globally in an effort to showcase the triumphs and tragedies of women around the world.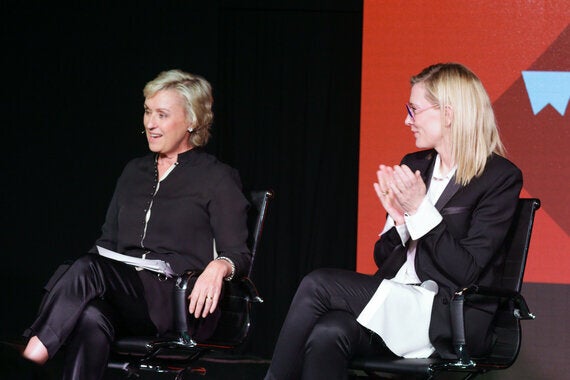 (Tina Brown, Cate Blanchett; photo courtesy Women in the World)
On November 20, India had its first WITW summit because, as their Asia Director Gayatri Rangachari Shah summarizes it, "India is a natural place for women in the world; few countries illustrate just how high the stakes are for women today as powerfully as India."
The 20 sessions were short and crisp, covered a broad spectrum of topics and highlighted inspiring women from India, the U.S., the Middle East and Africa from all walks of life. Their discussions were interesting, informative and moving -- like when filmmaker Deepa Mehta and actresses Nandita Das and Shabana Azmi spoke to writer William Dalrymple about the making of their controversial film, Fire.
Discussing how the now 20-year old film dealt with homosexuality, Shabana mentioned how "art can start a process of questioning" to move a concept along the road to acceptance. In talking of how women are often good at resolving conflicts, Deepa described an amusing anecdote of, when growing up in an extended family, in the midst of a heated argument between her father and his brother their wives diffused the situation by saying, "Let them be. Let's go have some chaat."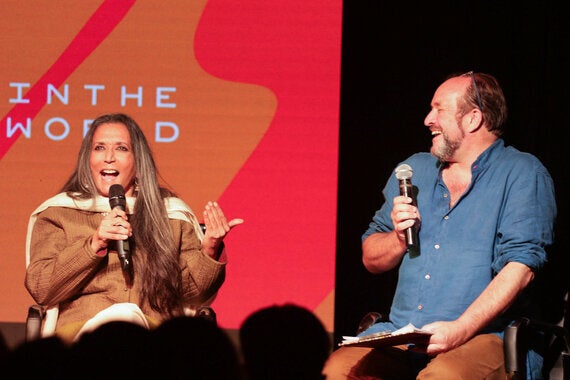 (Deepa Mehta, William Dalrymple; photo courtesy Women in the World)
U.S. ambassador to the UN Samantha Power spoke of the rise of ISIS, saying, "Technologies are allowing the creation of echo chambers. We need to bust these echo chambers." She explained the sparking of the migrant crisis, how people are moving out of the refugee camps because they've been told that they won't get further food and provisions. Later, in another session, Melissa Fleming of the UNHCR also mentioned the lack of funding to school children in the Syrian refugee camps and parents' desire to educate their children as another reason for the mass migration.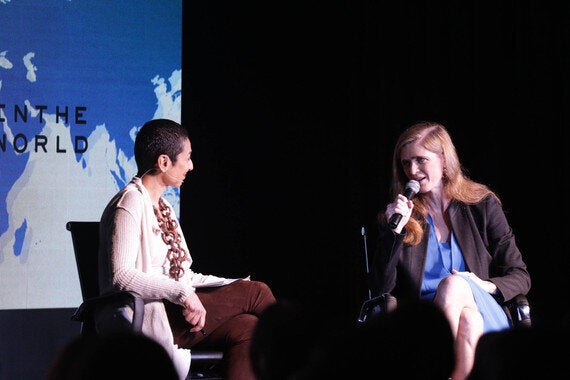 (Zainab Salbi, Samantha Power; photo courtesy Women in the World)
Obiagelli Ezekwesili, one of the leaders of the Bring Back Our Girls campaign, spoke passionately and eloquently of her fight to rescue over 250 Nigerian school girls kidnapped more than a year ago by the terrorist group Boko Haram.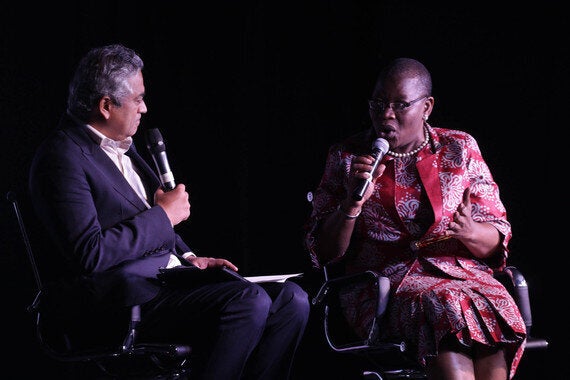 (Rajdeep Sardesai, Obiageli Ezekwesili; photo courtesy Women in the World)
Bringing it closer to home, Catch News' Shoma Chaudhury tackled the topic of the frequent abuse of thousands of Indian migrant workers in the Middle East by highlighting the pitiful story of Kasthuri Munirathinam, a maid who lost her arm while fleeing from her employers. This led the discussion to the plight of domestic workers in many Indian homes and their fight for minimum wage and benefits.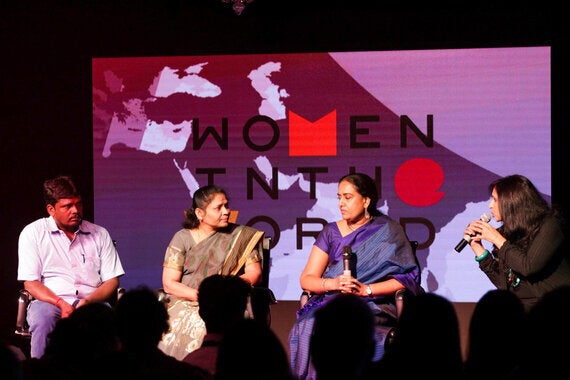 (relatives of Kasthuri Munirathinam, Shoma Chaudhury; photo courtesy Women in the World)
The discussions were also sometimes surprisingly lively. One session moderated by CNN's Mallika Kapur brought to the stage NDTV's Barkha Dutt, GE South Asia's Ipsita Dasgupta, HSBC Asia Pacific's Naina Lal Kidwai, and Cisco's Padmasree Warrior to discuss whether it takes women leaders to make women leaders. Ipsita spoke of how the mother-in-law is a primary component of many Indian women's lives and therefore she instituted a 'bring your mother-in-law to work' day at her office, which turned out to be very helpful to her female employees in getting acceptance and respect at home for their office work. Barkha remarked, "Why do I need my mother-in-law's approval?!"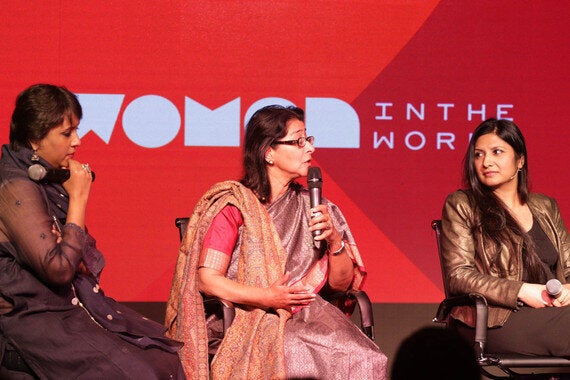 (Barkha Dutt, Naina Lal Kidwai, Ipsita Dasgupta; photo courtesy Women in the World)
The participants may have been less famous but they were equally impressive. Like Pranshu Bhandari -- who looks like a high school student but is co-founder of startup CultureAlley and co-developer of Hello English, a new but already very successful app to help those who know an Indian language to learn English. Under-30 Anu Sridharan is co-founder of NextDrop which offers subscribers the critical information on when water will be available in their home. In some Indian towns, where running water may only be available for a few hours a day, such a service can be invaluable. Accomplished Lakshmi Pratury is founder and curator of INK Talks, an annual conference that brings to the stage inspiring Indians to tell their stories, with a mission "to change how the young and young at heart view their world, goals and ambitions, particularly in emerging economies."
While the formal sessions were going on inside the conference hall, the coffee area outside on the lawns was seeing almost as much -- but a different type of -- action: networking. People were gathering in small groups to meet, exchange cards, and chat with other participants. Most important and perhaps different from other conferences was the friendly and supportive atmosphere where women felt comfortable sharing their experiences, challenges, and ambitions. There was a sense of camaraderie and acceptance. Egos of the great and famous had been largely checked in at the door, and now they strolled among the general participants with minimum baggage.
One could ask what these WITW summits will accomplish. One could ask the same question of any summit, including the WEF at Davos, the G8, the G20, the Rio summit and the Rio+20. Perhaps not much, but they do indeed bring people out of their restrictive ambits, gather the numbers to gain strength, and spread the wisdom. And what WITW does is distinctive. It gives the other half a chance to talk and be heard, to support and be supported, to inspire and be inspired, to network, and to jointly address issues of individual, community, and global concern. As a small example, by the end of that evening, the maid who had been abused and lost her arm while working in the Middle East had been promised financing to educate her five grandchildren.
If the packed conference hall overflowing onto the lawns of New Delhi's Taj Mansingh Hotel, the dynamic and concerned individuals, and the vibrant atmosphere were anything to go by, the WITW summit should become an annual event in India.