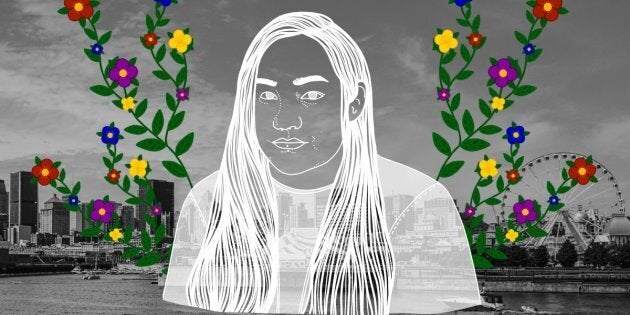 Nalakwsis is Cree, two-spirit from Whapmagoostui, Que., a fly-in community three hours north of Montreal. They spent their formative years in Montreal, and recently made the move back home.
Being two-spirit refers to someone who identifies as having both masculine and feminine spirit, and is used by some Indigenous people to describe their sexual, gender and/or spiritual identity. Nalakwsis uses they/them pronouns.
Nalakwsis is calm and slow in their delivery, as if everything they say has been thoughtfully considered. They're a talented multi-disciplinary artist whose emotion and personality comes through in everything they create: from beadwork and visual art, to photography and everything in between.
Their work is grounded in their community and Indigeneity. Nalakwsis' artwork is seen across this series, with their illustrations on our landing page, on the banner and in every profile.

Whapmagoostui is a Cree community in Quebec with a population of just under 1,000. Nalakwsis left the community at a young age because their mother felt they couldn't live there anymore.
I was really little when I moved to Montreal; my mom brought us to the city with just our suitcases. Living in the city was weird and strange. It was OK when I was younger because there were already some native kids I knew, which was nice, but it got difficult as I got older.
I switched schools, my depression and anxiety peaked, and I really wanted to go home. At the time, my grandmother, who has passed away now, was really sick. I just wanted to be with her and I couldn't stand being in the busy city anymore, being around so many people.
It was getting really difficult for me. I felt like I wasn't even connected to my community. Every summer we would come back to Whapmagoostui, and every time we had to leave it broke my heart.
Montreal is vastly different from Whapmagoostui, not only in population size (the metropolis has about 1.7 million more people), but in landscape, language, resources and general way of life. Nalakwsis found it increasingly difficult to relate to city people. The differences were not just apparent to them, but were pointed out in every aspect of their life.
Every time I would bring up my culture, there was nobody to connect with: [city people] found it weird that I would go to camp once a year; they found it weird that my people still hunt.
The first year I went to high school there, a lot of kids and teachers didn't know what Cree was. I would have to tell them I was native, and then they understood. But at the same time, it's not their fault that they weren't educated. In history textbooks, if anything, it was mostly about Iroquois and southern native communities.
Nalakwsis didn't let their feelings go untreated. They accessed available resources, but quickly realized that those services weren't culturally sensitive or consistent. At the time, the Indigenous community in Montreal wasn't visible and that made Nalakwsis' experience even worse.
It was so hard for me during my last few years it Montreal. I ended up talking to a lot of counsellors – but I wish I could have talked to someone who was Indigenous. I wish there was that connection. My counsellors were good, but it would have helped me more if I had been able to talk to someone who was Indigenous.
I might have even been OK in Montreal if I was connected more with the Indigenous community, but I wasn't, and that was really hard for me. So it made making the decision to come home really easy.
Now, art is my 9-to-5 job, and it's amazing.
Since moving back to Whapmagoostui, Nalakwsis has felt more connected and grounded in community. They've been able to fully dive into what makes them happy: their art.
I draw inspiration for my art from from my culture and a lot of Cree legends. Right now a lot of it is about dreams I have and my spirituality.
I have very vivid dreams and because I can remember every detail, sometimes they get stuck in my head and they bother me. So I draw to help me remember that it was just a dream, and it's all going to be OK.
I've recently started to define the tools I use. Now, art is my 9-to-5 job, and it's amazing.
Some of the responses in this piece have been edited for clarity and brevity.
This story is part of Not My Territory*, a HuffPost Canada series about urban Indigenous perspectives driven by the people who are part of the country's fastest growing populations.
*Some Indigenous people live in cities that don't overlap with their community's traditional territory, and many feel burdened by being regularly called on to represent cultures and backgrounds that aren't their own.
Popular in the Community