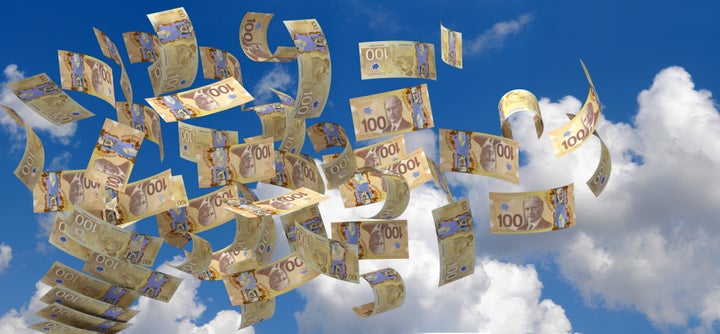 MONTREAL ― These are strange times in the world of finance. The markets are spooked, with investors worried about the U.S.-China trade war, excessive debt levels and possibly overpriced stocks.
And when the markets panic ― long story short ― interest rates come down.
Today, much of the world is seeing record low interest rates, and in Canada we are just off record lows. A 10-year Government of Canada bond paid out an abysmal 1.16 per cent on the last trading day of August.
Watch: Tips for growing savings on a low income. Story continues below.
But what does this mean for ordinary Canadians who aren't obsessed with bond markets? Maybe more than you'd think. In a report issued Friday, Bank of Montreal senior economist Robert Kavcic laid out what this age of record-low rates means "for Main Street."
Here are five ways Canadians' lives are changing in the age of low interest rates.
More spending room to buy a house … until prices rise
Canadian mortgage rates have come down by a full percentage point since the end of last year, and that means more purchasing power for homebuyers, or more cash in their pockets.
Kavcic estimates that someone buying a $750,000 house with 20 per cent down can afford $70,000 more for a house with the new lower rates ― or end up with $300 more in their bank account at the end of the month.
But in a tight housing market ― like the ones we see today in Toronto, Montreal, Ottawa and even Charlottetown ― that money will likely get sucked up by home sellers, in the form of higher prices.
"What you would expect to see is that it gets capitalized in the housing market. All of a sudden that offer for $700,000 becomes $770,000," Kavcic told HuffPost Canada in a phone interview.
Working longer, or saving more, to retire
When interest rates come down, people's retirement savings grow more slowly.
"If you're looking at a certain level of savings, either you've got to put more money in and compensate for that (with less spending) or you're not going to hit that number, and you need to trade that off with more work," Kavcic said.
"If anybody's waiting to return to that world (of high returns) ... we might not go back there."
But when interest rates are low, there's little incentive to save. Canada's savings rate has been below one per cent for the past year, a record low, Kavcic noted in his report.
And people have indeed been working longer, and well into retirement age these days. But Kavcic notes that that may also have to do with the fact that people are living longer, and choosing to work past age 65.
Billions more for governments
If barely-noticeable interest rates are killing your retirement plans, maybe the government will be able to help out. Along with people who are selling homes today that they bought long ago, governments are the major beneficiary of low interest rates.
Ottawa's budget projections assume considerably higher interest rates than the ones the feds are now paying. That means the government will have more money in its pockets than it expected ― about $2 billion more for the 2019-2020 fiscal year, Kavcic estimates. And if rates stay this low, the savings in later years will be larger.
That money could be used to finance new programs, reduce the budget deficit, or cut taxes.
Lowered expectations for investors
Government and corporate bonds are a part of pretty much any balanced investor portfolio, so those of you who own mutual funds and the like should prepare for worse returns in the coming years. That part of your portfolio will be paying out less than it used to.
Regardless of where markets are headed in the short term, "it might be prudent to ratchet down long-term portfolio return expectations," Kavcic wrote.
Business need to redefine 'a good investment'
Business investment is pretty unimpressive in Canada these days, and that's a bad sign, because it's pretty much the only thing that drives job growth in the private sector.
But companies today may have excessively optimistic expectations, Kavcic said, and that may be keeping them from investing. For instance, if once upon a time you needed an 8-per-cent return to justify investing in something, well maybe today it should be 6 per cent instead.
It's not that businesses haven't grasped this concept, Kavcic says ― it's just that maybe they don't realize this is the new normal.
"If anybody's waiting to return to that world (of high returns) ... we might not go back there," Kavcic said.