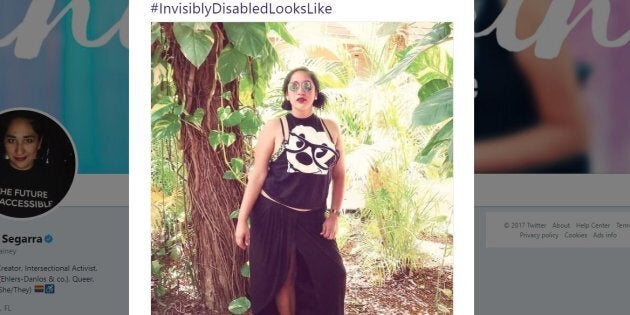 Disabilities aren't just physical, and Twitter is here to prove it.
These disabilities can be challenging to live with and can cause physical and mental pain. As one Twitter user pointed out, "If invisible illnesses were visible, this is what it would like..."
That's why Florida activist Annie Segarra started the hashtag #InvisiblyDisabledLooksLike, asking people to share photos of their hidden limitations to cap off Invisible Disabilities Week, which ended on Oct. 21.
To kick things off, she shared a photo of herself, alongside a list of her own limitations.
Segarra's tweet received an overwhelming response. BBC News reports that the hashtag has now been used over 3,000 times as of Wednesday morning.
Some also revealed how it feels when people don't recognize their invisible disabilities.
According to the World Health Organization, over a billion people around the world have some form of disability.
"We live with our disabilities every day. You might think that's the biggest problem but it isn't," their open letter read. "The biggest problem is the world that's full of stigma around living with a disability."