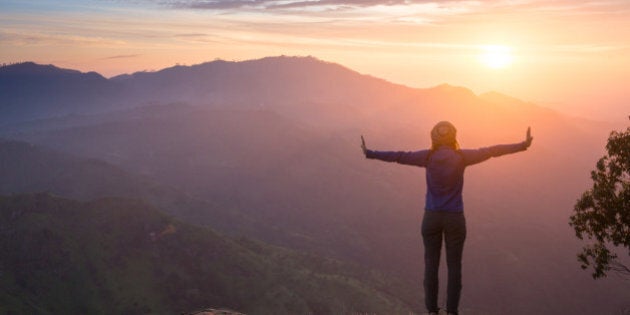 Nine times out of 10, people have not heard of the Azores. Unless you have a friend or relative from one of the islands, it's virtually unknown to the majority of the populace. This is a good and bad thing. Good -- because these islands preserve some of the most untouched and natural beauty left in the world. Bad -- because if you're not here, you're missing out.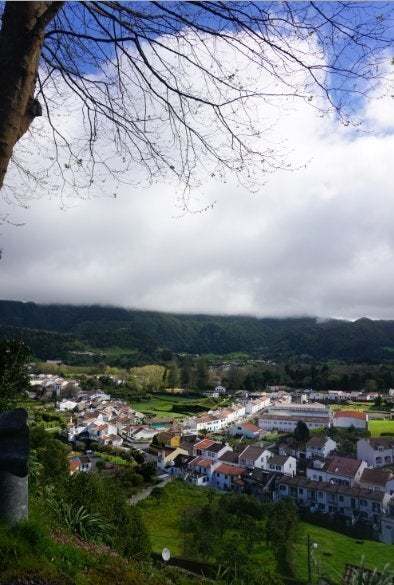 Only about a four-hour direct flight from the North American content, the nine islands belong to Portugal but carry an identity so unique from one another that you'd be remiss not to travel to each of these European gems. On this particular occasion, we take a direct flight from Toronto to São Miguel Island, which is also home to the capital of the Azores, Ponta Delgada. Comprising about 50 per cent of the population of all the islands, São Miguel (also referred to as the Green Island) contains the most inhabitants, with approximately 135,000 people. Land mass wise, it is also the largest. But perhaps the most enticing aspect about all the islands of the Azores is the ability to have a European experience without the hustle and bustle or congestion a place like Lisbon could have.
In part one of this four part series, I focus on São Miguel, Pico and Faial islands.
Here's the best of what to eat in São Miguel, Azores.
Alcides (São Miguel island, R. Hintze Ribeiro 61, 9500-049 Ponta Delgada), is the oldest restaurant on the island and still a family run operation.
What to eat: The four to five pound (1.9 - 2 kg) tenderloin (called Lombo) -- the most tender steak on offer at the restaurant, with house cut fries and a glass of local red.
Why: These local, grass fed cows are the epitome of the term "free range." Their lives are simple but happy. They're free to roam the fertile grasslands and eat as much as their two stomachs desire. At one to two years of age they're slaughtered and broken down; the meat rests in a climate controlled room for two days before serving.
On the plate: you get a rustic, ragged shaped tenderloin -- it is definitely not the cookie-cutter shapes you see in North America (the fried egg on top comes highly recommended as well). Ditto for the fries- some come out thin and crisp, others like chunky wedges. The meat is tender and flavourful despite the cut being so lean. It is not overly chewy and is delicately sweet with a rich, beefy flavour. The steak is fried for two to three minutes on each side which creates this charred exterior with crusty edges. The meat sits in a simple sauce made of white wine and fat renderings. For this dish, simple is best and not much is done to altered the high quality of the beef.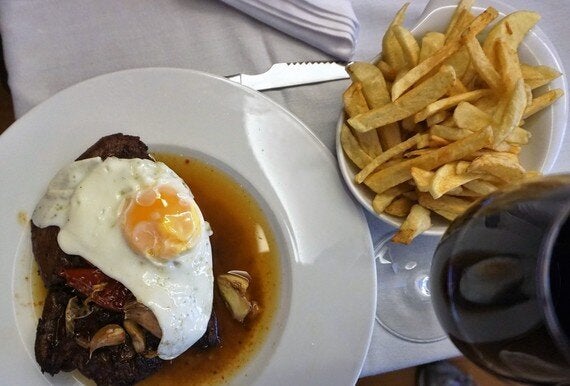 King of Cheese aka O Rei dos Quejos ( São Miguel island, Rua do Mercado da Graça - São Pedro, Ponta Delgada) is a family run business. With his three sons, the father, Carlos helms this 42-year-old operation. As you enter the small no-frills shop, your nostrils are assaulted with the pungent smells of funky, glorious cheeses. Wheels lines the walls and feature at least 60 varieties from the island.
What to eat: São Jorge Cheese, a semi-firm variety that's aged for at least three months (and up to nine months). Younger cheeses have the texture of a gruyere or gouda and harder ones emulate parmigiano reggiano from Italy-- drier and a firmer texture with an assertive tang.
On the plate: local wines to sip with (e.g. António Maçanita Arinto dos Açores Sur Lies 2014), cheeses and sweet breads (Bolo lêvedo), make a delightfully simple but delicious cheese sandwich.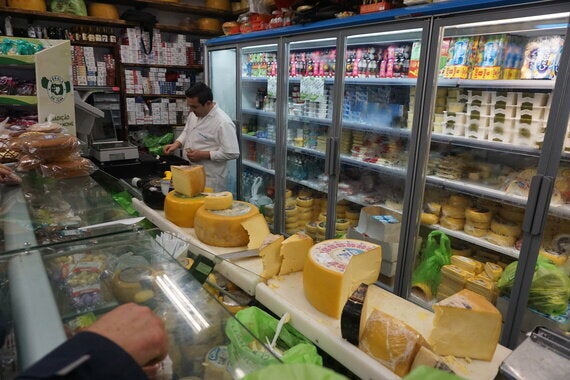 Owner Joao Chaves loves to eat and drink and that was the primary catalyst in opening a restaurant with his industry friends. Initially, there were 10 dishes on offer, but now, you can choose from over 89 items on the expansive menu. After 12 years in this business, he still continues to add and experiment, sharing dishes he likes to eat with his customers.
He adorns the walls with landscape images he's captured from the island he calls home. It's another passion of his; Chaves is self-taught and has been snapping photos for 10 years.
What to eat: Seafood is fresh and vibrant and the must have dish here is the grilled lapas. If you've never had them before, you're in for a unique treat; the texture is a cross between mussels and geoduck.
On the plate: rows of grilled lapas arrive sizzling on a cast iron skillet, they're cooked with garlic, white peppers, and copious amounts of butter. The small morsels are slightly springy, pack a juicy sweetness, and taste of the ocean. Mop up juices with house baked bread.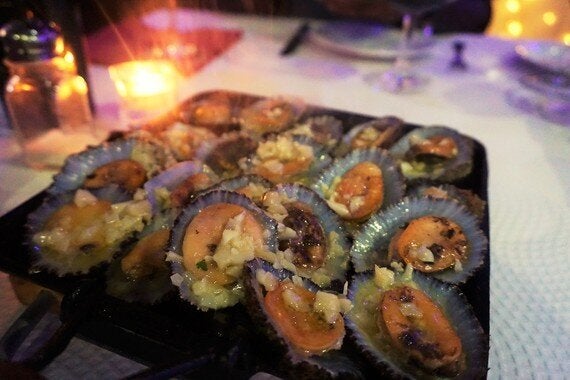 The two year old resort offers picturesque views of the Atlantic ocean and eco-friendly dwellings that implement water usage caps, cork insulation, and local wood for cabinets and tables; it offers 14 intimate villas in total.
What to eat: Blood sausage and pineapple (Morcel a com ananas) is a specialty of the region.
On the plate: cylinders of pork are a ruddy, blackened rouge and stacked like matchsticks on wedges of pineapple. Like a soft pate, the sausage easily yields under the weight of your fork. The meat is rich tasting; there are bitter notes and slight traces of minerality. Lightened with the juiciness of the pineapple, when eaten together, the duo is a balanced and unique combination.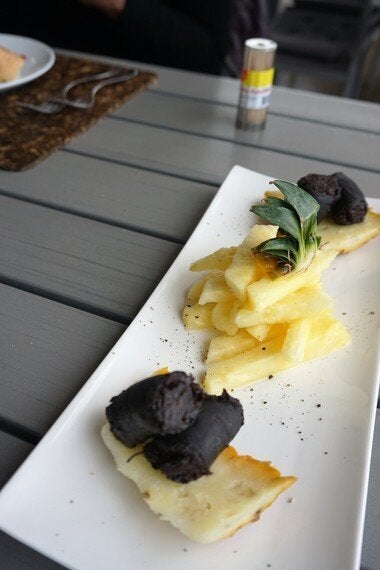 This restaurant is a local favourite and all the food is prepared by Fernando Soares and his wife.
What to eat: When you're on an island surrounded by water, it is your moral imperative to eat the seafood here; it is plentiful and fresh. The Polvo (octopus), in particular, is a stand-out.
On the plate: Coils of braised octopus curl around a nest of baby potatoes. It is a simple presentation that needs few embellishments; the octopus has a meaty texture but is soft and supple in the mouth. Also a delight, the burnished edges that add char and crunch.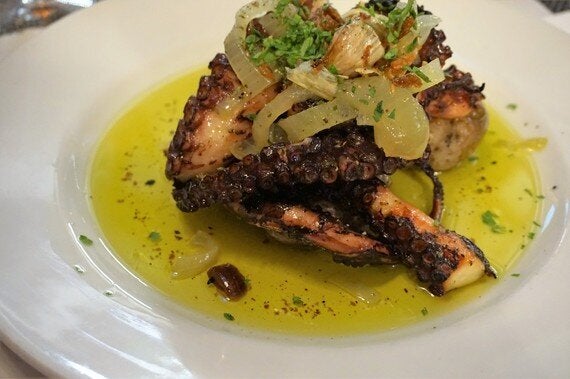 TN Restaurant (Terra Nostra Garden Hotel, São Miguel island, Furnas)
Situated inside the Terra Nostra Garden Hotel, TN Restaurant offers a contemporary setting to try unique and traditional dishes from the island.
What to eat: This dish is a must-try and it is advisable to call the restaurant in advance to reserve the Furnas Cozido. The meat and vegetable stew is cooked for at least six hours using the heat and steam from the Furnas Volcano (which also heats the Hot Springs). If you head to Furnas Volcano, you can see the designated plots where restaurants bury their stews to cook.
On the plate: A melange of meats has been delicately seasoned along with root vegetables. Pork, beef, and chicken as well as their varied cuts are placed on your plate. For instance, the pig's ear is markedly delicious. While humble in appearance, its gelatinous texture is soft and creamy in the mouth.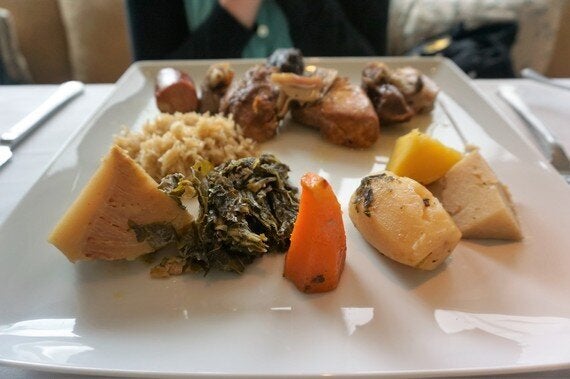 Follow HuffPost Canada Blogs on Facebook