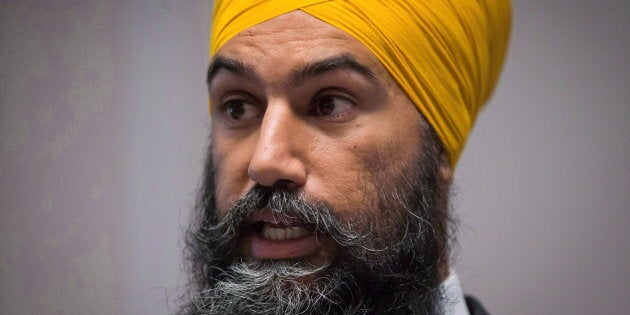 OTTAWA — Federal NDP Leader Jagmeet Singh says his plan is to "keep on talking" to buck a trend in recent opinion polls that suggest support for his party is now closer to the Greens than it is with the Liberals and Conservatives.
More cross-country tours, Singh told reporters Monday, will be key to lift the party's profile and appeal in the year before the next election. He pledged to "keep on raising" concerns about housing, climate change, and to "talk to Canadians across the country."
Watch: Jagmeet Singh says NDP is 'trending up' one year into leadership
Evading questions about his leadership, he explained it's his job, and that of his federal caucus, to both raise Canadians' concerns in Ottawa and to propose "concrete" solutions.
A Mainstreet Research poll released Monday suggested the NDP is in a losing position in Burnaby South — a yet-to-be-called federal byelection where Singh plans to contest for a seat.
Nearly 36 per cent of respondents in the riding said they would vote Liberal; 29 per cent said Conservative; and 27 per cent said they would back the NDP.
The Liberals have yet to select a candidate and there is a likely possibility the party may extend Singh a courtesy given to some party leaders, declining to run someone against him.
Last week, an Abacus poll stated 2019 "might feel like a two-party race" with only 11 per cent of respondents picking Singh as their preferred prime minister — tied with Green Party Elizabeth May.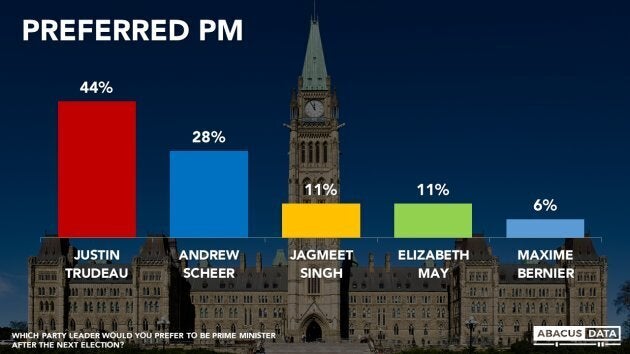 Singh, who leads a party with 41 MPs in the House of Commons, does not hold a federal seat. The former Ontario NDP MPP vaguely spoke about his shortcomings as leader at the start of the NDPs caucus retreat back in September.
"I've got to do a better job, and our party has to do a better job, of reaching out to understand those problems that people are facing and talking about the solutions," he said at the time.
'Keep our campaign office open' fundraising goal exceeded
The polling numbers come after a fundraising email sent Thursday that hinted financial trouble with Singh's byelection campaign. Noting $1,918 was raised to keep the lights on, the message asked for donors to help meet a $4,000 goal by the end of the day "to keep our campaign office open."
Amber Keane, Singh's campaign manager, told HuffPost Canada they managed to exceed that day's fundraising goal, but did not disclose exactly how much money the party was able to raise.
Asked if the office was facing a legitimate risk of closing before an official byelection call, Keane suggested the message was fair considering it was a fundraising email.
As for Singh's low poll numbers, Keane said the findings don't reflect the experience of NDP canvassers on the ground in Burnaby.
"We've had nothing but positive reactions to Jagmeet in the community so far," she explained.
Ahead of Wednesday's federal government fiscal update, Singh and his party's two finance critics signed an open letter outlining five policy suggestions to address financial and social inequality.
The letter rolled together the party's position on pharmacare, housing, green energy investments, Indigenous children's education, and repeated calls to resurrect Ontario's cancelled basic income pilot project. Social Development Minister Jean-Yves Duclos told HuffPost earlier this month, the Liberals would not restore the program.
Addressed to the prime minister and finance minister, Singh and NDP MPs Peter Julian and Pierre-Luc Dusseault urged the government to move away from "corporate tax giveaways."
Mainstreet Research conducted a randomized phone survey of 1,576 adults between Nov. 10-11 in three federal ridings. The margin of error of data collected in Burnaby South carries a margin of error of 5.12 percentage points; Beauce, 3.95 percentage points, and Nanaimo, 4.02 percentage points; 19 times out of 20.
Abacus Data conducted its online survey with 1,500 adults from Nov. 9-13. The results carry a margin of error of 2.6 percentage points, 19 times out of 20.
With files from Althia Raj