"It is with great sadness that I announce the death of my mother, Joan Rivers.

She passed peacefully at 1:17 pm surrounded by family and close friends. My son and I would like to thank the doctors, nurses, and staff of Mount Sinai Hospital for the amazing care they provided for my mother.

Cooper and I have found ourselves humbled by the outpouring of love, support, and prayers we have received from around the world. They have been heard and appreciated.

My mother's greatest joy in life was to make people laugh. Although that is difficult to do right now, I know her final wish would be that we return to laughing soon." - Melissa
Rivers was born in Brooklyn, New York, in 1933, and graduated from Barnard College in 1954. She got her start in show business in the late 1950s appearing in off-Broadways plays and performing stand-up routines in comedy clubs in Greenwich Village. Her first big break came in 1965, when she made her first appearance on "The Tonight Show Starring Johnny Carson." She landed her first syndicated talk show, "The Joan Rivers Show," which lasted one season, in 1968 and continued to shoot to fame with appearances on "The Tonight Show" and "The Ed Sullivan Show." In the 1970s her star power continued to grow as she appeared on more variety shows, and in 1978 she wrote and directed "Rabbit Test," starring Billy Crystal.
"I have never wanted to be a day less than I am,'' she insisted in a 2013 interview with The Associated Press. "People say, 'I wish I were 30 again.' Nahhh! I'm very happy here. It's great. It gets better and better. And then, of course, we die,'' she quipped.
In 1987 she hosted the season-long "The Late Show Starring Joan Rivers," and in 1989 came back to daytime TV with "The Joan Rivers Show."
"The trouble with me is, I make jokes too often,'' she told the AP in 2013, just days after the death of her older sister. "I was making jokes yesterday at the funeral home. That's how I get through life. Life is so difficult -- everybody's been through something! But you laugh at it, it becomes smaller.''
"To control an audience is a very masculine thing,'' Rivers told the Los Angeles Times in 1977. "The minute a lady is in any form of power, they (the public) totally strip away your femininity -- which isn't so. Catherine the Great had a great time.''
Rivers had accomplished an incredible amount in her life, but she is perhaps best-known for her presence on the red carpet. Joan and her daughter "revolutionized the red carpet from a runway -- with little celebrity-reporter interaction -- into its own brand of entertainment that, for many, was just as interesting as the awards ceremony that followed," according to Vanity Fair. Rivers also charmed us in movies like "Spaceballs."
In recent years, Rivers was a familiar face on TV shopping channel QVC, hawking her line of jewelry, and won the reality show "Celebrity Apprentice'' by beating out her bitter adversary, poker champ Annie Duke. In 2010, she was featured in the documentary "Joan Rivers: A Piece of Work.''
She never let age, or anything, make her sentimental. Earlier in 2014, she got inked: a half-inch-tall tattoo, "6M,'' on the inside of her arm representing 6 million Jews killed in the Nazi Holocaust. In 2013, she brashly pledged to work "forever.''
"You never relax and say, 'Well, here I am!''' she declared. "You always think, 'Is this gonna be OK?' I have never taken anything for granted.''
Survivors include her daughter and a grandson, Cooper.
With files from the Associated Press.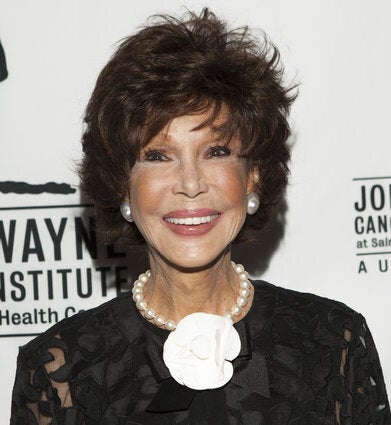 Entertainers We've Lost In 2014