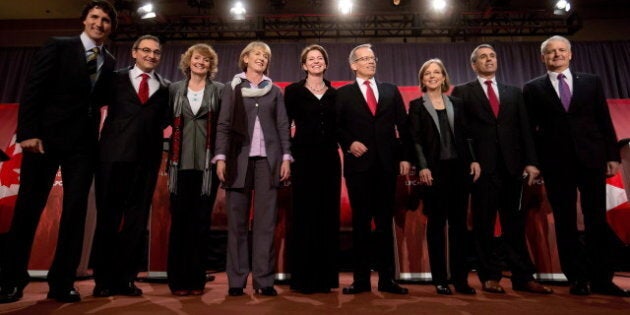 OTTAWA — The federal Liberal leadership race would have been far more competitive if the party had organized U.S.-style primaries with rolling votes in different provinces, several prominent Liberals told The Huffington Post Canada this week.
Alfred Apps, the past president of the Liberal Party of Canada, said he believes the party should have called a special online convention in December when it became clear that there would be nine candidates vying for space on stage. Delegates should have been asked to reconsider a proposal for electing their new leader through a series of staggered votes across the country, he said.
"The process would have driven a greater level of interest and a tighter focus on the real contenders – those with a real possibility of winning and or seriously challenging the front-runner," he told HuffPost.
Liberal members, however, voted at their policy convention in January, 2012, against setting up primaries. Although a majority of delegates supported the change, the support fell short of the two thirds required to amend the party's constitution.
Apps said that, with nine or 10 contestants in the race, it would have been "a good idea" for the party to follow his earlier example – he called an extraordinary convention in June, 2011, to delay the party's leadership race – and take the time to see if there was now the required support for a primary-style race.
Under a U.S.-style primary system, Apps believes, more candidates, such as sitting MPs and well-known Liberals, would have tested the waters to see if they had any support. Then, he said, the field would have been winnowed very quickly and the party would have most likely ended up with three to five serious candidates.
Liberal interim leader Bob Rae said he also believes that the race would have been more competitive under a primary system and that it would have given Canadians a chance to get to know the leadership candidates better.
The main advantage of a primary system, however, Rae said, is that it would give all candidates a real sense of how much support they had.
It would not have prevented the emergence of any front-runner, Rae noted, but it would have made it a lot harder for candidates who were trailing badly to raise any money and stay in the race.
"I think it probably would have meant that people who were further behind would have been pressured to drop out and therefore, by the time you got to the last couple, you might end up with a very close result," Rae said.
Liberal MP Marc Garneau, the former astronaut who bowed out of the leadership race last week after declaring Justin Trudeau unbeatable, suggested during an editorial board with The Huffington Post Canada that his campaign would have been more successful if primaries had been in place.
"It would have, I think, naturally built up more excitement and would have narrowed the field, and people would have had a closer look at the finalists. But it is what it is," he said. "Maybe we've learned some things for next time."
Garneau, who refused to be interviewed for this story, had challenged Trudeau, the perceived front-runner, to a one-on-one debate and repeatedly suggested that Pierre Elliott Trudeau's son lacked the experience to required lead the party.
Trudeau's principal advisor, Gerald Butts, said he is not in favour of primaries and doesn't think they would have made much of a difference.
"I just don't see it as a big game changer in any direction. I think it would generate local media coverage, which is always good. But I don't think we've suffered from a lack of media coverage in this campaign," Butts said.
He doesn't believe either that the race would be more competitive with a smaller slate of candidates.
"I think Marc was pretty tough on (Justin), and I think Martha did her best to be pretty tough on him too," Butts told HuffPost. He noted that with a rolling vote, any flush front-runner, with more staff and more volunteers, could move his or her national organization to a particular province and cement support with a good ground game.
"We'd have 500 people we could focus on one province and not have to worry about everywhere else," Butts said, suggesting that primaries would not have hindered their campaign.
"The reason that Justin is against it is because you might end up … severely disadvantaging French-speaking candidates from Quebec whose regional base is in Quebec," Butts said.
He said a primary in Ontario would have been decisive and that once that vote was done, the race would have been all but over.
Leadership candidate Joyce Murray, who supported primaries last year, said she is not sure rolling votes would have made any difference in her case either.
"With a smaller field, there may have been more visibility of what I had to offer. However, here we are months from the end and I'm pretty visible, and I feel that I am carrying the torch for a great many Canadians who have become apathetic about our democracy," Murray said.
In fact, she said, depending on where and when the rolling regional votes happened, the primary system could actually have hurt her.
"Perhaps, I would have been knocked down early on," she said, noting that her base of support was mostly in Western Canada.
Léo Bourdon, the campaign director for David Bertschi, the Ottawa lawyer who dropped out of the race Thursday, said the timing of regional votes would have been key to the survival of any candidate under a primary system.
"To be quite frank, our campaign hasn't been strong everywhere, so it would largely depend on where it would begin," he said prior to Bertschi's withdrawal from the race Thursday.
Story continues under gallery.
Bourdon said, however, that Bertschi's shoestring campaign might have benefitted from primaries because their small team could focus their efforts on a handful of ridings and then "be able to move on."
"It would probably be a bit more beneficial on the organizational structure for smaller campaigns because we don't have the resources that a bigger campaign would have."
Former Liberal MP and leadership contender Sheila Copps told HuffPost she favoured the primary system because she thought it would pique the public's interest and create a bigger build-up to the vote. She noted, though, the U.S.-style system comes with some big drawbacks.
"It's doable, and it is also quite expensive," she said.
For the candidates, the costs of moving their organizations several times across the country could have been quite onerous, she said. Organizationally, it would have been a big and expensive burden on the party, already overwhelmed with 294,000 supporters, to organize in-person voting booths in every riding on a province-by-province basis, she said.
"It would create some interest and momentum, and I also think it would be exciting. But the fact that you can register as a supporter online is already a great step forward," Copps said.
If primaries had been in place, Copps believes the focus on a candidate's social media presence, such as Trudeau's Facebook subscribers and Twitter following, would have been balanced by direct votes in smaller provinces.
"Right now, because Justin Trudeau is so far ahead in the social media campaign and in many respects, people assume that he's the next leader…," she said. "I think if you'd had (primaries), you would have had more drama to it, and seen a broader voter dispersal among the different candidates than you do when you have an Internet pileon."
Liberal Party of Canada president Mike Crawley agreed that a U.S.-style primary system would have created more excitement.
"I think it would have been better," he said in an interview Wednesday.
"I certainly would not have gone to the stretch of holding an extraordinary convention just to change the method in which we conduct the vote. I think it shows a bit of a lack of respect to those delegates at that convention to say one year later, we think maybe you were wrong and we are going to go back and ask for another vote now to see if we can get the outcome that some people want," Crawley said.
U.S.-style primaries might not have made the race any more competitive, he said.
"It depends what the results of the first few primaries were, right?" he says with a smile. "And it depends where each candidate has their support."
So far, he added, the race is unfolding just as he expected, with several candidates taking stock of their odds and their expenses and figuring out whether it's worth it for them to stay in the race.
Less than half of the almost 300,000 people who signed up to take part in the federal Liberal leadership race have registered to vote, despite getting an extra week in which to do so. As of late Thursday, shortly before the midnight deadline, almost 43 per cent of supporters and members — some 126,000 — had registered.
What the Liberal party needs to do now, Crawley said, is further develop the relationship with supporters who showed only a passing interest in the party or a particular candidate. The big focus is on the 2015 election, on fundraising, on building up riding associations and on restructuring the party, he added.
"I think Apps made a big contribution with the idea of the supporter category, but I think now is the time to move on," Crawley said.
"Sometimes, some in the party get distracted with chasing the silver bullet, and what's really required is some long hard work in the trenches to rebuild the party."
With a file from The Canadian Press