The NDP would wreck Canada's economy and should never get into power, Conservative Leader Stephen Harper said Sunday.
Harper, who was announcing new security-related measures in Ottawa, told reporters he wanted to address something that had come up over the weekend and that he thought was "pretty important and shouldn't be ignored."
A "star" NDP candidate, someone NDP Leader Thomas Mulcair had pledged would be part of his cabinet, said that the way to deal with the crisis in the oil industry is to leave the oil in the ground, Harper asserted.
Toronto Centre candidate Linda McQuaig told CBC's "Power & Politics" on Friday that the oilsands may have to be left "in the ground" in order to reach new climate change goals for reduction of emissions.
"That is the NDP's not-so-hidden agenda on development," Harper said. "This is a party that has opposed every single one of these projects. This is a party where the leader actually went out of the country to lobby against Canadian projects."
The Conservative leader also accused the NDP of allying itself with groups in Quebec and in Northern Ontario that are trying to shut down the forest industry.
"The NDP is consistently against the development of our resources and our economy. That is why they have been a disaster wherever they have been in government and why they would wreck this economy if they ever got in, and why they must never get into power in this country," Harper said.
To stress the point, he repeated it in French. "That is why we should stop at all costs an NDP government in this country."
The NDP was quick to distance itself from McQuaig's comments.
Malcolm Allen, the party's natural resources and energy critic and its candidate for Niagara Centre, said in a statement that keeping the oilsands in the ground is "not the NDP's position."
"The NDP believes that developing our natural resources and lowering our greenhouse gas emissions can go hand-in-hand [and that] Mr. Harper has gotten the balance wrong," he said. "We can grow our oil sector and reduce carbon pollution."
Allen suggested that McQuaig was not referring to NDP policy but rather to a report in the journal Nature that said fossil fuels should be left buried to prevent climate change.
"A lot of people recognize that a lot of oilsands oil may have to stay in the ground if we're going to meet our climate change targets," McQuaig said.
Asked again by host Rosie Barton if that was her position, McQuaig responded she felt "some of it may have to" stay in the ground.
"We'll know that better once we properly put in place a climate change accountability system of some kind," she said. "And, we'll know that better once we have a proper review process for our environmental projects, like pipelines."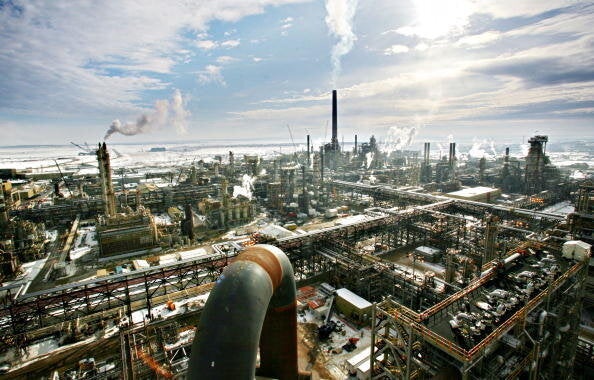 The Craziest Photos Of The Oilsands