Two unusual things happened in London on Saturday. A major league baseball game was held there for the first time during the regular season, and it featured a surprise appearance by the Duchess of Sussex.
Prince Harry was expected at the event: the MLB is a charity partner of the Invictus Games, the competition Harry runs for wounded or injured military members. He had been invited to throw the first pitch at the game between the New York Yankees and the Boston Red Sox.
The royal couple told people at the game that they were up all night with baby Archie, but they both showed up, even though Meghan is still officially on maternity leave.
Naturally, the pair met and posed with both teams, and were gifted two different sporty baby onesies.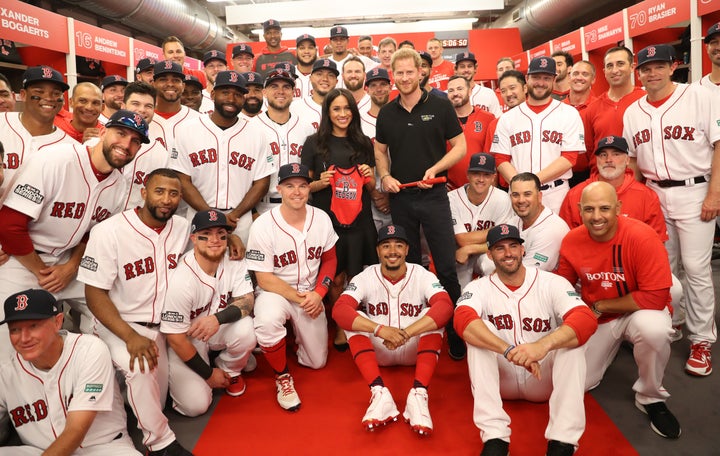 Meghan even met (and hugged) a distant relative, Red Sox outfielder Mookie Betts. According to the Boston Globe, the Duchess and the baseball player have a shared relative in Alabama 150 years ago.
"I told her about the story and she laughed and gave me a hug," Betts told the paper. "She didn't know about it. They probably didn't believe it."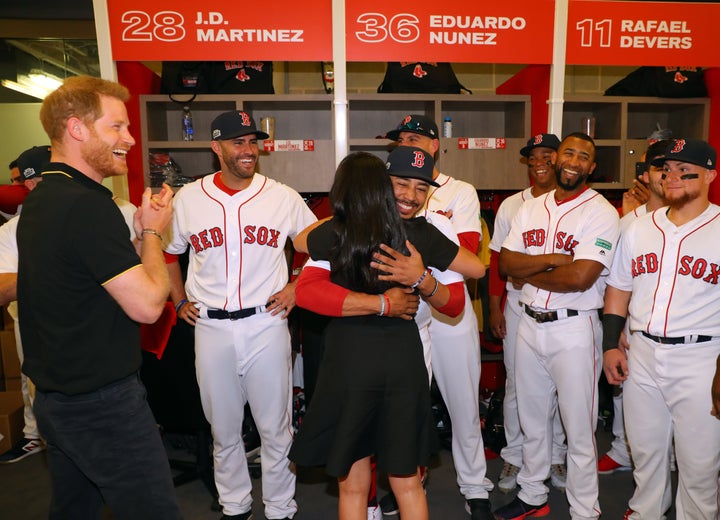 As People pointed out, the couple's outfits "had no hint to whether they would be rooting for either the New York Yankees or the Boston Red Sox." Of course, as royals, they're meant to stay neutral about rivalries of this kind.
But we're pretty sure we know where Meghan's allegiances actually lie.
And, naturally, she went to Toronto Blue Jays games.
Because of the cloak-and-dagger rules of the royal family, Meghan's personal Instagram is no longer, and her lifestyle blog The Tig has sadly been shuttered as well. But luckily for us, Flare put together a slideshow of all the times pre-Duchess Meghan showed off her Jays paraphernalia — and they had the foresight to take screenshots before her Instagram account went dark.
Maybe you're thinking: she got into the Jays while she was living in Toronto, but surely she stopped supporting them once she left the city.
You'd be wrong, because she was spotted wearing a different Blue Jays hat on a trip to Austin, Texas in June 2017, per the Daily Mail. That grey hat is the same one she wore on a spa trip in London before future sister-in-law Pippa Middleton's wedding.
So we can freely speculate that yes, Meghan probably enjoyed the Yankees-Red Sox game on Saturday, but she was probably thinking about how much she'd like to see the Jays trounce the Kansas City Royals on Sunday.
You and me both, Duchess.