Thomas Mulcair says it is "reprehensible" that a Conservative backbencher who made controversial comments about Muslims will run for re-election with Stephen Harper's blessing.
The NDP leader made the comment Thursday during the first federal leaders' debate while explaining his opposition to Bill C-51, the government's anti-terror legislation.
When asked by moderator Paul Wells if an NDP government would introduce bills to give new tools to CSIS or police, Mulcair said it would if there is evidence that something is missing.
"For example, the Conservatives left completely silent the question of domestic radicalization," Mulcair said. "And the problem is, of course, some of the code words used by the Conservatives has been very worrisome."
While U.S. President Barack Obama talks about working with religious leaders and houses of worship, Mulcair said, Harper "singles out" mosques.
"He knows why he's using that language," the NDP leader said just before transitioning to the case of veteran Tory MP Larry Miller.
"(Harper) has a backbencher who said that Muslim women should get the hell back where they came from, and he's about to sign that person's nomination papers," Mulcair said. "I find that reprehensible and beneath the dignity of a Canadian prime minister."
The Conservative leader denied that he uses any "code words against Muslims." Harper said the NDP's mantra is to oppose "every piece of security legislation," no matter what.
"What we have done in the latest security legislation are things like allowing security organizations to share information on terrorist threats, allowing them to intervene before plots develop to prevent the very kind of thing that happened in (Saint-Jean-sur-Richelieu) in October," Harper said, referring to the murder of Warrant Officer Patrice Vincent.
The Tory leader said he believes it is "important that we call the international jihadist threat exactly what it is" and that Muslims make up the vast majority of victims from that movement. He added that protecting Muslim minorities abroad is also a key part of Canada's international efforts.
"If you're not prepared to call the threat we face by the name it is, you are not prepared to confront it," Harper said. "And we need to confront it as a country."
Back in March, Miller — the MP for the Ontario riding of Bruce-Grey-Owen Sound — apologized for stating on the radio that Muslim women who do not want to remove a face-covering veil while taking the oath of citizenship should "stay the hell where you came from."
Miller was discussing the Harper government's appeal of a Federal Court ruling that overturned a ban on the wearing of the niqab during citizenship ceremonies.
"I'm so sick and tired of people wanting to come here because they know it's a good country and they want to change things before they even really officially become a Canadian," he said at the time.
Miller later issued a statement acknowledging his remarks as "inappropriate," but made it clear he stood by the view that anyone sworn in as a new citizen should reveal their face.
"However, I apologize for and retract my comments that went beyond this," he said in the statement.
The Prime Minister's Office also released a statement saying the opinions Miller expressed went beyond the government's "clear position."
"What the prime minister has stated is that we believe it is offensive that someone would cover their face at the very moment they want to join the Canadian family,'' then-PMO spokesperson Carl Vallee told The Canadian Press.
The Huffington Post Canada has reached out to Miller to respond to Mulcair's comments in the debate. We will update this story if we hear back.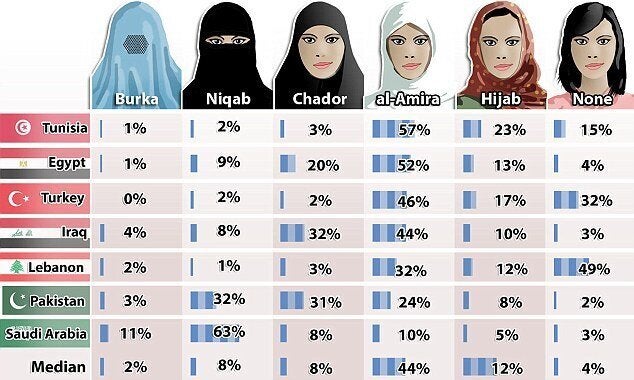 Hijab, Burka And Niqab Use Around The World
Popular in the Community