More than nine weeks after the federal election saw the NDP go from first in the polls to third place, a veteran MP says the party is still in a period of reflection.
"Where we are, I don't think it's settled out yet, which surprises me a bit," British Columbia NDP MP Nathan Cullen told The Huffington Post Canada in a year-end interview.
"Normally, you come out of an election loss and you can clearly identify [what] went wrong. Were we too progressive? Were we too conservative? Were we…? The result was a mix for us. It was a mixed feeling."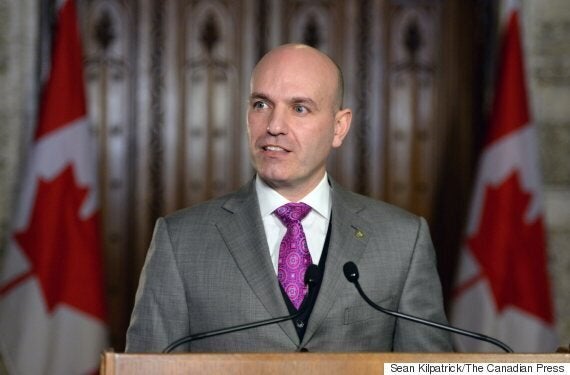 Nathan Cullen Speaks to reporters on Parliament Hill. (Photo: Sean Kilpatrick/CP)
Cullen, who agreed to speak with HuffPost in part because NDP Leader Thomas Mulcair declined an interview request, said the NDP is probably as happy as, if not happier than, any other group of Canadians to see Stephen Harper gone as prime minister.
"So that's the positive. [But] the disappointment in not winning and losing some really great people affects that feeling. I don't know. It upsets me. I'm saddened by not having Megan Leslie, and Paul [Dewar], and Peggy [Nash], and Andrew Cash. I think that's disappointing, because, I would argue, through no fault of their own, they are not back in the House.
"So it's a mixed feeling. And so where does the NDP go from here? I think it's OK to be not in a rush to come to a conclusion about our next step. I don't think there is a great panic among the membership or among Canadians to say 'This is what we need to do next. This is the obvious next step forward.'"
Cullen said he's been rethinking the election, wondering if the NDP should have taken more "risks."
"Could we have been more aggressive?"
He feels the party's platform was policy-heavy — it included a national pharmacare program and a national childcare program, for example.
"Were we too progressive? Were we too conservative? Were we…?"
So, was the NDP's big error supporting balanced budgets while the Liberals campaigned on running deficits?
Cullen, who has been the MP from Skeena–Bulkley Valley in B.C.'s Northern interior since 2004, doesn't think so. Most New Democrats have an "allergic reaction" to big deficit spending, he said. The working poor are usually the first to understand that deficits are unsustainable, and "pay-as-you-go spending is ingrained in our thinking."
Not only is Cullen comfortable with the NDP position, he thinks the New Democrats couldn't get away with running deficits in the same manner the Liberal party can.
"If two political leaders say the exact same thing, depending on who says it, the reception can be totally different.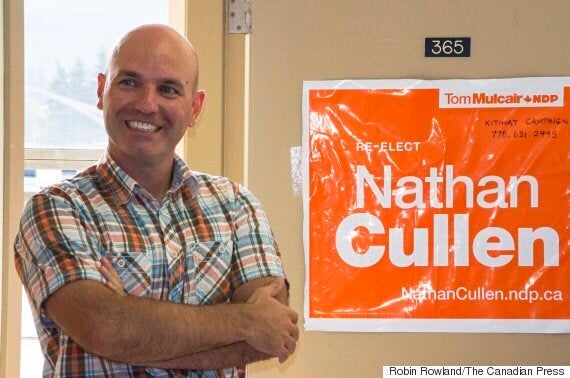 Cullen speaks to supporters at his campaign office in Kitimat, B.C. (Photo: Robin Rowland/CP)
"Trudeau goes to Paris with Harper's targets, but the reception is totally different. Because there are factors and the tone is different and people receive it in a different way, there is a lot less criticism than if Stephen Harper had gone to Paris with those targets.
"So the Liberals run a deficit and have since expanded that deficit and does it get received differently by commentators and by the general public than if the NDP runs the same thing, given our brand? I'm a bit hesitant on it. I know brand absolutely matters…."
Politicians try to skate to where they think the puck is going to be. If he'd said two years ago that promising deficits was going to be a real winner, Cullen suggested, most analysts would have said he was crazy.
One thing the party could have done, the MP suggested, was rethink the double messaging it was giving Canadians.
"What we didn't maybe square properly is that the narrative was a little bit counter" to the public's hopes, he said. Canadians seemed to be searching for "activist" government in a weak economy, while the NDP presented a lot of bold ideas that were hampered by a pledge on "balancing [the budget], no matter what."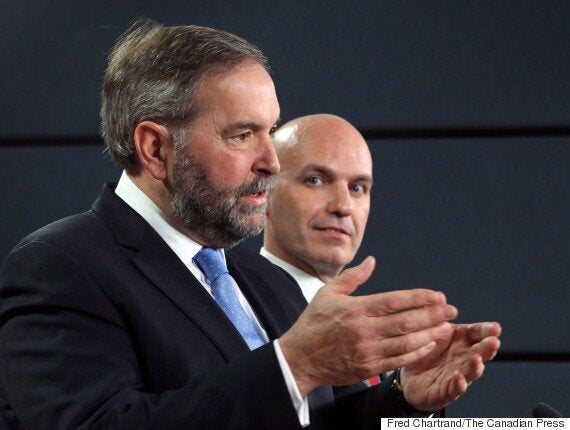 NDP Leader Thomas Mulcair holds a news conference with Cullen. (Photo: Fred Chartrand/CP)
"We had these big expressions of support for public spending and public initiative, and keeping to balanced budgets, and the framing around that was counterintuitive for some people. It spoke in two directions at the same time, and it was difficult to square that circle."
While some NDP MPs who lost their reelection bids told HuffPost confidentially that they place much of the blame for the party's election result on Mulcair, Cullen, who competed against the Quebec MP for the leadership three years ago, does not.
"Tom did really well. He performed well. So we can't say he dropped the football and that was the obvious moment. There was no moment that way."
While Mulcair faces a leadership vote, as per the party's constitution, in April, Cullen believes his leader should stick around and lead the party again in the 2019 election.
Mulcair is "a strong, incredibly intelligent, incredibly principled voice that bridges the French and English divide," Cullen said. "All the things I am looking for in a leader, Tom meets.
"It's very much a mistake to throw the baby out with the bathwater, and it also isn't in our party's tradition necessarily. We tend to stick with people, especially people that we respect. And there is a great deal of respect for Tom within the party."
Cullen suggested that the NDP just didn't know how to run a campaign from a leading position. When the writ was dropped on Aug. 2, the NDP was ahead in the polls, the Tories were second and the Liberals third.
"We are much more comfortable in the underdog position because that has been our most familiar place." Cullen points to the B.C. NDP's 2013 election campaign, where the provincial party was also unable to maintain its frontrunner status.
But there are a few silver linings in Oct. 19's election result.
"Our caucus isn't reduced to two; it's 44. And there is a mix of new people and there are some new strengths in parts of the country that matter. But I don't say that to try to cover over or mute the disappointment. The disappointment is real. And it was such an opportunity that we weren't able to grasp."
"We asked Canadians to vote for change, and they did. It just wasn't the change we were hoping for. That's the way it goes sometimes."
"There is a great deal of respect for Tom within the party."
Forty-four seats is the second best election result in the party's history, as Mulcair reminded voters in B.C. at the provincial party's convention in early November.
While the party lost huge amounts of support in Quebec, Ontario, and Atlantic Canada, its share of the popular vote increased slightly in B.C., and its seat count rose to 14 from 12.
Cullen suggested that perhaps localized issues, such as First Nations spending or the party's opposition to pipelines, had an impact. The NDP position on these issues, he said, offered more of a "stark contrast" against the Conservatives, and the Liberals had a "more nuanced" position on pipelines.
"[It was] an election where stark contrast seemed to be very important, but that's just a guess."
The NDP spent a fair bit of time knocking on doors and targeting areas such as Vancouver Island, where candidates would remind voters — sometimes armed with charts and graphs — that the NDP is the alternative in B.C. to Conservatives and should be the landing spot for the anti-Harper vote.
Progressive-minded people were extremely concerned about splitting the vote, Cullen noted. "Are you guys going to split the vote? Is he [Harper] going to get back in? That was palpable even with two or three weeks to go," he said. "In B.C., there was a profound fear."
The election result came as a shock to many New Democrat candidates — even longtime MPs. The party's internal numbers were good, Cullen said. They had more signs out, more donors, more voter contacts than ever before.
"But they lost because a whole group of voters that no one was aware of decided to show up." Nobody expected the voter turnout to go up 10 per cent, he said.
The NDP can take a lesson from the Liberals, who invested in the groundwork and took "risks" to spend time and energy with people who have traditionally not voted, Cullen added.
That was something the NDP's B.C. team did, he said — investing in young people, First Nations, and lower income voters who have become core constituencies of New Democrat campaigns.
"Trudeau goes to Paris with Harper's targets, but the reception is totally different."
A lot of people were motivated to vote in this election, Cullen noted. "You had a higher celebrity campaign coming out of the Liberals, plus a huge dissatisfaction with the government and such a willingness of Canadians to say 'Whoever can beat this guy, that is where I am going.'
"When we lost support in Quebec and that translated out nationally, and then it started to form up … with a week or two to go as more of a two-horse race, that became very difficult for us. It became difficult to wedge ourselves back into the conversation."
Back to third party status
Now that the NDP finds itself in third place facing a government that was elected on a centre-left platform, the party is still trying to figure out its proper role in the Commons, Cullen said.
"Whenever a new government comes in, the approach that the opposition takes, it takes a bit of time to figure out what works best," Cullen told HuffPost. "We are cognisant of the fact that many Canadians are primarily relieved that Harper is gone and are willing to cut the government lots of slack."
Cullen is the new critic for the environment — a portfolio he used to hold — as well as for democratic reform. Many of the environmentalists he met with in Paris for the UN Climate Change conference are happy with the new government, he said. But now comes the time for the Liberals to release a plan with details.
"Having just come from Paris, I want to know what our national target is and how we are going to get there. One point five degrees is easy to say. What it means... now the work comes, and there are some real challenges.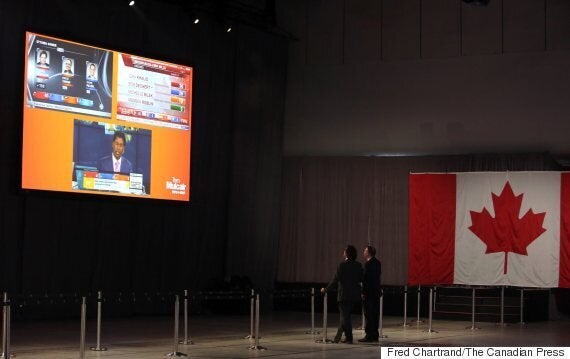 NDP supporters watch election results come in at the NDP election centre. (Photo: Fred Chartrand/CP)
"The Liberals have been good to this point about a lot of the symbolic gestures — and I don't say that as a small thing. I think symbolism matters in politics, but now the governing comes, and the budget and the laws that need to be passed. I think the expectations are very high right now, and that is probably going to be Trudeau's biggest challenge. He set some very high expectations."
While the NDP might not be butting heads with this government as much as with Harper's, Cullen suggested the party still has a critical role to play.
"Historically, Liberal governments that have campaigned to the left have governed to the right."
The Grits are also a big-tent party, with left-leaning Liberals and right-leaning Liberals, he said, so "which angels do they end up listening to?" Who wins out in discussing the Trans-Pacific Partnership agreement or pipeline reviews?
Knowing that the NDP is a real competitive threat will ensure that those sitting around the cabinet table think about being more progressive rather than flashing to the right, Cullen said.
"If the Liberals don't think that there is any threat from the progressive side of the equation, then they will not make progressive policies as often."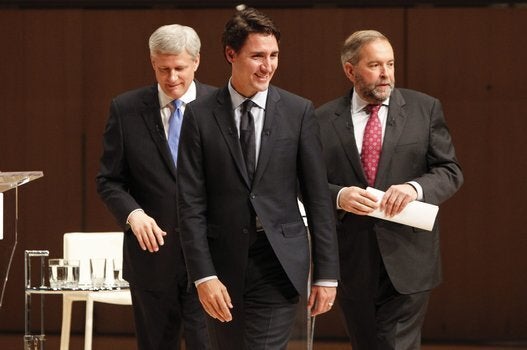 Notable Political Quotes From 2015