New Democrats are launching an offensive on incumbent Liberals who voted in favour of Bill C-51, the Conservative government's controversial anti-terror legislation.
The move was planned for Saturday because it marks exactly 51 days until election day.
According to The Toronto Star, NDP candidates will target dozens of ridings held by Liberals with brochures accusing Justin Trudeau and his team of failing to defend civil liberties — and failing to stand up to Stephen Harper.
The NDP's official Twitter account kicked things off with an aggressive jab at Trudeau Saturday.
NDP candidate Olivia Chow, who is in a tough race in Toronto's Spadina-Fort York against incumbent Liberal Adam Vaughan, released an ad online criticizing her Grit rival for voting for the legislation. Vaughan replaced Chow in a byelection last year after she resigned her seat to run unsuccessfully for mayor of Toronto.
The ad shows both Trudeau and Vaughan rising in the House of Commons to vote for Harper's "spy bill."
NDP candidate Jennifer Hollett, running against Liberal Chrystia Freeland in the riding of University-Rosedale, also spread the word on Twitter.
Chow and Hollett also released a joint statement online targeting Liberals. Hollett called C-51 a "defining moment" for leaders to show if they would stand up on their principles.
"You can't claim to be a progressive and support C-51," Chow said in the release.
Liberals vow to amend C-51, NDP vows to scrap it
With a majority government, Stephen Harper never needed Liberal votes to make C-51 the law of the land.
Trudeau said throughout the winter that his party would support the bill because there were elements of the legislation that would help keep Canadians safe. He vowed that Liberals would amend the law if they form government to, among other things, provide better oversight of national security agencies.
But at a speech at the University of British Columbia last March, Trudeau also hinted at the political calculations behind his decision, saying he did not want Tories to make "hay" on the campaign trail by projecting Liberals as soft on terrorism.
"This conversation might be different if we weren't months from an election campaign," he told the crowd.
NDP Leader Thomas Mulcair opposed the bill from the start and has promised to repeal it if he becomes prime minister in October. He has said Harper "intimidated" Trudeau into supporting C-51.
Polling suggests public support for C-51 dropped radically over the winter and spring as more and more experts expressed concerns about the bill.
Support for the Liberals also dropped during that time, but Grits have told The Huffington Post Canada they don't believe NDP attacks on the matter moved many votes.
NDP national campaign director Brad Lavigne told HuffPost this summer that C-51 was as much about leadership as it was about civil liberties.
"Mulcair opposed the bill because it was flawed, despite its initial popularity," he said. "Trudeau [supported] the bill because it was popular, despite its flaws."
Trudeau defended his decision during the first leaders' debate earlier this month, saying Liberals were able to push the government to make amendments. He said Liberals have always found the right balance between security and liberties.
But he also conceded it was perhaps "naïve" to believe his party could take a "responsible position" at a time of such divisive politics.
"Mr. Harper wants… everyone to be scared that there are terrorists hiding behind every leaf and rock," Trudeau said. "Mr. Mulcair wants us to be scared for our Charter [of Rights and Freedoms] and our basic rights and freedoms."
C-51 gives the Canadian Security Intelligence Service enhanced power to actively thwart terror plots, broadens no-fly list powers, and increases the exchange of federal security information. It also makes it a criminal offence to encourage someone to carry out an attack.
The bill also makes it easier for the RCMP to obtain a peace bond to restrict the movements of suspects and extend the amount of time they can be kept in preventative detention.
C-51 has been denounced by the federal privacy commissioner, the Canadian Bar Association, First Nations groups, environmental organizations, and civil libertarians.
With files from The Canadian Press, earlier files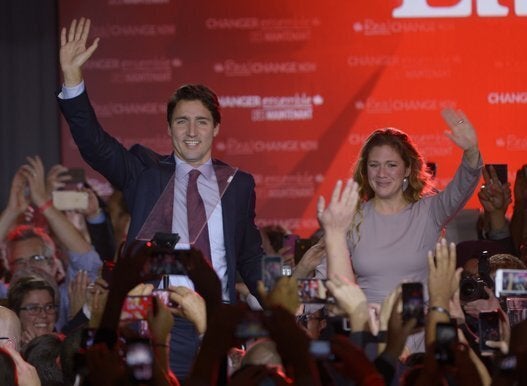 In Photos: Canada Election 2015