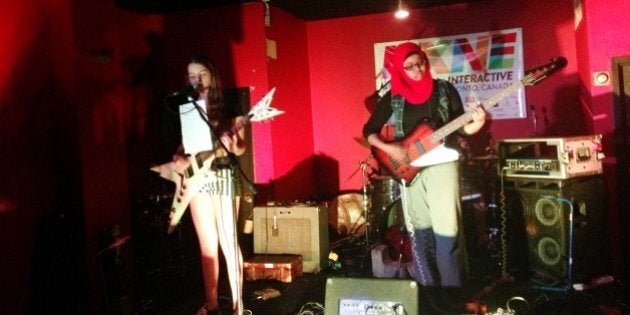 Unfinished Business @ Smiling Buddha
The bio for NXNE band Unfinished Business reads:
But however awesome that sounds, the band is better. The middle-school punk-rock trio sing about superheroes and haunted houses, epic fails and summer -- at least when not covering The Misfits 'Where Eagles Dare" and chanting "I ain't no goddamn son of a bitch."
Though perhaps the best part was when the singer's dad unexpectedly fired off a confetti cannon during Rock Star," prompting a fit of giggles perfectly leading into the next song, "Try Not To Laugh."
Needless to say, I bought the vinyl.
That Rhye were a special group was already a given considering the "is that a guy or gal singing" mystery and their "Woman" debut album's worth-affirming spot on the 2013 Polaris Music Prize Long List.
Credibility box checking, however, fails to fully articulate what the duo, flushed out to a six-piece live, did during their Massey Hall NXNE performance.
When showcased in a glorious music hall, lead singer Milosh's contralto croon didn't so much generate surprised, "A dude's making that sound?" queries as his golden, otherworldly voice made you ponder just how something of such elfin, otherworldly wonder could even come out of a human being.
Layered atop a beguiling instrumental groove that alternated between George Michael-ian "Fast Love" and Sade's slow jam lovers rock, what Milosh and crew created through renditions of "3 Days," The Fall," "Shed Some Blood" and "Last Dance" was truly magical.
As with many artists before her, including artists who performed this week at NXNE, R&B singer Kelela became enamoured with Massey Hall. Complimenting the sound's great acoustics and comfortable seats, the L.A.-based rising star — who gained recognition touring with and being championed by Solange — utilized the venue's space with her mesmerizing voice that soared to every corner of the theatre.
Backed by a swarm of electronics, her set opening for Rhye was a set worthy of her own headlining night as she channelled divas of the past while delivering the performance as the future voice of electro-soul.
Alvvays @ Yonge-Dundas Square
Fronted by Molly Rankin, a next-generationer from The Rankin family clan, Alvvays eschew fiddles, shanties and other East Coast-y things for something entirely different.
There's a hint of that same world-weary millennial angst to Alvvays' work — songs about tagging bridges ("Party Police") and being stuck inside ("Ones Who Love You") — that prompts music writers to pen generationally-minded Lana Del Rey thinkpieces. But Rankin's crew operate in a far more timeless pop-rock medium, which made them perfect for a late-afternoon set in front of a swelling Yonge-Dundas Square crowd.
Dark drowning tale "Next Of Kin" spoke to what was quite likely some teen years spent in the bedroom obsessive listening to Smiths records and "Atop A Cake" served noticed to Kathleen Edwards and Sarah Harmer that there's a new kid in town.
Best, though, was the riveting matrimonial bummer trip, "Archie, Marry Me." A pristine piece of melancholic pop, Rankin's pleading "Hey, hey! Marry me Archie" was shiver-causing and affirmed Alvvays are probably just one Emma Stone romcom soundtrack placement away from worldwide success.
The Golden Dogs @ The Rivoli
The Golden Dogs have retooled of late with the inclusion of guitarist/keyboardist Stefanie McCarrol and bassist Alejandro Cairncross as well as lead singer Dave Azzolini now more formally splitting vocal duties with wife and keyboardist-turned-drummer Jessica Grassia.
There's one other big way the Dogs have evolved: Azzolini, a buzzing, spastic stage presence at the best of times, has developed a verbal tick where in the middle of the band's often frenetic songs he'll shout "Faster!" and, on cue, the band will play even faster.
This commitment to relentless pacing sent the peculiarly beard-heavy audience at The Rivoli into paroxysms of slam dancing and made the band's run through "Saints At The Gates," "Run Outta Luck," "Yeah" and a number of new songs feel more like a thrash punk show than a gathering of Wings-loving nerds.
Lakes of Canada @ Tranzac
Lakes of Canada's upcoming release is a concept record based on Margaret Atwood's "The Handmaid's Tale," and their set featured that material heavily. If you knew you were looking for it, it showed. The set played like a bunch of moods and themes, from a forceful, warlike opener heavy with percussion to songs that felt more like small, short, bridging chapters in an overarching narrative. Because of the source material, this was to expected; there was a natural episodic quality to the way the set was laid out and performed.
The music on the whole was too: conceptual rock from a concept record requires unconventional construction. We heard lots of different styles, vibes and moods throughout the night. The interesting thing was that it actually sounded like music that wouldn't be out of place as the background score to a dystopian film. I can't explain it any better than that. It's almost as if there's a common, explicable, perceivable bond between dystopian literature and music made about a dreary fucked-up future. Maybe there is. Or Maybe Lakes of Canada stumbled upon something big here.
Small Black started late but they arrived on time, if that makes sense. Due to some difficulties during soundcheck the set started well past the listed time of 1:00 a.m. but when it started, the synths shook the room awake. Bathed in fog and pink lights, the boys then went to work.
If you didn't know that Small Black were Americans playing music in the 21st century, you could be forgiven for thinking they were a really good, really forward-thinking band from 1980s Britain. They have that sensibility. And, last night, they dealt track after track of sweaty, synthy fun. Lots of reverb. Pretty echoes. Funky basslines and throbbing bass hits that you could feel in your junk. Bright and piercing bits of guitar. Super cold dance party jams that almost felt like Pride anthems.
And people danced. Boy did they. And suddenly we weren't in Toronto anymore. Suddenly we were somewhere way more free.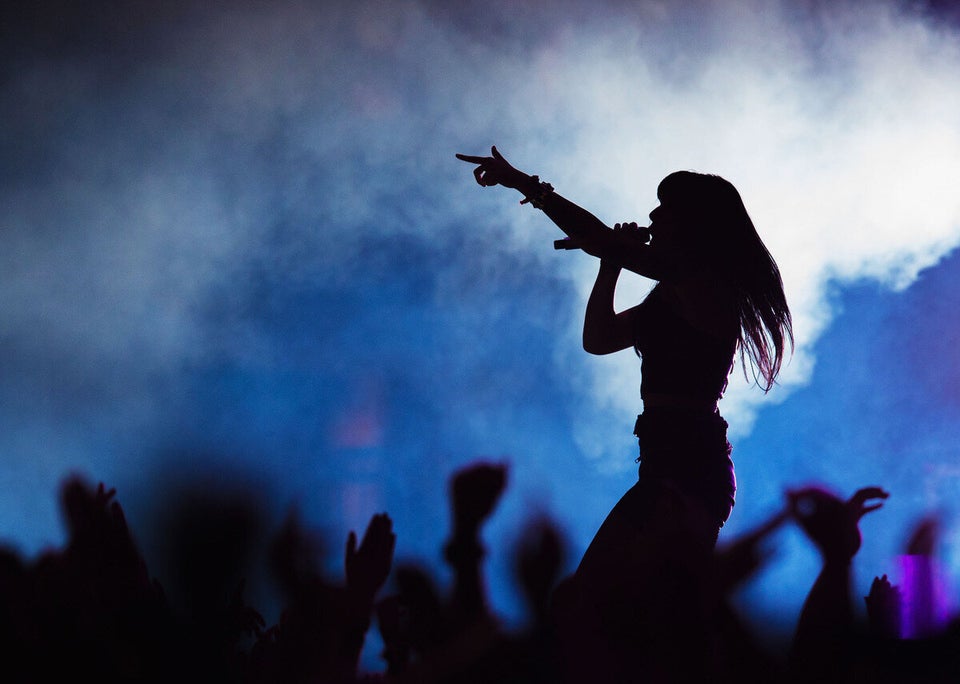 Summer Music Festival Guide 2014
Popular in the Community