Stephen Harper has cleared up what he meant by the term "old-stock Canadians."
Harper denied a charge from Liberal Leader Justin Trudeau that Tories have "taken away" health care from refugees. The Conservative leader said his government has ensured "bogus" claimants don't receive a better plan than ordinary Canadians.
It's a policy that new and "existing and old-stock Canadians agree with," he said.
The remark also sparked plenty of chatter online with some accusing the Tory leader of so-called "dog-whistle politics" on refugees, while others just chalked the controversy up to awkward wording.
'Descendants of immigrants'
On Friday, CBC journalist Hannah Thibedeau gave Harper — who did not take reporters' questions after the debate this week — a chance to elaborate.
"What exactly did you mean by that term and why did you use it at that point during the debate?" she asked.
Harper said the conversation at the time was centered on immigrant health care and he was beating back a false allegation. He again said his government has only removed "special health care programs" for failed and bogus refugee claimants.
"There is no reason why, no reason why we should give a special health care plan, better than received by ordinary Canadians, to people who are clearly not legitimate," he said, sparking applause from a room full of Tory supporters in Calgary.
But in describing how that position is "supported widely," Harper cleared up what he meant by the so-called "old stock."
"(The policy is) supported by Canadians who are themselves immigrants and also supported by the rest of us — by Canadians who have been the descendants of immigrants for one or more generations," he said.
Liberal leader reportedly said something similar
After Trudeau pounced on Harper's words, a 2007 Toronto Star story began to surface online that showed the Liberal leader used a similar term before being elected to the House of Commons.
The Star story, written while Trudeau was a first-time candidate in the Quebec riding of Papineau, noted how he criticized a House motion recognizing the Quebecois as a "nation."
He wondered in an interview with a Montreal weekly newspaper whether everyone in Quebec was part of that nation, or just the "old stock" pioneers.
In Montreal on Friday, Trudeau was asked why he didn't immediately call Harper out for the "old stock" quip.
The Liberal leader largely ducked the question, instead accused the Tory leader of leaning on "politics of division" in a way that is harmful to the country.
"He doesn't believe that a Canadian is a Canadian is a Canadian," Trudeau said.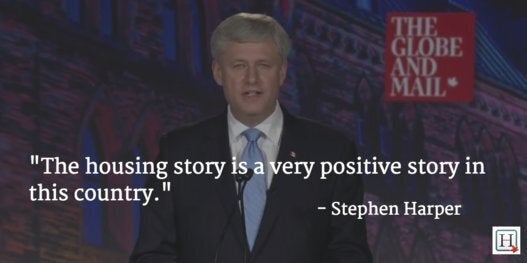 Best Quotes From Globe And Mail Election Debate
Popular in the Community