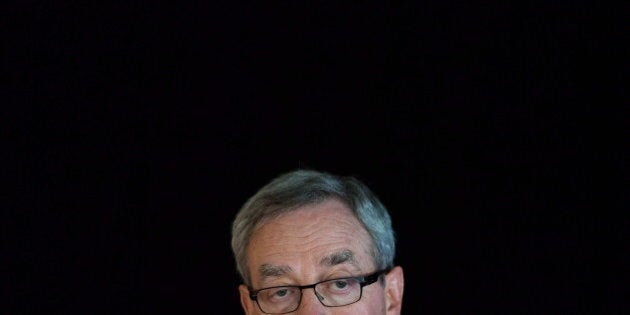 Canada's Finance Minister avoided questions from reporters Wednesday after a new economic report suggests the government is on track to run a $1-billion deficit.
Joe Oliver appeared alongside Toronto Mayor John Tory to announce $18.4-million in funding for a project in Conservative MP Mark Adler's riding.
Reporters criticized Oliver for flouting parliamentary transparency.
Earlier, the parliamentary budget office published an update on its budgetary outlook after the Bank of Canada cut its key lending rate to 0.5 per cent last week.
When asked for an explanation as to why Oliver ducked reporters' questions, the minister's communications director told The Huffington Post Canada he "was not available for comment" at the briefing.
Despite silence from Oliver, the Prime Minister's Office issued a statement brushing off the bleaker economic forecast, affirming the government remains "on track for a balanced budget in 2015."
"Canada posted a surplus of $3.9 billion for April and May 2015," PMO communications director Rob Nicol said in a statement to The Huffington Post Canada.
The PMO also threw in a few digs at the NDP and Liberals.
"Unlike Justin Trudeau, we know that 'budgets don't balance themselves,'" Nicol said, before praising the new Universal Child Care Benefit as "much-needed money" for Canadian families.
"We know that Justin Trudeau and Thomas Mulcair would take this money away," he said, calling the NDP leader a "career politician who does not even know what the business tax rate is in Canada, he just wants to raise it."
Nicol then tied the NDP's unreleased financial platform to the "chaos we see in Greece today."
He made no acknowledgement about the UCCB being taxable income and the fact that Mulcair has vowed to keep the enhanced benefit if his party forms government.
Ex-Tory MP: 'Shameless' Vote Buying
The cheques might appear large [$520 for children under six and $420 for children under 18]. However, it really is not Christmas in July for parents. In the last Omnibus Budget Bill, the Government eliminated the Child Tax Credit. Moreover, the new Universal Child Care Benefit is taxable income. So although you get to cash the cheque before the election, when next April arrives, parents will be taxed on much of that so-called Christmas present.
It was "actually painful" to watch the employment minister don a Conservative party-branded golf shirt while announcing the distribution of the long-awaited cheques, Rathgeber wrote.
"It's not new for governments to attempt to play politics with taxpayer money; but vote buying has rarely felt more shameless."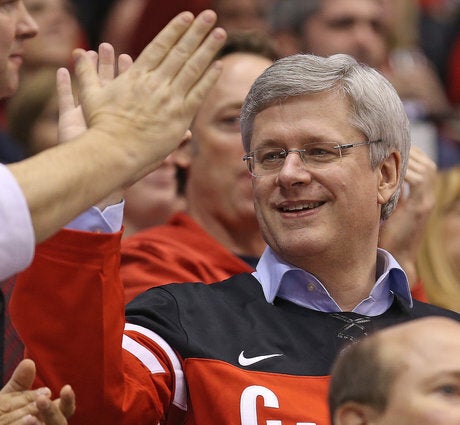 Highlights From Federal Budget 2015

Popular in the Community