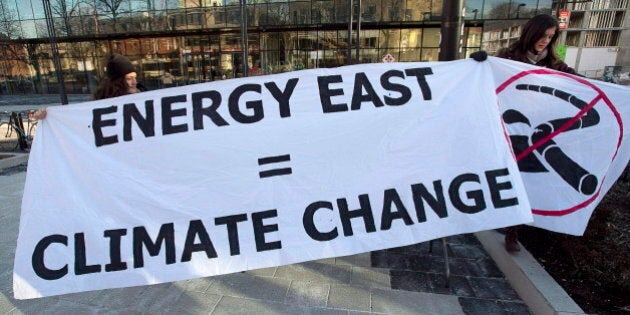 Last April, Vancouver announced plans to be entirely powered by 100 per cent clean energy within the next 20 years. The announcement was met with applause as the city's deputy Mayor told the world about the "compelling moral imperative" and "fantastic economic case" to take bold climate action.
It was a markedly different moment in Canadian climate politics from last week when Montreal Mayor Denis Coderre, along with over 80 other Quebec mayors, announced their opposition to the Energy East tar sands pipeline. The announcement was based on the same "compelling moral imperative" and "fantastic economic case" to move beyond fossil fuels, but was met by vitriol from politicians and pundits alike. While the two announcements were different, looking at them side by side illuminates a major problem with the conversation around energy development in Canada. Blinded by the push to build unnecessary fossil fuel infrastructure, politicians and pundits are drowning the conversation we need to have -- how to make the necessary shift to a 100 per cent clean energy economy.
The reality is that if Canada is serious about climate change, that's going to mean needing to leave most of the tar sands in the ground.
Politicians need to realize that in 2016, massive fossil fuel infrastructure is a wrongheaded place to invest -- both financially and politically. Community opposition to dangerous projects is on the rise across Canada, whether it's in Kitimat, where residents voted to oppose the Northern Gateway pipeline in 2014 or in Burnaby where nearly 70 per cent of the city's population opposes the Kinder Morgan Trans-Mountain pipeline. And opposition isn't just rising on the West Coast. In the community of Red Head, on the doorstep of Irving's massive New Brunswick refinery, a small community brought nearly 1000 people to march to the end of the Energy East pipeline, in the same small province that has been thwarting fracking plans year after year. In Cacouna, Que., a port for the Energy East pipeline has already been defeated. In the end, all politics are local, and across Canada, people are saying no to pipelines that put communities and water at risk.
But, for the sake of argument, let's forget about community opposition to these projects. Take that out of the mix and you still have to deal with the fact that Canada can't meet our commitment to a 1.5ºC climate limit and build more pipelines. United States President Barack Obama set a new high bar for climate leadership when he rejected the Keystone XL pipeline because of the project's climate impact, and now, whether Canadian politicians like it or not, every pipeline will be judged on its climate impacts. In fact, the Government of Canada just confirmed plans to formally implement a climate test on pipelines.
OK, so what if we ignore both community opposition and climate science? Even without this, pipelines are running headlong into indigenous peoples opposing the projects. On the West Coast, the Save the Fraser Declaration has been signed by more than 100 First Nations, forming an unbroken chain from the U.S. border to the Arctic Ocean opposing tar sands exports along the Pacific Coast. In the east, an "East-West Treaty Alliance" between indigenous communities in Manitoba, Ontario and Quebec recently came together to oppose the Energy East pipeline.
The power of indigenous opposition to pipelines is so strong that even now, years after its approval, the Northern Gateway pipeline is considered a dead project. Just a few weeks ago, a court case brought by the Gitga'at determined that pipeline reviews failed to properly consult First Nations on the Northern Gateway pipeline. Even the Line 9 pipeline, so far the only project to start moving tar sands oil, is facing a legal challenge from the Chippewas of the Thames. Since the Government of Canada continues to tout its commitment to the United Nations Declaration on the Rights of Indigenous Peoples, you can bet that pushing pipelines without respecting the principles of Free Prior and Informed Consent promised in the declaration will not help to get pipelines built.
Add all this up and you can only really come to one conclusion -- trying to build tar sands projects is a pretty bad idea, especially if you're looking for "shovel ready" projects that will put people to work. On the other hand, job creation in the renewable energy sector outpaces fossil fuels by a rate of 15 to two. In other words, if you invest a million dollars in the clean energy economy, you'll create at least seven times as many jobs as that same money being dumped into the fossil fuel economy. That's probably why, in 2014, a report found that clean energy jobs made up more of the Canadian workforce than the tar sands.
Over the past decade, the Governments of Alberta and Canada spent millions of taxpayer dollars trying to get the Keystone XL pipeline built, and we all know how well that worked out. Now, these same governments seem to poised to repeat history in their fight for pipelines like Energy East and the Kinder Morgan Trans-Mountain. What if instead of these doomed strategies, we chose to invest our money and political energy into speeding the just transition to a job creating clean, renewable energy economy?
Instead of lecturing Leonardo DiCaprio, Prime Minister Trudeau could be inviting him to ribbon cuttings at mass transit and clean energy projects. Instead of attacking the Mayor of Montreal, politicians could focus on clean energy projects that create good, long term jobs at a time when their constituents desperately need them. Instead of fighting the stream of history and indulging in the "petty provincialism" of pipeline politics, Canada could become a global leader on climate change.
Follow HuffPost Canada Blogs on Facebook