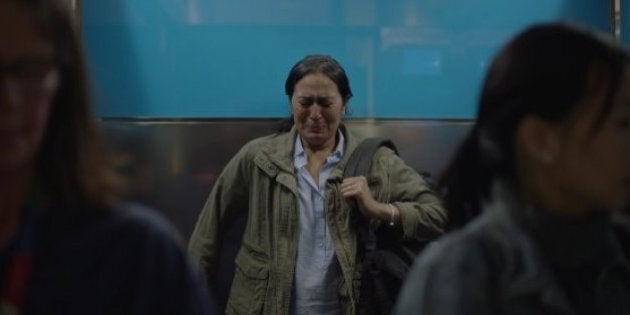 Watching your child go through an illness is all but impossible, and when that illness is severe enough to warrant time in the hospital, the lack of control can make any parent break down.
In honour of Mother's Day this year, SickKids Hospital in Toronto released a PSA documenting the strength of moms who are going through exactly that, literally picking themselves up off floors to prepare themselves to be tough for their kids.
Based around five mothers' real life stories, the ad is straightforward in its agony — everyday scenes that are anything but typical, showing the mamas facing down the reality of their child's illness.
There's Jessie, whose son Everest suffered a head trauma at six months and had to have emergency neurosurgery, shown in the last scene, and Sarah, whose daughter Jamieson was born with cystic fibrosis and had surgery just after birth to clear away bowel obstructions, in the chapel.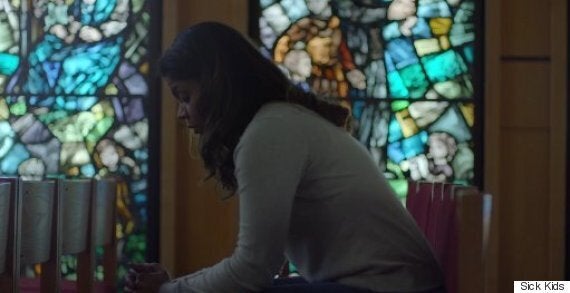 Diane's slide down the laundry room wall is nothing short of heartbreaking. Her son Jonathan was born with an abdominal defect, causing some of his internal organs to grow outside of his body and spent most of his first year of life at SickKids.
Hilary's daughter, Willa, was premature and must still be fed with a feeding tube, the two still regularly visit the hospital for checkups as shown in the second-last scene. And Natasha's daughter, Selena, who was diagnosed with a rare childhood cancer of the kidneys at age five and underwent 36 weeks of chemotherapy, is shown as a silhouette in an armchair.
The stories are a testament to the incredible medical care the children can receive at SickKids (this is, after all, a request for donations towards the hospital), but also an almost too-real look behind the scenes at what these mothers endured, and continue to endure, as their children grow up.
"If the child is ostracized in some way, it's the family who has to protect them from that or explain it." —Dr. Edward Schor
"I tend to not look on the lives of children with special needs as a child issue so much as it is a family issue," said Dr. Edward Schor, senior vice-president of Lucile Packard Foundation for Children's Health, which produced the film.
"If the doctor says, 'Make an appointment to see a specialist,' it's the parents who have to make the appointment and then take off work and make that additional appointment. If the child is ostracized in some way, it's the family who has to protect them from that or explain it. So, it's really all about the family."
SickKids seems to get all that and more, but perhaps it's the scene where Sarah whispers to herself in the chapel, "She can get through it," that is the most poignant. Because at the end of the day, it's those kids who are the ones who are sick — and all parents can do is stand by, hold their hands and square their shoulders to face another day.
Popular in the Community