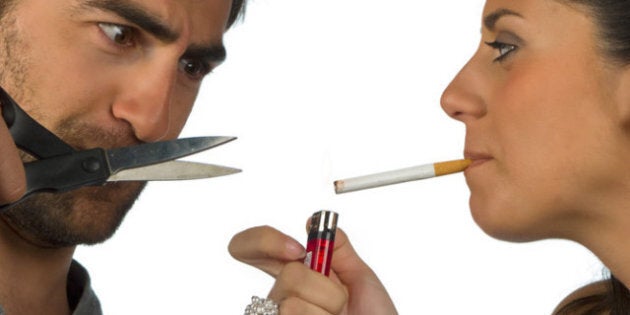 Canada's highest rate of smokers are adults aged 19 to 29, the largest age range in the dating pool. So it's no coincidence that the Canadian Cancer Society opted to launch a campaign entitled "Break It Off" this year, which focuses on the same problems people have in their relationships.
"When you talk to smokers, they say it's like a bad boyfriend," says Kyle McKeown, communications coordinator for the Canadian Cancer Society's Smokers' Helpline. "You know you shouldn't go back to them, but you find yourself in the same bad habits."
"It's an issue for relationships if finances are involved. When somebody decides to smoke their money away, it can be very devastating to the other partner," she says.
In other cases, Plattor says smokers and non-smokers may not be on the same page. "When some smokers are upset or anxious, they light up a cigarette," she says. "The smoker is not emotionally present for the other person, and this leads to problems."
And then there's chemistry -- or the lack of it. You know that melodramatic bedroom scene when couples have hot sex, and right after someone -- usually the man -- lights up a cigarette? This isn't exactly the reality. Last year, a U.S. study found that men who've quit smoking have better overall sexual health than men who continue to light up, according to the British Journal of Urology International.
Support might be needed to motivate the quitter, but the non-smoker will also be in need of some help. "Loved ones need to know how to set boundaries and decide why they want to tolerate smoking," says Plattor.
With files from The Canadian Press.
And if you are thinking of alternative ways to finally kick the butt, here are 15 natural ways to quit: