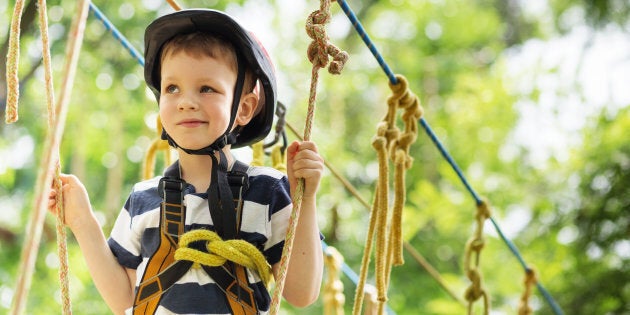 School is almost out and by now your kids' have been enrolled in their summer camp of choice. Soon you'll be sending them off for a few weeks of summer fun, learning and friendships – while hopefully enjoying a little R&R time for yourself. But as any parent knows, before you can put up your feet and crack open the wine there's plenty of planning, shopping and packing to do to ensure your kids' camp adventure goes of without a hitch.
While camps offer a great number of benefits and opportunities for kids, they aren't free. In some cases, the fees can be fairly steep and depending on what's included, there's likely to be at least some things you'll need to buy, from clothing to a new sleeping bag or special supplies. Here are some tips to help you plan smart for summer camp, along with savvy ways to save money.
Making lists are the best way to start and will help keep you on track. Check the camp's packing list – some have it on their website – and find out what items may already be included in their fees, such as towels or, in the case of overnight stays, bedding. Depending on the camp and type of activity (arts, sports, nature) some materials may or may not be supplied, and items like flashlights, batteries, plastic plates and cutlery, blankets and even pencils/pens are often your responsibility.
It's best to group items into categories such as clothing/shoes (indoor, outdoor, sleepwear, underwear), toiletries/personal (everything from grooming to medication), safety (first aid, sunscreen) activity (swimwear, water shoes, tents, sleeping bags), etc. Kids get dirty quickly so, as a rule of thumb, pack about twice the clothes they'll need for the number of days they'll be staying, since many camps don't have laundry available.
You'll also want to make sure your kids are prepared with their own snacks, especially if they have dietary restrictions, along with bottled water. While some items may be available in a tuck shop, like any convenience store the selection is usually limited and often overpriced so it makes sense to stock up at home. Once you have your lists, you can figure out what you might be missing and what you need to buy or replace.
There are a number of strategies for saving money, but you can always start with a no-cost strategy. For example, look at redeeming loyalty program points. Check your travel or credit card programs as they often have a large selection of merchandise to choose from, or redeem loyalty points from your favourite grocers and retailers. From tents and binoculars to insect repellant and biodegradable shampoos, by using points you can get items that are essentially free.
It's also worth signing up for newsletters from your favourite retailers, and if you're not already following them on social media, get on it! They'll often post flash sales or discount offers on social channels, or push them out via email before they roll them out on their website. Take advantage of these extra savings by following them on Facebook, Instagram or Twitter and be in the know as early as possible.
Sari Friedman is the Marketing Director of Ebates Canada and resident shopping expert. Ebates.ca is Canada's largest Cash Back shopping site. As a fashion enthusiast and new mom, Sari has an eye for finding and sharing amazing deals on the hottest trends and must-have styles.