An estimated 5.5 million people, including two million children, have been cut off from running water for over three weeks in Damascus and its surroundings, the longest cut Syria's capital has seen.
Intense fighting damaged the water infrastructure for the two main drinking water sources for Damascus -- Ain El Fijeh and Wadi Barada -- located in a mountainous valley near the capital.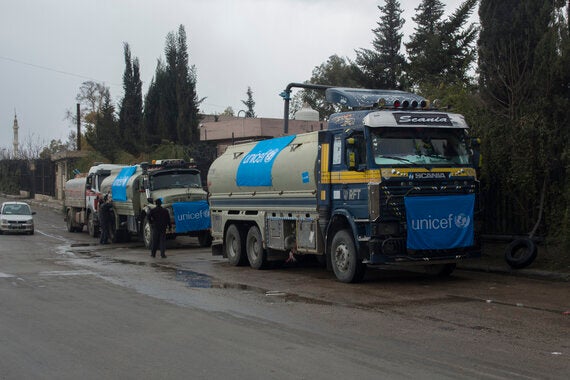 Water rationing program was initiated by local authorities allowing some neighbourhoods to receive running water for up to two hours every three or four days, barely enough to cover basic needs.
"When my father tells us it's our turn to receive water, we prepare everything we can fill at home - bottles, jerry cans, pots and pans," said Bashir, a 12 year-old boy living in Al- Midan neighbourhood of Damascus. "When the water comes, it's just like a party for us!" he added.
Severe water shortages raise health concerns
As the water crisis continued, families resorted to alternatives such as buying water from private vendors for double the price with no guarantees on quality or safety, raising concerns of the risk of waterborne diseases, particularly amongst children. In some areas in Damascus, people are paying up to US$12 for 1,000 liters of water from private companies. The same volume of water used to cost just US$5 a year ago.
Last week, Bashir was hospitalized due to abdominal pain, diarrhea and vomiting.
"At the hospital, they told me that the cause might be contaminated food or water," said Bashir who missed two days of school when he fell ill.
Children bear the brunt of water cuts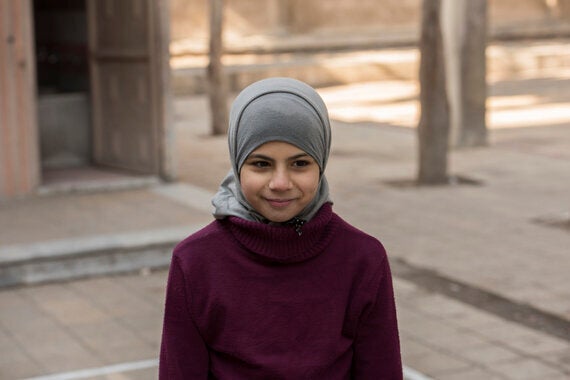 The burden of collecting water disproportionately falls on children. Many have to wake up before dawn to queue at local water distribution points before they run dry. Walking long distances under the weight of heavy jerry cans has become daily routine for many children. Time that should be spent playing, studying or resting is replaced by hours of collecting water.
Every other day after school, Dania, 11, walks to a nearby mosque with her father and grandfather, carrying a 10-liter jerry can to collect water. The 15-minute journey feels longer on the way back.
"I get tired on the way back, but I take a break every few steps. I also drag the jerry can when I can't carry it anymore," said Dania. "I don't ask my father for help because he usually carries two or three jerry cans every time so I try to help even though my arms and lower back hurt." she added.
Some families are forced to use water form untreated boreholes, which have not been used in years.
Twelve-year-old Abdulrahman goes through the same struggle daily. Instead of doing homework, resting or playing with friends, he spent hours fetching water for his family.
"Every day after school I tie three empty jerry cans to my bike and head to a nearby mosque to fill them. It's tiring but I'm the eldest of my siblings so I have to do it for my family," he said.
'Without water we will die'
The long water cuts have left some residents with few options. Some families are forced to use water form untreated boreholes, which have not been used in years. A father told a UNICEF team, "If we get sick we can get treated -- but without water we will die."
Around 700,000 people in Damascus, most living in elevated areas, have not had any water for more than 18 days because of the low pressure due to reduced volume of water coming from underground wells, the only source for millions of people since water from the mains was cut on 22 December 2016.
Sever water shortages are putting additional strain on families already suffering from long power cuts and lack of gas and heating oil in the midst of bitter cold weather.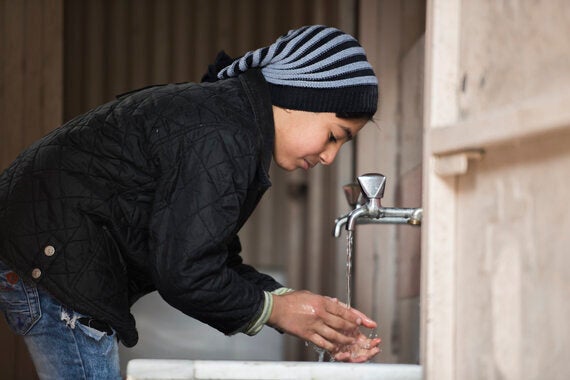 UNICEF is on the ground rehabilitating and equipping underground water wells and pumping stations, and trucking water to schools. To support UNICEF's response in Syria, click here.
Follow HuffPost Canada Blogs on Facebook