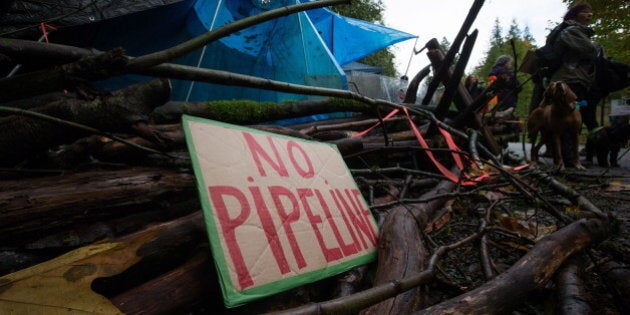 If a tar sands tanker hits a rock on the Kinder Morgan shipping route past Vancouver Island, the resulting spill could decimate wild salmon, clams, and other food sources that First Nations have relied on for centuries. Chilling stories like this were front and centre at last week's Oral Traditional Evidence hearings in Victoria -- part of the National Energy Board (NEB) review of Kinder Morgan's Trans Mountain pipeline and tanker proposal.
In my position at the Wilderness Committee, I've had the privilege to attend all kinds of community events and public meetings. I strive to be present as often as possible when First Nations representatives are sharing their truths and viewpoints. These events are always moving and powerful, and last week's hearings were no exception.
The NEB panel heard from speaker after speaker -- every one of them passionate, eloquent, and humble. Some made the room cry, others made the room laugh, and every one of them obliterated any doubt that contemporary First Nations peoples are deeply connected to their lands and waters.
Although these presenters participated and many other Indigenous and non-Indigenous people were there to bear witness, it was widely acknowledged that the current NEB process is deeply flawed.
It's been criticized as a "rigged" process that favours industry over the public interest by Marc Eliesen, a former CEO of BC Hydro and former board member of tar sands giant Suncor, and called "a sham" by SFU professor Lynne Quarmby. Inexplicably, the NEB has deemed climate change out of scope and irrelevant to the Kinder Morgan review, even though the pipeline would further facilitate Canada's contribution to the climate crisis.
First Nations presenters explained at the hearings that the three-hour sessions they're allotted are insufficient to fully describe their positions on the project, given that these positions are based on thousands of years of history and culture. Some opened their presentations by stating that they did not accept the hearings as adequate consultation and demanding that the federal government engage in dialogue with them on a Nation-to-Nation basis.
In an admirable display of courtesy and patience, the same Nations then closed their testimonies by presenting NEB members with gifts and sincerely thanking them for listening.
The utter failings of the NEB review process don't mean that it's not important for us to show up and witness these public hearings. You can't have environmental justice without social justice, and that starts with listening to the people and the communities that have been oppressed or are on the front lines. First Nations people are the original stewards of this coast, and their voices deserve our attention and our respect. For non-Indigenous activists and organizers, and for anyone concerned about the environment and climate, this is also a tremendous opportunity to learn about the places we live in and care about.
If you watched the news last week, you know that as these hearings in Victoria were happening, hundreds of people were up on Burnaby Mountain, where Kinder Morgan was doing preliminary work in a municipal park. On Thursday, while I watched a Nuu-chah-nulth Chief Councillor tear up while describing what a tar sands tanker spill would mean for her Nation, Grand Chief Stewart Phillip of the Union of B.C. Indian Chiefs was arrested on the Mountain, standing in solidarity with First Nations all along the pipeline and tanker route that have clearly and repeatedly said "No" to Kinder Morgan.
Blog continues below slideshow: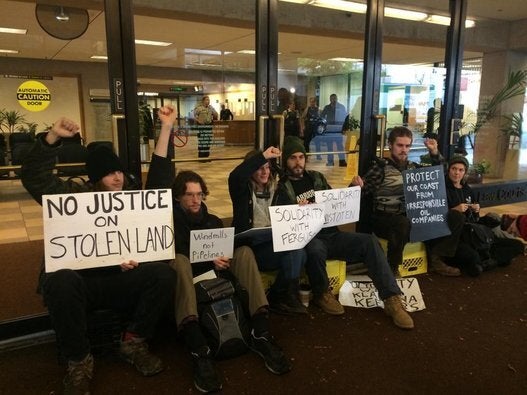 Kinder Morgan Pipeline Protest, Fall 2014
Over 120 other Indigenous people, students, retirees, professors, and citizens from all walks of life were arrested trying to stop Kinder Morgan's work. On Burnaby Mountain, at the hearings in Victoria, and everywhere in between, there's a strong desire to reject a proposal that threatens the coast and our climate and instead move on to better alternatives.
Before the last session of the hearings on Friday morning, a group of First Nations leaders held a press conference outside. They announced a joint letter that slammed the NEB review process and questioned its constitutionality. The letter is signed by the Chiefs of 12 First Nations, including two from Vancouver Island as well as Chief Maureen Thomas of the Tsleil-Waututh Nation and Chief Ian Campbell of the Squamish Nation, who both spoke at the press conference. The Squamish and Tsleil-Waututh Nations, whose territorial waters surround Kinder Morgan's tanker terminal, have been key leaders in the opposition to the pipeline for years.
It was a privilege to attend the NEB hearings last week and to witness the leadership that is so lacking in our current provincial and federal governments. The leaders I saw at the hearings understand that you can't eat money, and that true prosperity means developing industries that respect the natural world and our place in it.
The transcripts from these hearings are available on the NEB's website. I encourage you to read them, and I encourage you to attend future events where Indigenous peoples are speaking about environmental issues or resource projects -- be it a formal hearing, a lecture, a rally, or anything else.
First Nations are true leaders here, and by standing behind them and standing together, we can move towards a brighter, less destructive, and more just future.
Popular in the Community