A Tribe Called Quest kicked down a literal wall in a powerful anti-Trump protest at the 59th Grammy Awards.
Legendary hip-hop performers Q-Tip, Ali Shaheed Muhammad and Jarobi White took the stage along with rappers Busta Rhymes, Consequence and Anderson .Paak, to perform their protest anthem "We The People" off last year's album "We Got It from Here... Thank You 4 Your Service," as well as portions of "Award Tour," "Movin' Backwards" and "Can I Kick It?"
The song's lyrics go, "All you black folks, you must go/All you Mexicans, you must go/And all you poor folks, you must go/Muslims and gays, boy, we hate your ways."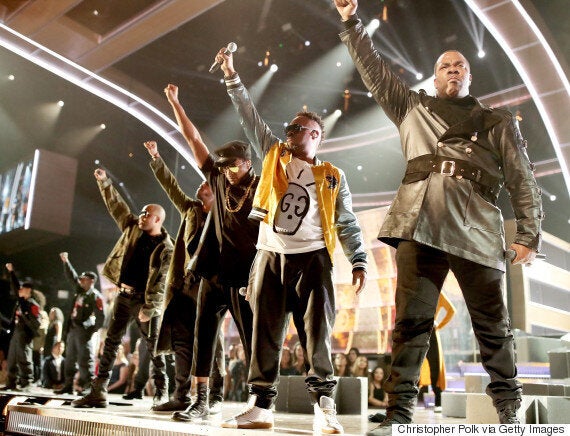 The group's performance directly hit out at U.S. President Donald Trump.
"I want to thank President Agent Orange for perpetuating all of that evil that you've been perpetuating throughout the United States. I want to thank President Agent Orange for your unsuccessful attempt at the Muslim ban. When we come together, we the people... we the people... we the people ..." Busta Rhymes shouted, referencing Trump's ban on immigrants and refugees from seven Muslim-majority countries.
The group then busted through a stone wall, before welcoming a diverse group including women in hijabs on to the stage.
It was a powerful political statement from a group that has only played a handful of shows after they split nearly 20 years ago, before regrouping for their new album last year.
Tribe has a long history of political action, beginning with their roots as part of the Afrocentric hip-hop collective Native Tongues.
The group dedicated their performance to the late Phife Dawg, one of the original members of Tribe. He passed away in March 2016. A lone mic stand was illuminated by a spotlight on the stage as they performed.
Q-Tip ended the performance by shouting, "Resist. Resist. Resist."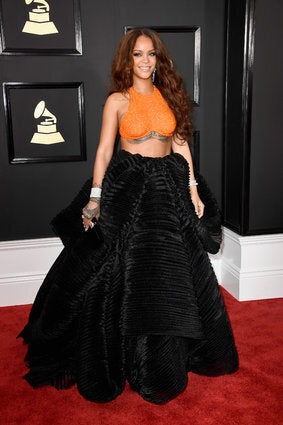 Grammys 2017 Red Carpet Photos
Popular in the Community