As Prime Minister Justin Trudeau heads to Washington, Canadians are asking themselves how the presidency of Donald Trump will affect our nation. This question is important, but equally important is the question of what role Canada must play in a world that has been upended by the Trump agenda.
Within the month of taking office, Trump has plunged the world into a period of frightening instability. He elevated the conflict level with Iran and China and threatened to destabilize the precarious situation in Israel/Palestine. He has hung up on the Australian prime minister and picked a fight with Mexico. But it has been his targeting of Muslim travellers and direct challenge of the U.S. judiciary that is the most disturbing foreshadowing of what is to come.
Trump has elevated America's right-wing fringe to the inner sanctums of power. They are spoiling for a fight on a whole manner of issues from climate change, to women's rights, to the Middle East.
There have been those in the media who advise the prime minister to keep his head down and avoid angering a clearly erratic president. But let's not kid ourselves -- the idea that the prime minister can get away with tiptoeing around Trump's attack on international law and human rights isn't going to cut it.
As much as Canada has economic interests, we have moral interests. And this isn't simply a question of values. This is also a matter of standing up for Canada's vital interests.
The prime minister cannot use the Trump presidency as an excuse to walk away from his electoral commitments.
This must be kept in mind as the prime minister meets in Washington. Will we turn over security information on Canadian pipeline protesters under the broad powers established by C-51 to the Trump administration? Will we be silent on his all-out assault on privacy rights for travellers entering U.S. airspace? Will we stay silent as the president destabilizes our allies?
Clearly Canada's economic interests are deeply entwined with the U.S. market. The prime minister has a duty to work to maintain the economic flow of goods between both countries. But he also needs to be a champion the interests of sectors like lumber and beef even as Trump attempts to add to his wish list of trade concessions. Taking advice from Brian Mulroney, who has been floating the trial balloon of adding supply management sector to the negotiating table, sends a very wrong signal.
On the international front, Canada is going to have to step up its multilateral diplomatic initiatives to Latin America, Europe and Asia. Having a part-time ambassador to Germany and the EU isn't good enough when we need to be working closely with them on containing the Trump effect.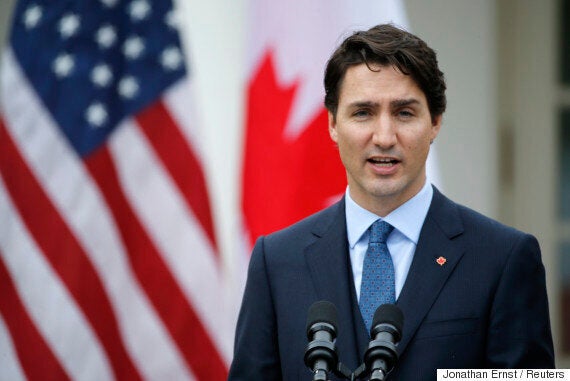 On the domestic front, the prime minister cannot use the Trump presidency as an excuse to walk away from his electoral commitments to a more progressive Canada. His attempt to invoke fears of the rise of an extreme right wing as a reason to kill the electoral reform commitment reeks of cynicism.
Last month, at the height of the fabricated tensions against Muslim Americans, six Canadians were murdered in a religious sanctuary where they should have been safest. In the days following this despicable act, Trump's spokesmen used the murder of Canadians to justify policies, which are against Canadian values and undermine our national interests. Yet, the Trudeau government opted to stay silent in the face of these falsehoods and attacks on the memory of these innocent victims of right-wing terror.
In dark and uncertain times, Canada's voice is needed more than ever.
Canadians may not be in a position to change the Trump administration, but we must take the steps needed to keep him from changing us. I believe the prime minister should take his lead from the tens of thousands of ordinary Canadians who are organizing an incredible resistance movement rooted in community, protest and respect. The ring of peace that was organized by a Canadian rabbi to protect Muslim worshippers at prayer in cities across Canada is a symbol of all that is best in our nation.
We need leadership in Ottawa that channels this energy. In dark and uncertain times, Canada's voice is needed more than ever. Canada can provide the world with a progressive, principled vision that does not get thrown off by the politics of bullying and fear.
Follow HuffPost Canada Blogs on Facebook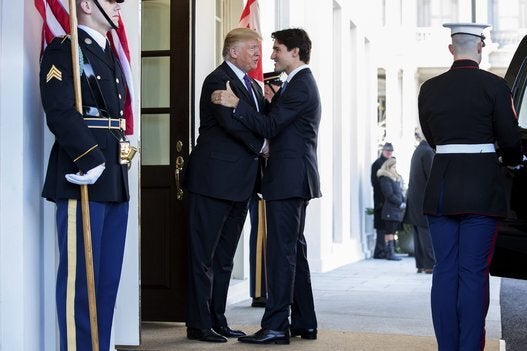 When Trudeau Met Trump