On Tuesday, blogger and mom of four Constance Hall admitted that she and her husband had "parent sex" the day before.
"You know what parent sex is," she wrote. "It's that 3.5 minutes you get in between changing nappies and making food."
Hall then went on to reveal the hilarious reality of having sex after kids, which includes being seduced by a pointed finger at the bedroom and romantically listening to a kids' show in the background.
"[It's] where you position the bed to have one foot against the door because for a loud bunch of kids, yours can be pretty quiet when they're sneaking up on people," she explained.
"Where no matter how hot it is you chuck the doona [cover] on top of yourselves in case someone manages to barge through and catch mommy and daddy doing 'yoga' in bed."
The 32-year-old's post has now gone viral with over 34,000 shares. In the comments, fellow parents couldn't help but applaud the mother for keeping it real.
"This by far is the most honest and true statement ever made by a woman on Facebook," one wrote. "I love it it's exactly what happens in our household haha."
Another said: "Brilliant!! Keep making love people and stealing those moments!! Never heard of a kid yet traumatized by their mom and dad loving each other. Better than arguing in front of kids hey!"
In response to the positive feedback, Hall told Yahoo7: "A lot of moms spend a lot of time inside with their children and babies, when they click on Facebook to see what's happening they are confronted by a whole lot of bullshit and left thinking that everyone is living these amazing lives.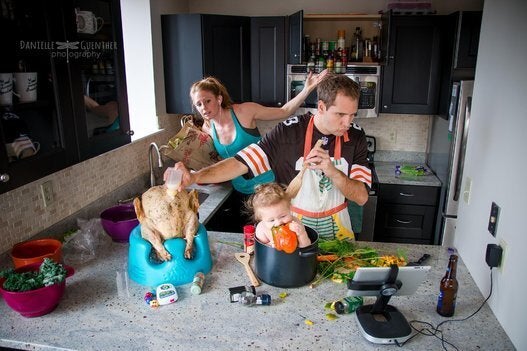 Realistic Photos of Parenting