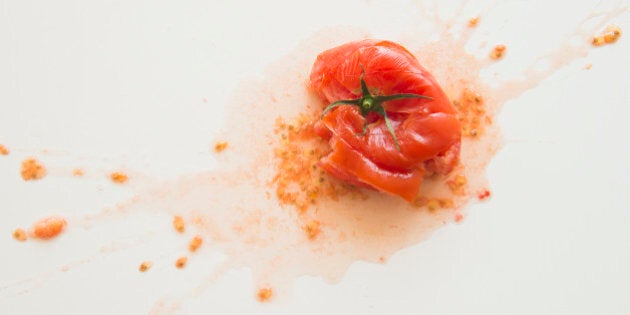 When we see containers of yogurt in the trash, perfectly good fruit and vegetables sent to the organics bin - we are moved to frustration when it appears that the disposed food could have been donated to a food bank. According to a 2014 report from Value Chain Management International, $31 billion in food is wasted each year in Canada, from farm to fork with 50 per cent of wasted food coming directly from households, while more than 850,000 people seek assistance from food banks each and every month because they can't afford to buy food themselves.
The combination of waste and need is a vexing one, and it is not new. For years, hundreds of food bank organizations across Canada have been actively working to reclaim surplus food from retailers, manufacturers, and farmers, diverting millions of pounds that would have been wasted and instead directing this food to individuals and families in need.
At Food Banks Canada, we have partnered with retailers Walmart and Loblaws to divert more than 14 million pounds of safe quality food to food banks across the country through a food diversion program which pairs retail stores with local food banks to donate good food to those who need it most. Additionally, local programs include efforts such as retrieving produce from a farmer's field, or donating excess production from food manufacturers.
However, there are limits to what food banks can take -- the safety of those we help must come first. Stories of food landing in organic bins behind stores neglect to address the fact that there are numerous reasons why it ended up there.
For example, food that has been subject to a recall, left out of the refrigerator for days, or returned by a customer should never be donated. No matter how tempting it is to think that any and all food that looks edible should be diverted, it would be wrong to risk the health of people accessing food banks.
The limited capacity of food banks to safely store and transport food, especially perishables, is another limiting factor. Like many charitable organizations, food banks face the ongoing challenge of resources keeping up with need. Fortunately, over the last three years, our retail partners have generously donated funds to help us build the capacity of food banks to offer a more diverse range of foods.
The Walmart Foundation, in particular, has demonstrated significant leadership in hunger relief and has invested over two million dollars in Canadian food banks as part of a multi-year, multi-million dollar commitment to enhance cold chain integrity, expand logistics and ultimately make it possible for hunger relief organizations to accept more safe, quality food from donors.
No one wants quality, safe food to be wasted. A greater focus on food rescue efforts can increase the amount of all types of foods, and especially desirable perishable products, to ensure all families can put a wholesome meal on the table.
But let's not kid ourselves -- surplus food will never address the root causes of hunger.
Why do Canadian food banks have more recipients year after year? The heart of that issue is not food waste, it's hunger in Canada. And solving the issue of waste will not solve the issue of hunger.
Food insecurity in this country is a real issue and one that bears a shared responsibility from addressing the woeful state of government supports, or pensions that don't stretch to finding ways to lessen the burden of excessive student debt. The growing number of individuals needing the help of food banks is a real loss, and it's time we addressed this in our country of plenty.
Follow HuffPost Canada Blogs on Facebook