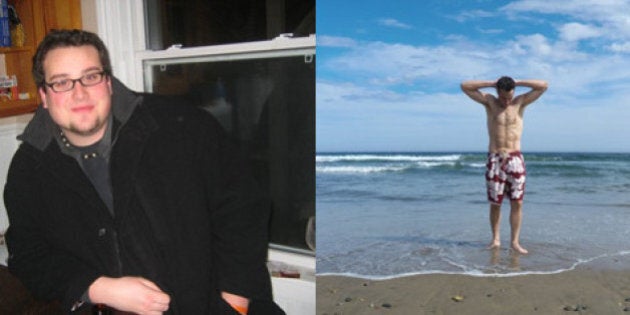 Occupation: Human Resources
By The Numbers: 350 pounds at my heaviest, currently 175 pounds, for a total weight loss of 175 pounds.
The Weight Gain: I had always been a big kid, who turned into a big teenager, who turned into a big man. I was considerably taller than the other kids in my class (now 6'1") and was always considered a "big boy" — later, a "big guy". I believe I ran with this concept and used it as a license to eat what and when I wanted. How does a person reach 350 lbs? You eat that big. For me, these behaviours were set at a young age.
While I made periodic efforts at exercising, my diet was hopeless. I had a complete lack of nutritional awareness. I considered my nightly mac and cheese to be a healthy option ("It's just cheese and pasta, that's pretty good, right?"). I ate like it didn't matter.
Final Straw: I graduated with a Bachelor of Arts in the summer of 2008, and what followed was immediate unemployment. On a summer day in 2008, I sat in a park giving serious thought to my situation and future. The turning point was this exact thought: "I don't want to live the rest of my life this way. I have the ability to change this situation entirely. The only person who can stop this is me, and I won't let that happen." From that point on it seemed simple. It was not easy, but it was simple. I knew I had the ability and I was committed to not failing.
I wanted to lose my weight because I knew it was putting restrictions on my life, quite literally, such as the time I had to get off of a roller coaster because the bar would not close over my legs. Certain activities were simply off the table for me. I was tired of my weight and my insecurity controlling where I went and what I did.
The Plan of Attack: I bought an exercise bike via Kijij for $30 and that was the best move I ever made. At first, it was horrible; 10 minutes was excruciating and the effort seemed hopeless. I tried a number of methods to pass the time, TV, movies, etc., but it was not looking good. After about a week of struggling, I found a personal gold mine: NHL 08 on XBOX 360. I would ride the bike and play hockey games, with each game running roughly 15 minutes. I found myself playing 3 – 4 games a day, spending 45 – 60 minutes on the bike without really noticing the effort. Eventually I got to a point where I couldn't play very well without my bike ("what do I do with my legs?").
While changes were minimal in the first few weeks, they were still evident. This provided encouragement to press on. In weeks six to 10, I made incredible progress. I simply focused on my efforts; I rode my bike and did not worry about anything else. After about four weeks of this, suddenly I, and everyone around me, noticed an incredible change. I looked and felt like I had dropped 100 pounds in a short amount of time. I look back at those four weeks as the period when my effort broke through; after those four weeks, momentum was on my side.
In the first year I lost about 140 pounds, but I estimate 65 per cent of perceivable progress was made in the first 12 weeks. I believe it was such an abrupt change in living that led to drastic results.
Story Continues Below. Check out more of our inspiring weight loss stories: