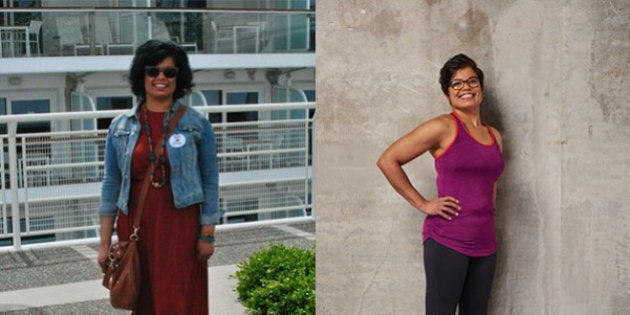 Occupation: Insurance broker
By The Numbers: 175 pounds at my heaviest, currently 140 pounds, for a total weight loss of 35 pounds.
The Weight Gain: Growing up, I was never overweight but my weight fluctuated.
My weight gain started in 2008 when I moved to B.C., and with the transition from my move I started overeating and not exercising.
For the last five years I had struggled with weight gain. I moved from Manitoba during a recession, was unable to find work right away, became depressed and replaced my depression with food. It didn't help that my health was already poor, I knew what I needed to do but I always used my health issues as an excuse.
I was diagnosed with cerebral palsy (CP) at a very early age. It was a very minor case — there was no brain damage and it was confined to my left side, mainly my left arm. As I grew older my CP became worse and the doctor warned me that without exercise, arthritis could set in and eventually, I could end up in a wheelchair for the rest of my life. I also have asthma, developed gastroesophageal reflux disease and high blood pressure because of my weight.
Final Straw: In September of 2014 I was admitted to the hospital, my blood pressure was very high and I was experiencing chest pain. The medication they gave me to stabilize my blood pressure had side effects. This is when the doctor advised to make lifestyle changes. I started by watching what I ate, but it didn't really help, due to my lack of knowledge in nutrition. A month later I saw a picture of myself at a wedding I attended. I didn't recognize myself. I needed to do something.
Story Continues Below. Check out more of our inspiring weight loss stories: