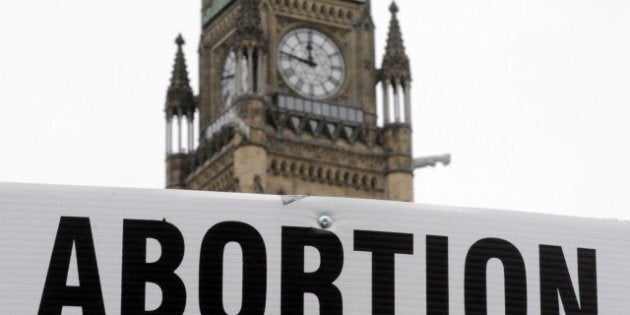 The latest Ipsos Reid/Postmedia poll finds that most respondents favour maintaining some form of abortion license, but dig a little further and it's clear there is a lack of understanding about the legal reality in Canada.
While almost half say women seeking an abortion should not face any restriction whatsoever, 45 per cent say it should be permitted in only "certain circumstances" and another six per cent favour an outright ban. When asked if they would like to see gestational limits, six in ten respondents would support a ban on third-trimester abortions.
It needs to be understood that Canada is the only country in the world without any law on abortion. For some to suggest that they would only like to see babies in the womb protected in the third trimester is to suggest that we should establish a pro-abortion law in the absence of any law which would allow the killing of unborn babies from the time of conception until 26 weeks.
Pro-life groups in countries that take a time limit approach note from experience that it is very difficult to uphold the law because unscrupulous doctors and abortion-minded women can fudge the conception date and how far the pregnancy has proceeded.
Ipsos Reid president Darrell Bricker said, "Canadians are generally supportive of a woman's right to choose, but they don't want the choice to be taken frivolously." We are talking about a life and death decision for the second person in the equation, the child in the womb. We have killed four million babies (The government does not fully disclose statistics regarding abortion. It is also not mandatory for private clinics to report their activity. As a result, abortion figures are limited and the figure most often used is anywhere between 3.5-4 million) in their mothers' wombs since 1969. Frivolous? Definitely.
There are many victims in every abortion; the baby, the mother, the father and the medical professionals who compromise their profession to kill a healthy baby. Many women have approached the Silent No More Awareness Campaign to tell them if they had more information about the abortion procedure, the possible ramifications, and the facts about their developing babies (modern sonograms demonstrate that the child in the womb is not merely a blob of cells), they would not have gone through with their abortion.
Informed consent regulations that require women be presented with information about fetal development and the possible side-effects of abortion will guarantee that women know what they are getting into. Combined with a 24-hour or 48-hour waiting period to consider the information, informed consent will reduce abortions and protect women from decisions they might later regret.
Polls sponsored by LifeCanada have repeatedly shown widespread support for informed consent laws. They also demonstrate broad backing for parental notification laws so that minor children cannot have an abortion without their parents' knowledge (this is different from parental consent laws that require parents to sign off on the abortion).
Another aspect to consider is that the taxpayer must foot the bill for a non-medically necessary procedure which kills a human being at the request of another. According to a 2011 Abacus Data poll Campaign Life Coalition co-sponsored, most Ontarians do not want abortions to be funded by taxpayer dollars. As a matter of fact, 61 per cent oppose government funding, including many of those who support access to abortion.
Because abortion is so often a personal decision not based on medical considerations, it need not be covered by the public health care system. Indeed, in these times of austerity, taxpayers resent paying for the lifestyle choices of individuals.
In 2001, Marilyn Wilson, then head of the Canadian Abortion Rights Action League, told the parliamentary Finance Committee that women who have abortions "do so for socio-economic reasons" such as completing "their education" or becoming "financially independent" and in other cases "couples with children wish to restrict their family size."
American research, including by the Planned Parenthood-connected Guttmacher Institute, verifies that most abortions are done to avoid other inconveniences and maintain previous lifestyles. There is simply no medical reason to fund these abortions.
The pro-life movement wants to protect all human life from the time of conception to natural death. A gestational limit would give the illusion of providing some protection to a tiny number of children in the womb and send the wrong signal to the general public that abortion is restricted in any meaningful sense.
Popular in the Community