The concept of sex-segregated transportation such as women-only ride-share schemes and trains is gaining steam around the world, most recently with the launch of an 'Uber for women' and calls for 'pink carriages' on Australian public rail lines.
Though women-only buses, rail and subway cars have been in place for years in countries like Japan, Malaysia, India and Egypt, the concept resurfaced last month after private train operator Mitteldeutsche Regiobahn announced the launch of a women-only car for its Leipzig and Chemnitz route in eastern Germany.
The launch was made following a spate of highly publicized sex attacks on New Year's Eve in Cologne. The rail company maintains the move is meant to improve security in general and denied that the service was in direct response to the attacks.
Meanwhile, a proposal made last week to trial an all-female carriage in Australia caused an uproar among feminists and critics who called for male-only cars instead, describing the scheme as a Band-Aid solution to rising crime rates against women.
About 20 sexual offences are carried out against women on public buses, trams and trains every month in the state of New South Wales.
The Safe 'Pink' Carriages would also be installed with extra distress buttons, on-board CCTV cameras and more regular checks by staff.
The concept of all-female transportation doesn't end with trains. An American entrepreneur is poised to launch what's being described as 'Uber for Women,' a ride-sharing scheme that uses only female drivers for female passengers.
Set to launch next week in Massachusetts, Chariot for Women is meant to put female riders at ease by putting a fellow woman at the wheel.
Founded by a former Uber driver, Michael Pelletz said the idea for an all-female ride-share service came to him when he picked up a strange man whose incoherent behavior and aggressive gestures made him feel afraid for his own safety.
Though well-intentioned, the service has yet to launch and already faces potential legal obstacles for being discriminatory against men.
Chariot for Women is supposed to launch April 19.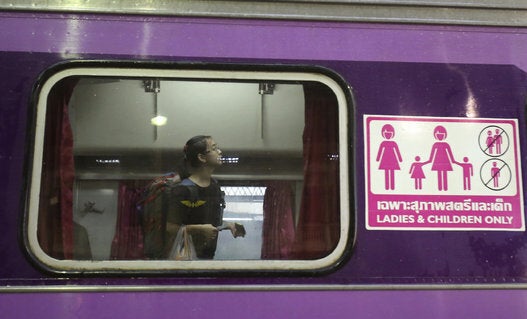 Women-Only Carriages