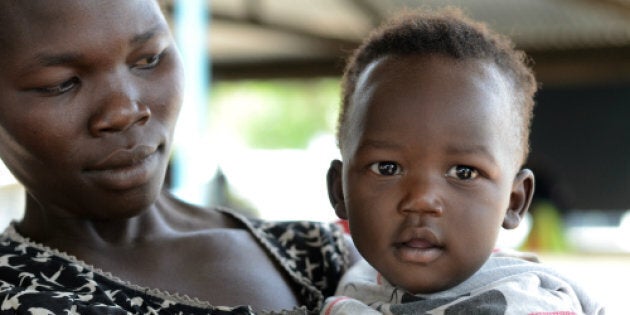 World Breastfeeding Week 2017 has come to a close. This year, the World Alliance for Breastfeeding Action is focusing on four key areas that influence women's ability to breastfeed.
Environment and climate change
Nutrition, food security and poverty reduction
Women's productivity and employment
Survival, health and well-being
Looking at those bullet points, I know that there is still so much work to be done. For women in some of the world's poorest places, all of these areas are working against, not for them.
Perhaps one of the toughest places to be a mother is South Sudan, where violence and drought have combined to create one of the most serious humanitarian crises of our time. Half of South Sudan's population, six million people, are at risk of starvation. Two million people are internally displaced, and another almost two million are seeking refuge and food in other countries.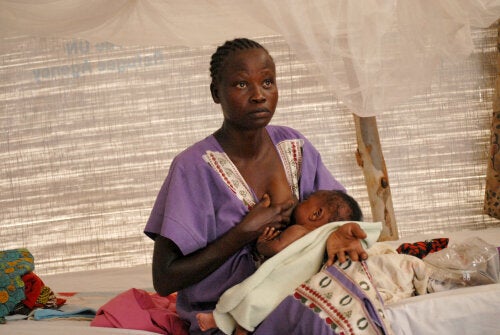 As we observed World Breastfeeding Week, mothers and children in South Sudan made the journey towards safe haven across the border into neighbouring Uganda. Many trekked for days and weeks through scorched bush in 40-degree heat. Children and mothers foraged wild fruits and filled punctured water containers at scarce wells and contaminated water sources.
Along the journey, there is no place to sleep, no ability to bring treasured or even practical belongings, no assurance that they will reach their destination.
For those who successfully cross the border into Uganda, there will finally be relief, safety and community. But even there, rations will be just enough to feed their bellies. The humanitarian community and the Ugandan government are struggling to be able to meet the basic needs of nearly a million South Sudanese who have fled conflict and famine.
At 86 per cent, women and children far outweigh male arrivals. Many husbands, fathers and brothers stay behind to fight on both sides, or, in so many cases, have already perished in the conflict. The women and young girls are especially vulnerable to attack along the way, and must often find hiding places in order to sleep.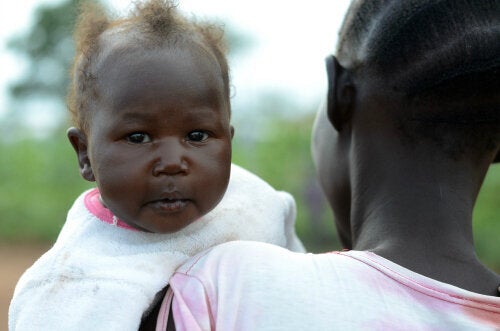 Seeing the situation firsthand
Recently, my World Vision colleague Kristy Allen-Shirley travelled to Bidibidi refugee camp in Uganda, the largest refugee settlement in the world. It's a place that didn't exist nine months ago, but now is overflowing with those fleeing famine and violence. Kristy writes:
The mothers I met in the camp in Uganda, some only hours after arriving in "reception centres" set up to process, assess and assist refugees, are visibly exhausted, patiently awaiting a first hot meal of cornmeal and beans to share with their hungry children.
The line for the meal is long, sometimes taking seven hours to feed the new arrivals. Everywhere, babies wail, nuzzling at their mum's breast for any milk.
Lilian, 27, whose husband and three-year-old child died, is now struggling to feed two-month-old Jonathan. She tells me, "there is no milk coming." Her body is so starved of nutrition that it cannot produce milk. Lilian dips her little finger into the bean gravy and little Jonathan draws on it frantically.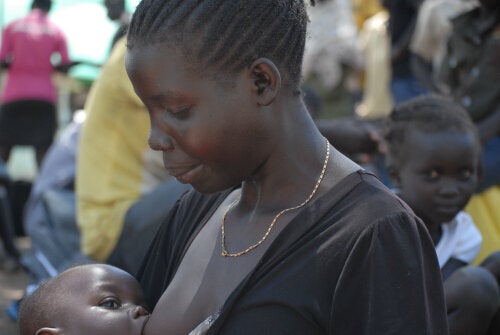 For mothers like Lilian, assistance is already in motion. Once she has registered in the centre, aid agencies collectively ensure each family is given emergency accommodation, food, water and specialist support.
Within a few days she will be allocated her own plot with tent, items such as a mosquito net, solar-powered lamp, tools and food. It is the start of a new kind of journey and one where the future is far from certain, but whilst in the settlement, safety is mostly assured.
Lilian is counting her blessings. She worries for the many others back home: "There are many more coming here," she says.
More than 2,000 people are arriving each day, careening towards a total refugee population of one million.
"Whatever you have, that is what we need," she says, "For now, I just want my baby to be safe."
A recent World Vision report revealed that 81 per cent of South Sudanese moms in Uganda exclusively breastfeed their babies for the first six months. That's compared to 26 per cent in Canada!
After surviving the difficult journey to safety, moms like Lilian have a deep commitment to helping their children survive, no matter what it takes. There is no money to buy formula, and without the usual agricultural tasks moms would have had at home in South Sudan, they spend their time on their kids. That includes breastfeeding whenever baby is hungry.
But Lilian first needs the right food to help feed baby Jonathan. With mom's nutrition levels rising, her milk production will be able to get back to normal.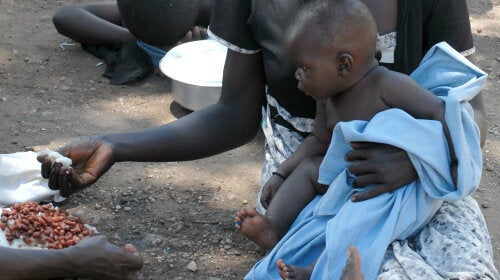 World Vision is working in Uganda's biggest refugee settlements, already assisting more than 600,000 people like Lilian and Jonathan with food, child protection, water and sanitation and relief items. Will you consider donating to help families like these in the world's most vulnerable places? For a mom and her breastfeeding baby, it could be the lifeline they need.
With files from Kristy Allen-Shirley