"Never underestimate how much you are hated."
When I first read this line in a newspaper column, I thought Heather Mallick was so pessimistic, so jaded. I have since come to understand she was right. Unapologetically feminist, raw and painfully real, she shed light on the experiences of women who refuse to "go along to get along."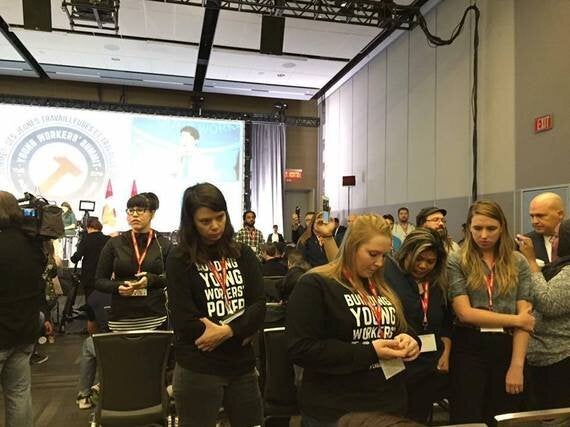 As one of those protesters, I want to express why we chose to display our dissatisfaction with the Trudeau government (though many with a historical view might shake their heads at the naivety of believing THIS Liberal government would be different).
I will never forget how much they hated me for daring to make a statement that differed so publicly from their own.
I must acknowledge that I occupy a privileged space: I'm a white, middle-class, straight, cis-gendered, Anglo, educated woman. Next to white, cis-gendered men, there is no space more privileged. I know many others wanted to stand with us but could not, due to inexperience, positions within the public service, political or union affiliations, or potentially negative impacts on their careers.
The majority of the workers standing up to the prime minister were women, those identifying as LGBTQ, racialized men and francophones. Most of the non-racialized males in the room not only refused to support us, some actively discouraged us from making a statement.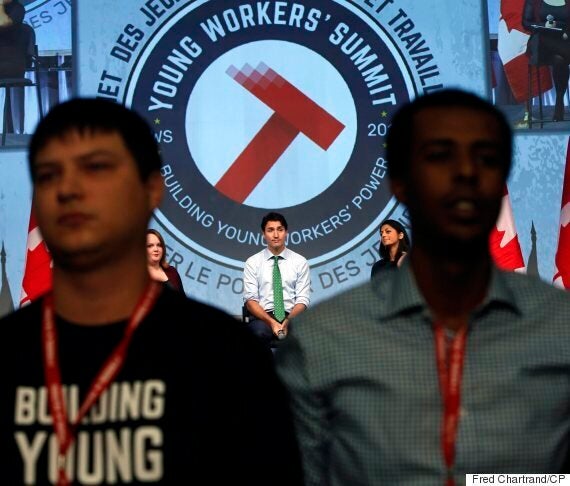 During the previous two days, we had discussed strategies for claiming space, for speaking truth and making the establishment uncomfortable in order to change the system. Yet as we stood to defend causes we all purported to support, most of the non-racialized males in our midst sat back.
The truth is, the position of these men in society was being questioned. By turning our backs on the PM, we were challenging a system built to inherently favour them above anyone else. As many social justice activists assert, the system isn't broken, it was built this way -- to disenfranchise and exclude women, "other" racialized people and anyone suggesting that change should be driven from the bottom up. What has occurred to me is that if white men are not leading the charge, they are often on the defensive.
Oppression does not stop at the labour movement's door.
Some non-racialized Brothers did stand with us and their voice and strength must be recognized. They are true representatives of an inclusive, forward-thinking labour movement, who act with the knowledge that doing so means they may sacrifice opportunity and advantage. Building towards the common good is not easy and I admire their solidarity in demanding that others sit at the table.
I also want to address the women delegates who distanced themselves from us. Realizing their tenuous grasp on privilege and their precarity, some women often find power (and male acceptance) in rejecting feminist dialogue.
Women face the choice of holding onto privilege by rejecting feminist theory, attempting to be viewed as "one of the boys." I understand this temptation but to these women I say, "you will never be one of them." You may be tokenized, placed on a pedestal, flashed before the cameras, but your rejection will be swift should you ever fail to tow the establishment line.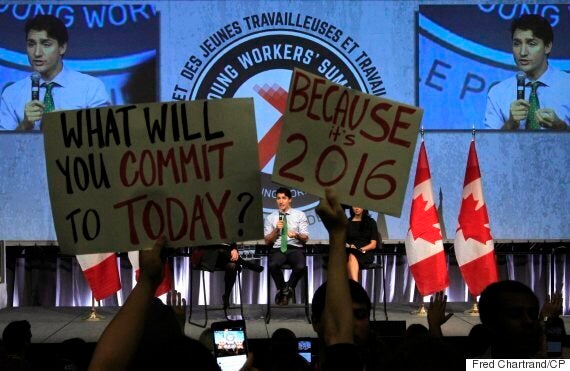 Oppression does not stop at the labour movement's door. It exists within our ranks, at our executive tables, in collective agreements and is displayed for all to see on convention floors. Perhaps it is no longer enough to peer darkly through a glass at the hypocrisies of our movement.
I will never question the fact that I can be deemed a threat by my very presence as an outspoken, empowered and unapologetic woman in a male-dominated space, by my existence and insistence on being heard in a hegemonic enterprise. I will never forget how much they hated me for daring to make a statement that differed so publicly from their own.
Never underestimate how much they hate you, but never let them prevent you from claiming the space that is rightfully yours.
Ontario Federation of Labour Vice-President (Young Workers)
United Steelworkers Local 2010 Vice-President
Follow HuffPost Canada Blogs on Facebook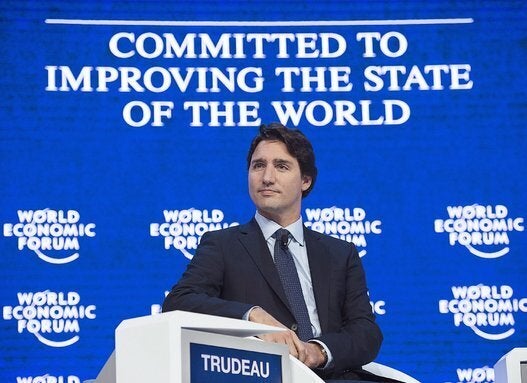 Trudeau Attends World Economic Forum