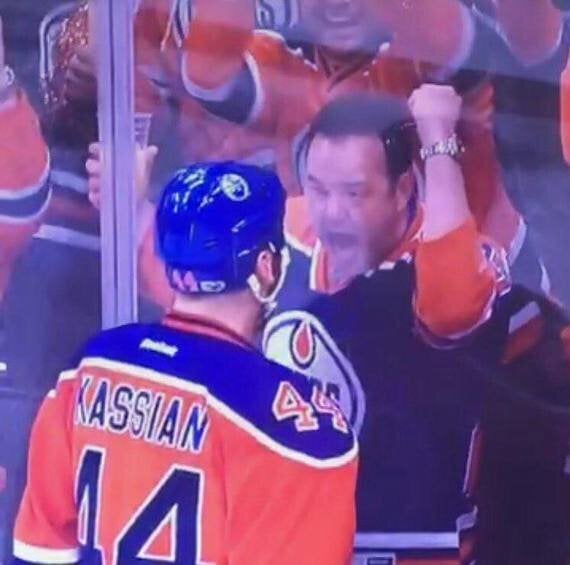 In the video that's been making the rounds, the lucky fan can be seen screaming and pounding on the glass while locked in a lengthy and intense gaze with Kassian, who is on the other side of the glass, in full out warrior pose screaming right back at him.
For true fans of the sport, it was a magical moment that will forever be remembered.
And for Zack and the fan, it seemed like an incredible bonding experience that they will forever share.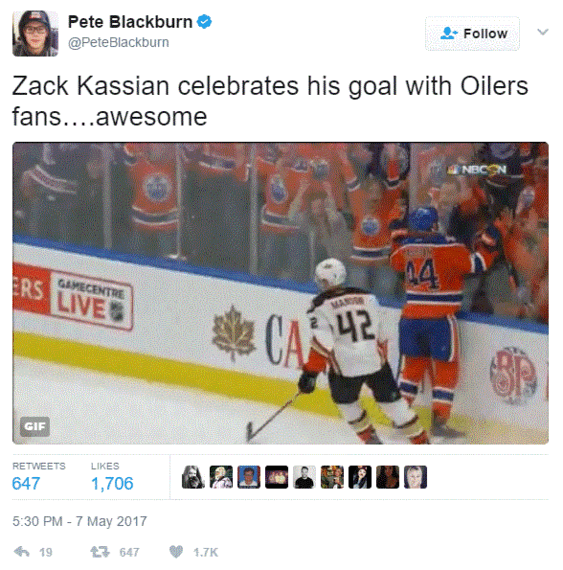 So Who IS This Mystery Fan?
Through a combination of Facebook sleuthing and some major creeping (don't judge me), I managed to track down Kassian's new BFF. He is Brad Ferguson, he's an Edmonton resident and he works at an Ontario based company, Gesco.
Here's what he had to say...
Me: So Brad, how long have you been an Oilers fan?
Brad: Probably since I was 20 (he's 37 now btw). Cheered them on through all of the bad times thinking each year would be the year they broke out. It's great to see them finally progress as a team and be in the position they're in.
Me: What brought you to the game that night? Who were you there with?
Brad: I didn't even want to go after watching the last game lol. My wife said she wanted to go so I found some tickets and the whole family went... all 3 of us, my son and my wife.
Me: During the moment, what was going through your mind and how did it feel to be celebrating with Kassian?
Brad: Only thing going through my head was excitement... I was caught up in the moment... it was pretty intense.
Me: Are you aware of just how special that moment was to Oilers fans?
Brad: I mean it's a playoff game and we won the game in convincing fashion with 5 goals in the first. We were sitting right behind the Ducks net. It was a perfect storm. It was probably a once in a lifetime experience, and one that I'll never forget.
Me: What happened afterward?
Brad: Everybody in my section was pretty pumped and we were sharing pictures. It was pretty cool!
Me: Did you spill your beer lol?
Me: Anything you'd like Zack to know? Final thoughts?
Brad: Just a big thank you for involving the fans in the goal, it meant a lot. I'm planning on getting a print done and hope to get a signature but other than that I just wish them luck!
So there you have it. Mystery man revealed. Zack, if you're reading this, feel free to message me and I'll put you in touch with Brad. I feel like you two should at least have a coffee together.
Follow HuffPost Canada Blogs on Facebook