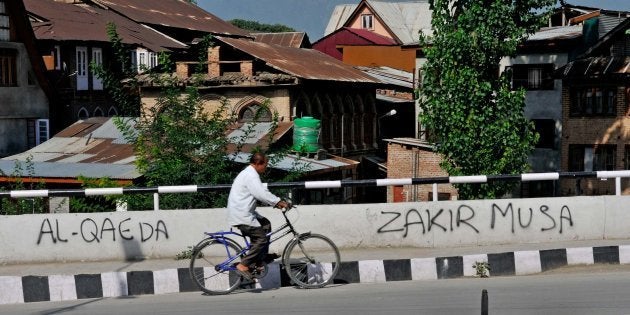 TRAL, Jammu and Kashmir — In the summer of 2017, Zakir Musa, the Hizbul Mujahideen's 23 year old commander, broke ranks with Kashmir's most influential insurgent group to establish the Ansar Ghawzat-Ul-Hind.
Few had heard of the fledgling new outfit, but the Ansar's parent organisation was instantly recognisable — Al Qaeda.
Yet the news, which ought to have rung alarm bells in the Indian security establishment, passed largely unremarked upon. In the 18 months since it was formed, the Ansar Ghawzat-Ul-Hind is yet to be associated with a single encounter with Indian security forces.
Yet as late as last month, the Punjab police arrested three Kashmiri students in a private engineering college in Jalandhar, and accused them of hoarding a Kalashnikov and explosives at the behest of Ansar.
Musa, in the meantime, seems to have vanished. Four senior police officers told HuffPost India his trail had been cold for over a year.
"We received conflicting intelligence reports," a senior security official told HuffPost India. "Some claimed he was killed and buried in an unmarked grave in south Kashmir forest. Other reports suggest that he is no longer in Kashmir, and then some who believe he was killed in a hushed up encounter."
Disappearances are not uncommon in Kashmir — where the decades-long upheaval has obscured the fate of 8000 men according the Association of Parents of Disappeared People — but Musa's life, and the flag of Al Qaeda, imbue his tale with special significance.
Ever since an audio-file, circulated in July 2017 on social media and other encrypted platforms on which Kashmir news first breaks, declared Musa as Al Qaeda's lone representative in the Valley, the Valley's relentless rumour mill has suspected him of serving as a front for many sides in Kashmir's complex conflict — Indian security forces looking to weaken the Hizb, Pakistan's Inter-Services Intelligence seeking to diversify their interests, and even factions within Kashmir's political classes looking to settle scores.
Taken together, these rumours suggest Musa has worked for everyone — except it seems Al Qaeda itself.
Ajai Sahni, Executive Director of the Institute of Conflict Management, noted that Al Qaeda had struggled ever since the killing of their leader Osama bin Laden, and the group's attempts to enter south Asia had largely failed.
"In midst of all this, a chap inspired by Osama takes a video of himself and we are supposed to take him seriously?" Sahni said. "The authorities should have been more careful when the news of his breaking away from HM first emerged and not made a big deal out of it."
HuffPost India spoke to scores of policemen, intelligence agents, well-connected politicians, human rights activists, and parents of militants, to piece together an unusual, if shadowy, portrait of a young man — publicly perceived as a feared militant affiliated with the world's most famous militant group — but seems to be a solitary pawn played by multiple handlers.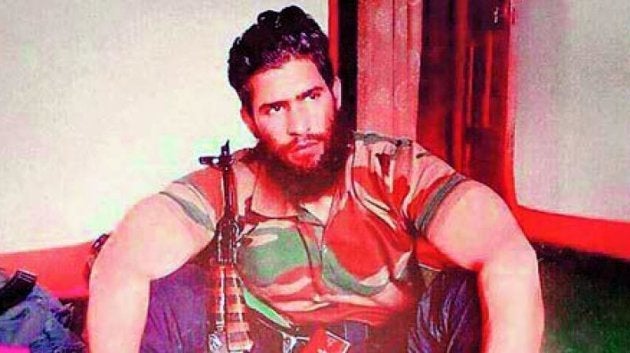 Militant or Mole?
Zakir Musa was born Zakir Rashid Bhat in Noorpora village in south Kashmir's Awantipora region in 1994, at a time when the valley was seething in the first wave of the armed insurrection against the Indian state.
The son of a government employee, Musa left Kashmir after school to study civil engineering in a college in Chandigarh, only to join the Hizbul Mujahideen in 2013 when he came home for a brief vacation. He was only 19-years-old at the time.
In the Hizb, Musa rose quickly and soon became a prominent member of the Burhan Wani faction — a group of young men who harnessed social media to draw a whole new generation of Kashmiris into armed resistance against the state. When Wani, one the most charismatic militants in recent memory, was killed by security forces in 2016, Musa soon took his place.
But eight months after Wani's death in March 2017, Musa suddenly went off script — calling for a global Islamist militant government in the Valley, rather than sticking to the militant group's well established line of either independence or a merger with Pakistan.
"Nationalism and democracy are not permissible in Islam. When we pick up stones or guns it should not be with this intention that we are fighting for Kashmir," Musa said, in a widely circulated video. "The sole motive should be for the supremacy of Islam so that Shariah is established here."
A few months later, in an audio file attributed to Musa, he threatened to cut the heads of Hurriyat leaders if they came in his way of establishing Islamic rule in Kashmir. When the Hizb condemned his statement, Musa announced that he no longer would be associated with the group.
In July, another audio file announced the formation of the Ansar Ghawzat-Ul-Hind, the new militant group ostensibly backed by Al Qaeda.
Yet it is unclear if — the recent Jalandhar incident apart — the new group ever found much traction in Kashmir's rather crowded militancy. In January this year, the Ministry of Home Affair's on January 3 this year informed the parliament that Musa's group had the support of "less than 10 militants". The ministry has previously estimated that Kashmir has about 300 actively deployed militants.
"Musa's popularity increased in the summer months of 2017 but with scores of militants being killed, his hard stance and fiery speeches began to loose their sheen when the same were not followed up by any action," another senior police officer said.
Meanwhile, Whatsapp groups and social media channels were abuzz with rumours of how Musa was frequently caught in cordons laid by the security forces, but invariably escaped unscathed. This led many to believe that Musa, and his Al Qaeda connection, were part of a elaborate ploy by Indian intelligence agencies.
The rumours of Musa's connection to Indian intelligence agencies were so strong that they became a running joke at Home Ministry briefings in New Delhi. Reporters would routinely ask Indian spooks how their man in Al Qaeda was doing, prompting both, nervous laughter and vehement denials, by intelligence agents.
Call for Shariah
There are several theories about Musa's decision to leave the Hizb, and his invocation of the need to impose Shariah in Kashmir.
"Hizb has always used Islam or Islamic symbolism as a driving force since its inception. All of it's commanders never shied away from invoking religion as a primary motivate for their armed movement and Burhan Wani was no different," said a senior police officer quoted above. "Musa being close to Wani shared the same thought but once the latter was killed Musa began to advocate Islam more aggressively."
The officer added that discord within the Hizb had grown much before Musa's March statement, with Sabzar Bhat, another close aide of Burhan Wani, jostling for influence. Musa's statement in March, the officer said, had resulted in Bhat gaining more influence.
"We now suspect that this might have been a trigger for Musa to break away from Hizb," the officer added.
Another theory suggests that Musa's statements might simply have been a badly-executed tactic to negotiate with his Pakistani handlers for more resources. Riyaz Naikoo, current operational commander of HM, for instance, recently released an audio message in which he criticised his base camp in Muzaffarabad stating shortage of weaponry. Naikoo, in the audio is heard saying, his cadre in Kashmir are fighting with bare minimum ammunition.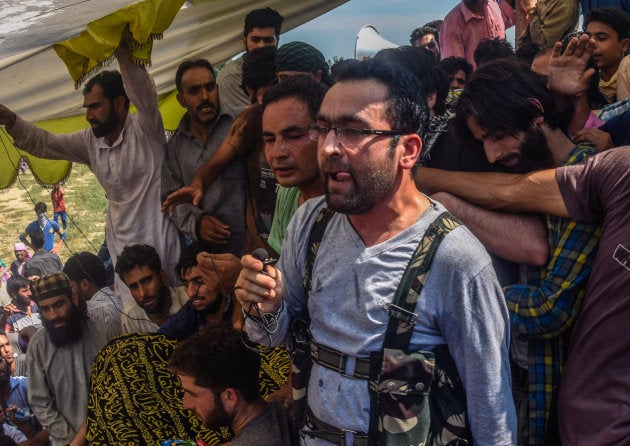 Ejected from the Hizb, Musa would have found himself vulnerable without another group to support him. Establishing the Ansar Ghawzat-Ul-Hind could have been an act of self preservation as much as a call for global jihad.
"It seems more of a media hype rather than anything substantial," said Dr Sheikh Showkat, a Kashmir-based political analyst of Musa's Al Qaeda connection. "Kashmir has been never receptive to certain ideologies. Had it been the case, the 9/11 attack should have changed the militant landscape in Kashmir as well."
As a consequence, the October arrest of three supposed Ansar Ghawzat Ul-Hind agents in Jalandhar has perplexed Kashmiri policemen. The Punjab police are convinced the three Kashmiri students belong to the group, but their counterparts in Kashmir are less sure.
"When we have not been able to find anything concrete on Musa's movement or location in Kashmir since past one year, I am puzzled how did these youth manage to contact him," said a police officer requesting anonymity.
Sufi Suggestion
In August 2018, an audio clip purportedly from Musa, made its way through peer to peer networks on Telegram and Signal before surfacing of Youtube.
In this latest avataar Musa, the civil engineer turned Hizb militant turned hardcore Al Qaeda Islamist, struck a more conciliatory tone, describing himself as treading the path of Mir Syed Ali Hamdani, the famous Sufi saint from modern day Iran credited with popularising Islam in Kashmir in the 14th century.
"People should overcome sects and fight the struggle of Islam by getting united," a voice purportedly belonging to Musa can be heard saying. "Ansar Ghazwatul Hind has no relationship with the Jamaat u Dawlah, as in ISIS. We never had any relationship with them".
It is hard to identify exactly when and where this particular audio file was recorded — there is only a disembodied voice speaking as Musa. Of the man himself, and his corporeal form, there is little trace.