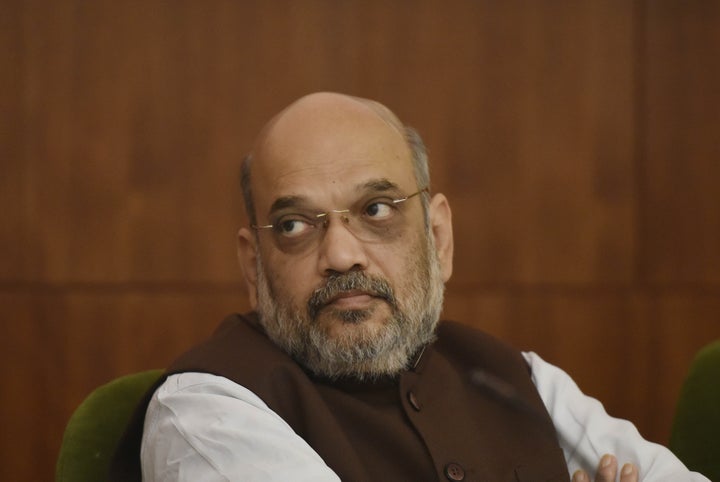 On Wednesday, it was reported that home minister Amit Shah will head a reconstituted group of ministers to deal with issues related to sexual harassment at the workplace. In 2013, Shah was accused of employing state machinery to keep a young woman in Gujarat under illegal surveillance on the behest of a man referred to as 'saheb' in audiotapes accessed by websites such as Cobrapost.
Journalist Rana Ayyub, who wrote Gujarat Files, based on an undercover investigation into the Gujarat riots, told HuffPost India she laughed when she read the news. "This was a man accused of illegally using state machinery to snoop on a young girl, and that man will head a panel on sexual harassment?" she said.
The BJP later released a letter from a Pranlal Soni, in which he claimed to have requested Narendra Modi to keep his daughter under surveillance for her 'security'. Apparently the Gujarat government only complied with the request, which raised various questions about the use of state machinery to put a private citizen under surveillance. Police personnel in Gujarat themselves said that such surveillance was unheard of and a violation of the woman's rights, no matter what her father wanted.
Ayyub pointed out that this was not the only problem. Shah was also implicated in the mysterious death of Kausar Bi, known to be 'gangster' Sohrabuddin Sheikh's wife. Shah was arrested in the Sohrabuddin case but later all 22 accused were acquitted.
"The signal cannot be stronger, the government has absolute disregard for women's rights," she said. She added that Shah's Islamophobic rhetoric and "absolute contempt for civil liberties" makes it difficult for any woman to take the panel seriously.
Is Shah the only problem?
While Shah's appointment as the leader of an anti-sexual harassment panel must be questioned, the first such panel during the last BJP government was also headed by a man — defence minister Rajnath Singh.
Journalist Revati Laul, who wrote the book Anatomy of Hate on the Gujarat riots, said that the problem here was bigger than just Shah or a man heading an anti-sexual harassment panel despite the presence of female ministers. The fact that the same panel barely got any work done during the last government and was dissolved before being reconstituted reveals the government's lack of interest in and commitment to the issue, said Laul.
"They formed a panel with ministers on it. Did they reach out to the women leading the movement? Did they reach out to any survivor and consult them on what needs to be done?" she asked.
The government also did not set up panels of pro-bono lawyers in cities and towns who could probably help women deal with the intricacies of filing a sexual harassment complaint.
"We have enough laws, we do not need any new laws," she said, adding that Shah is not known for his listening skills in governance.
"#MeToo was entirely about listening to women. Have they listened to women and asked them what they wanted?" she said.
Laul also said that the amendments to the POCSO Act, where death penalty is now applicable for cases of aggravated sexual crimes against children, are in line with the BJP's ghus ke marenge approach.
"How will they deal with sensitive cases of sexual harassment?"
Popular in the Community