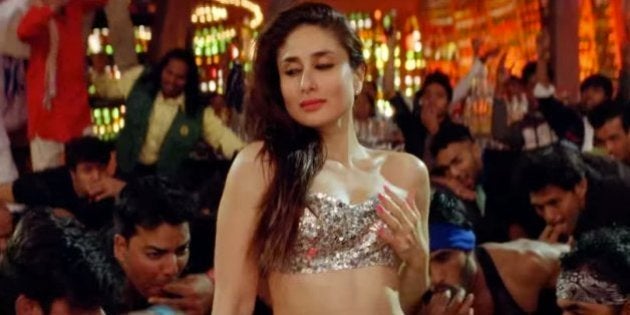 We all know what's wrong with the concept of 'item numbers' in our films, of course. Starting with the name itself, of referring to an attractive girl in skimpy attire as an 'item', these songs have been a sexist and embarrassingly obvious ploy used by Bollywood for decades to attract largely-male audiences to theatres. Often doing nothing to advance the plot and possibly alienating a significant number of viewers, item numbers are considered 'mandatory', when in fact they are usually unnecessary and always misogynistic.
Once seen as a specialty — such as in the case of Helen, who grooved her way into the hearts of filmgoers in the '60s and '70s — item songs have, over the past two decades, extended to include top actresses, such as Kareena Kapoor (who also has one in this week's release, Brothers), Katrina Kaif, and Deepika Padukone (a case of an 'item girl' also being the film's female lead, as seen in 2014's Happy New Year).
Industry supporters of item numbers are likely to say: "This is what the public wants. Films are a business, after all, and producers need to make their money back."
But is that really the case anymore?
Similarly, Tanu Weds Manu Returns, the year's second-highest-earning Hindi film, also did not make use of an item song. Instead, it relied on a singularly radical notion: presenting the film's female lead (two-time National Award winner Kangana Ranaut, rocking a double role) as its 'hero' instead of casting a popular male star.
Now, let's look at the highest-grossing Bollywood films of all time, a list entirely populated by the biggest blockbusters from the past two years. Did the biggest hit of all time, Rajkumar Hirani's PK (2014), have an item number? No. Did Hirani's other mega-hit, 3 Idiots (2009), have one? Nope; in fact, Hirani, easily the most successful director working in Bollywood today, hasn't bothered with an item number since 'Dekh Le' in his debut hit Munna Bhai MBBS (2003). So far, we've listed four films that have earned a grand total of Rs 1800 crore between them worldwide. Somehow, miraculously, these films managed to get audiences that probably included young men to theatres without having to cater to their libidos.
Meanwhile, let's look at some of the other films on that list. Sure, Dhoom 3 (2013) featured a Katrina Kaif number that required her to strip off parts of her clothing bit by bit. But is that what brought audiences to theatres, or was it the fact that it was an installment in the most popular franchise in Bollywood history that also happened to star Aamir Khan? This video of reactions from people leaving a show of Dhoom 3, shot around the time of its release, seems to suggest it's the latter. In the same vein, isn't it true that people are probably more likely to remember 'Lungi Dance' from Chennai Express, rather than Priyamani's brief appearance in 'One Two Three Four'? Or that people were more taken in by the epic battle scenes in S.S. Rajamouli's recent multilingual blockbuster Baahubali: The Beginning, rather than the song 'Manohari'?
Seriously, do you think anyone thought this song was one of the film's highlights?
Isn't it possible, Bollywood, that — just as audiences seem to be tired of recycled plot-lines and have more or less rejected once-regular tropes such as reincarnation and religious and supernatural dei ex machina — Indian audiences are slowly-but-surely falling out of favour with the very concept of item numbers?
It's 2015, after all, and times have changed from the era that saw the likes of Helen, Bindu, and Aruna Irani play item girls or 'vamps'. More than 350 million Indians now have access to the Internet and, by association, much more titillation than you could ever provide (despite the current government's best efforts — also, who knew that there would be an upside to having a Censor Board?).
Moreover, a lot more Indians are watching other kinds of films — Hollywood, regional, indie, world — than ever before and realising, amongst other things, that this item number shtick is nothing but an easy marketing tool for you guys. We're also realising that item numbers are an easy way for filmmakers to avoid having to develop strong female characters or cast actresses for their talent rather than their looks and willingness to be objectified gratuitously simply because the status quo is such.
Both these numbers are only projected to grow. Hirani is yet to deliver a flop. Meanwhile, not a single hit film this year has had an item number; the only one that comes close is Gabbar Is Back, which didn't actually make money as much as it did a good job of NOT losing too much money.
So do the math, Bollywood. We know you don't care much about being socially responsible, but surely you know your way around numbers, don't you?