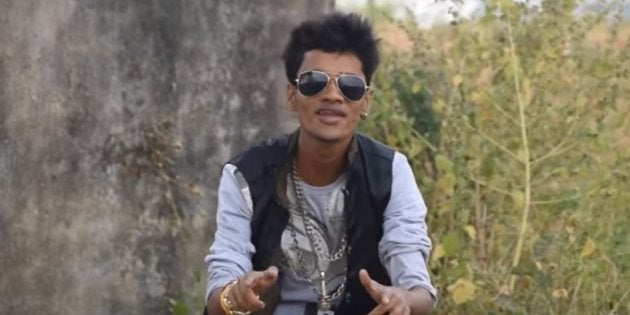 If a woman encounters a louche singing these lines — "dekh ke jawani teri jhatka meinu lagta hai, neeche wala dekh mera saltue tenu karta hai," (your youth electrifies me, my nether regions are saluting you) — to her on the road, the reaction would expectedly be shock, disbelief and anger.
Now imagine hundreds of people in different places coming together to sing a song that celebrates misogyny, sexual harassment and rape culture.
For some time now, Indian Internet has been preoccupied with a man called Omprakash Mishra. For the unaware, Mishra is a self-styled rapper whose claim to fame is a song called Aunty Ki Ghanti. A ghanti he is, predictably, just dying to ring. The placement of innuendos in the song has the nuance of a sledgehammer.
The 3-minute song, released on Youtube in 2015, is an ode to Mishra's agony as he spends most of his waking hours pining for an unknown 'aunty', while creepily stalking her/commenting on the length of her hemlines/outraging over how she is 'taking it' from other strangers, but refusing him.
For almost two years, the song languished in a mostly unvisited corner of Youtube, where it should have stayed; but a couple of months ago it was rediscovered by desi humour pages on Facebook propelling it to instant stardom, spawning dozens of 'Bol na aunty au kya' memes in the process. As of today, it has almost 3 million views to its credit.
Some of the gems from the song:
"Itna mast figure tu kaise ye banati hai; din mein das baar dekh tu marwati hai." (How do you maintain such a great figure,; I masturbate 10 times a day thinking of it.)
"Tera taala, meri chabi ek night ki hai baat; maan ja aunty, sun le meri baat." (Your lock and my key, it's only a matter of one night; please agree, listen to me.")
"Teri to ghanti bajana aauntie meine thani hai, night mein yeh dekh meinu sot lagani hai." (I have resolved to ring your bell, I want to make it happen at night.)
"Jawani ka sara maja dekh mujhe lootna hai; din mein das baar dekh mujhko marwana." (I want to enjoy my youth; I want to come 10 times a day.)
You could be forgiven for thinking that the reason for Mishra's sudden fame is that people are, at the very least, annoyed by violence implied in the lyrics and objecting to it.
Just when you start to believe that the Internet's bar for virality is scraping the bottom of the barrel, Mishra proves that the Internet is, in fact, a bottomless pit of grossness and stupidity.
On 11 September, Sh*t Indians Say, a Facebook page, organised an event at Connaught Place (CP) in Delhi, inviting people to show up and shout 'Bol na aunty au kya' on the roads. Hundreds of people showed up for it, as is evidenced by the video below.
A similar event is being planned in Mumbai on Sunday 17 September. This one promises to be bigger than the one in Delhi, with a confirmed live performance by 'RapKing' Mishra himself.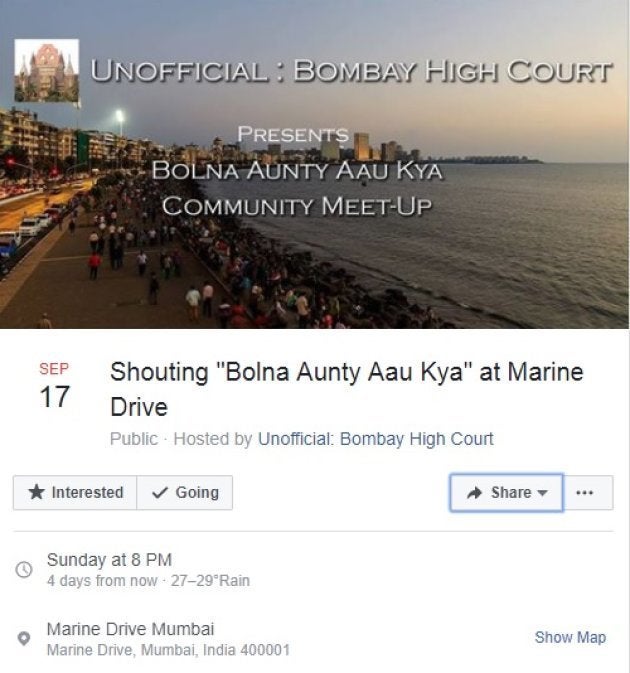 Two more events, in Noida and Mumbai, are being organised on 17 and 16 September, respectively.
Scrolling through the event pages of these undertakings is an exercise in masochism. One organiser is offering free samosas and printed lyrics for attendees. There are those that are imploring their friends from other cities to fly to Mumbai for the 'unmissable' and 'epic' event; and those that are excitedly making posters and announcing compulsory attendance for their buddies.
There is nothing surprising about cringe pop's resurrection in India. Vennu Mallesh's 'non-fictional, psychological and philosophical song' from 2012, It's My Life Whatever I Wanna Do has earned him a staggering 11 million hits on Youtube, bringing him national and international fame. Bhim Noroula's 2013 hit, Sunday Morning Love You, has garnered 5 million views. Earlier this year, Dhinchak Pooja became a viral sensation with over 25 million for her off-key and utterly tuneless Selfie Maine Leli Aaj.
It would be safe to say that none of these songs is high art. Which is fine. The whole point of cringe pop is its strange quality — for example, Taher Shah's 'Angel' — a song so bizarre that it has become an Internet sensation. All it says about us as a people is that there's really no telling what we might turn into a collective obsession overnight.
But when young, educated people with unlimited access, reach and voice, thanks to the Internet, actively consume and encourage pop art that not just normalises, but glorifies sexual violence, it says something disturbing about the collective conscience of our society.
It is appalling that a song so unmistakably sexually aggressive in its intent, with every lyric objectifying and belittling women, has been elevated to the status of a youth anthem.
While reporting on the gathering of people at CP, Buzzfeed's Sahil Rizwan wrote: "Hundreds of strangers on the internet had actually got off their chairs and gathered in service of a greater good – to hit on a non-existent aunty."
Perhaps it is the entitlement afforded by the distance we perceive ourselves to have, in real life, from such 'low art' that enables us to dismiss the violence in the words we are happy to lip-sync.
Imagine the outrage if a Bollywood biggie was to dance to a song that justified his feelings of entitlement to sex with a woman who won't give him the time of the day. Social media would explode with the collective force of the outrage in the very voices that are screaming themselves hoarse at Aunty ki Ghanti. The team behind such a song would have a PR nightmare on their hands.
But somehow, the same rules don't apply to what we consider lower forms of entertainment.
What are the odds that the popularity of this song is going to lead to a dozen other me-toos talking about their own sexual frustrations with the women around them? Who wants to wager that every song the so-called rap king produces for the foreseeable future is going to be equally graphic in its description of unsolicited sexual attention?
And then we wonder why, as a society, we are unable to stop seeing women as objects created for male pleasure.
Over the last couple of days, I've seen several people I'm friends with announce on Facebook that they're going to attend the mega 'Bolna Aunty Au Kya' event in Mumbai, and sharing the video.
Many of those same people wrote earnest updates lauding the AIB for their newest music video with Kangana Ranaut, talking about the objectification of women in pop culture.
Meanwhile, irony is scampering around, probably looking for a corner to quietly hang her head in shame.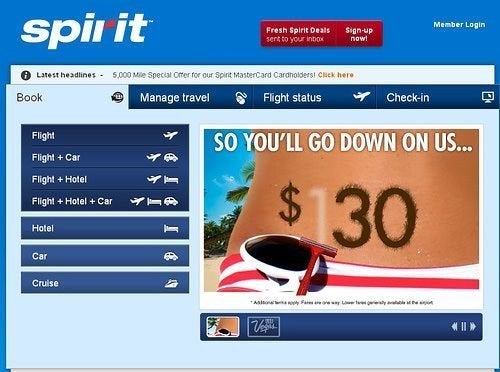 11 Sexist Advertising Fails
Popular in the Community