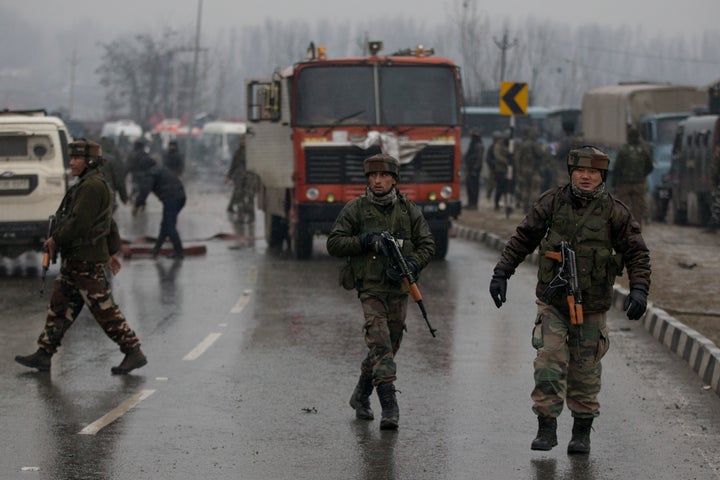 A day after at least 40 CRPF personnel were killed in a deadly attack in Jammu and Kashmir's Pulwama district, India has revoked the 'Most Favoured Nation' status to Pakistan.
The decision was announced by Union minister Arun Jaitley after meeting of the Cabinet Committee on Security (CCS). He also said that the Ministry of External Affairs (MEA) will initiate diplomatic steps to ensure complete isolation of Pakistan in the international community.
India granted the MFN status to Pakistan way back in in 1996, but the neighbouring country has not yet reciprocated.
The MFN status was accorded under WTO's General Agreement on Tariffs and Trade (GATT). Both India and Pakistan are signatories to this; and are members of the World Trade Organisation (WTO), which means they have to treat each other and the other WTO member countries as favoured trading partners in terms of imposing customs duties on goods.
Removal of this status means India can now enhance customs duties to any level on goods coming from Pakistan, a trade expert told PTI.
Under the MFN status, a WTO member country is obliged to treat other trading nations in a non-discriminatory manner, especially with regard to customs duty and other levies.
Jaitley said that those who committed this heinous act or supported it will be made to pay a heavy cost.
The Jaish-e-Mohammed claimed responsibility of the attack in which a suicide bomber rammed a vehicle carrying over 100 kg of explosives into the CRPF convoy.
India had on Thursday slammed Pakistan over the terror attack and asked the neighbouring country to stop supporting terrorists and dismantle terror infrastructure operating from its soil.
India also strongly reiterated its appeal to all members of the international community to support the proposal to list terrorists, including JeM chief Masood Azhar, as a designated terrorist under the 1267 Sanctions Committee of the UN Security Council, and to ban terrorist organisations operating from territories controlled by Pakistan.
Pakistan has rejected India's charges, saying the terrorist attack "is a matter of grave concern". Pakistan's Foreign Office, in a statement, said, "We have always condemned heightened acts of violence in the Valley."
"We strongly reject any insinuation by elements in the Indian government and media circles that seek to link the attack to the State of Pakistan without investigations," the FO added.