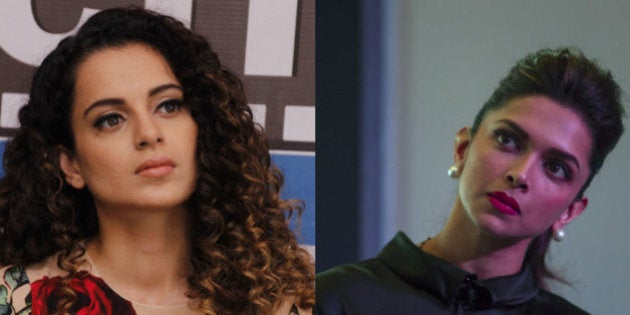 Kangana Ranaut and Deepika Padukone are so katti right now, it's not even funny.
Khan and Advani were largely diplomatic and spoke about people they'd had problems with in the past, but had since made up and moved on. However, Ranaut was much more straightforward when asked about Padukone.
"I just want to be left alone," she replied, when Masand asked her whether this relationship would ever recover.
Later, in a statement directed at people she considers herself 'katti' with (read: Padukone, at the very least), she said, "When creative people work together, issues come up. But then they can't continue interfering in your life."
She added: "They need to concentrate on their work... probably, what they want to achieve by interfering in my life they will achieve when they concentrate on their work, their movies, their performances. But that's not happening. So they're definitely not getting what they want."
The Tanu Weds Manu Returns actress seems to have drawn flak for this statement as well as her recent behaviour. According to a report by The Deccan Chronicle, murmurs across the industry are saying that her recent success and her new-found friendship with superstar Hrithik Roshan seem to have gone to her head.
An unnamed source, said to be formerly close to the actress, had this to say:
I can't recall a single incident or an interaction where Kangana has not taken on people or bragged about her stardom. Neither Priyanka Chopra nor Deepika Padukone have ever sounded so arrogant. Yes, Kangana's films have done well but there are serious doubts about her ability to handle success.
Ranaut and Padukone have had a beef with each other since January, when the latter won a best actress award at the 21st Life OK Screen Awards held that month. Padukone, who won for her turn in Happy New Year (2014), had said, "Thank you for this award, but I believe that this year belonged to Kangana [Ranaut]. So, Kangana, this one's for you." She was referring to Ranaut's performance in Queen (2014), which won her several accolades and awards, including the National Award.
Ranaut's response to this appeared icy. "I hope someday, she would tell me in person what she feels about my work. I would appreciate that a lot more," she reportedly said. A FirstPost column opines that her reply "rather plainly" highlighted that Padukone's seemingly well-meaning statement seemed like a "public relations exercise".
Padukone did end up calling Ranaut to tell her that in person, but then, reportedly, they had further problems over Ranaut's decision to make the conversation public. The pot was stirred further when Padukone skipped the screening of Tanu Weds Manu Returns, later on.