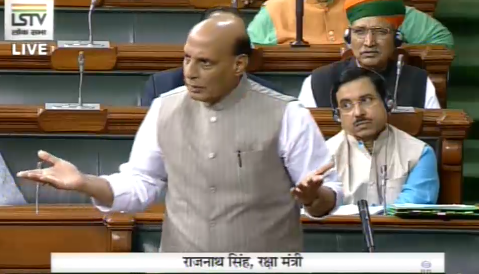 The rape and murder case of the 26-year-old veterinarian in Hyderabad rocked the Parliament on Monday with members condemning the incident and demanding stringent laws to punish the guilty. Jaya Bachchan even suggested that rapists should be lynched.
Responding during Zero Hour, Defence Minister Rajnath Singh said the government is ready for a discussion in Lok Sabha on the issue of crime against women. "We are ready for discussions in the House so that stringent provisions in laws could be explored to give punishment to those involved in such ghastly incidents," PTI quoted him as saying.
Rajya Sabha Chairman Venkaiah Naidu described the Hyderabad incident as a "disgrace to humanity" and said what is required is not a new bill but "political will". Those accused in such crimes should be publicly identified, The Hindu quoted him as saying.
Congress's Ghulam Nabi Azad said problems cannot be solved by simply making laws. "To eradicate such acts, there is a need that we take a stand together against such crimes," he was quoted as saying by NDTV.
Samajwadi Party's Jaya Bachchan said the rapists should be "brought out in public and lynched" and added that the "people now want the government to give a proper and definite answer".
"What has happened? How they have tackled it and how far justice has been done to these people?" she said.
"A similar incident happened in Hyderabad a day before the vet was raped. Do you not think the security incharge should be questioned and they should be asked to give an answer why they were not able to protect that area?" she was quoted as saying by Hindustan Times.
Later, outside the Parliament, she also said, "If you have not been able to provide security then leave it to the public to give judgement."
Vijila Sathyananth of the AIADMK said the country is not safe for women and children. She also said that fast track courts should be set up and the accused in the Hyderabad case should be hanged before 31 December.
DMK's P Wilson, according to PTI, said courts should be empowered to surgically and chemically castrate convicted rapists before they are released from jails so as to check repeat offenders.
He added that the cost of such procedure should be recovered from the accused by selling his assets. He also demanded that a list of sexual offenders should be made public.
Popular in the Community