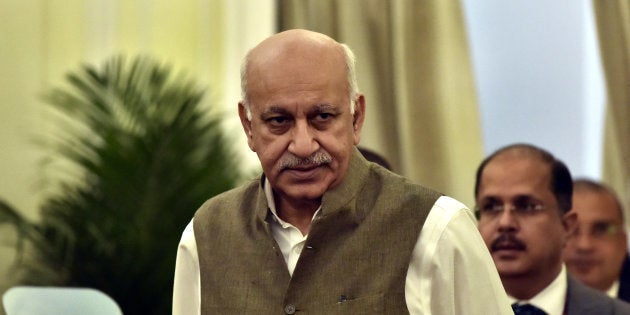 As the #MeToo movement takes the entertainment and media industry by storm, allegations of sexual harassment have surfaced against former journalist MJ Akbar, now the Minister of State for External Affairs.
More than one woman journalist took to Twitter to share their experience and accuse Akbar of being a predator.
A year ago, when the #MeToo movement was taking place in the US, journalist Priya Ramani had written an article in Vogue titled 'To the Harvey Weinsteins of the world', where she recounted her first experience of workplace harassment.
Ramani hadn't named anyone in her account, but on Monday, a year later, said on Twitter that she was referring to Akbar as the editor who interviewed her in his hotel room. She said in a tweet:
Ramani's tweet got several replies where others accused the editor of having a "track record" of predatory behaviour.
Ramani said that her incident took place at the Oberoi hotel in Mumbai when "I was 23, you were 43".
She recounted that Akbar had called her to the hotel in the evening and asked her to come up to his room for a job interview. She said he offered her a drink, which she refused, and even asked her to sit close to her.
"Turns out you were as talented a predator as you were a writer. It was more date, less interview. You offered me a drink from the mini bar (I refused, you drank vodka), we sat on a small table for two that overlooked the Queen's Necklace (how romantic!) and you sang me old Hindi songs after inquiring after my musical preferences. You thought you were irresistible."
The bed, a scary interview accompaniment, was already turned down for the night. Come sit here, you said at one point, gesturing to a tiny space near you. I'm fine, I replied with a strained smile. I escaped that night, you hired me, I worked for you for many months even though I swore I would never be in a room alone with you again.
Describing the predatory behaviour of men in office spaces, Ramani wrote that "the world has changed but your species is just the same".
Akbar, now a Member of Parliament in the Rajya Sabha, was the founding editor of The Telegraph, launched The Asian Age and has worked in several other media organisations.
On Tuesday, The Telegraphran a front-page story on the allegations against Akbar, its founding editor, with the headline #MeToo finger at Union minister.