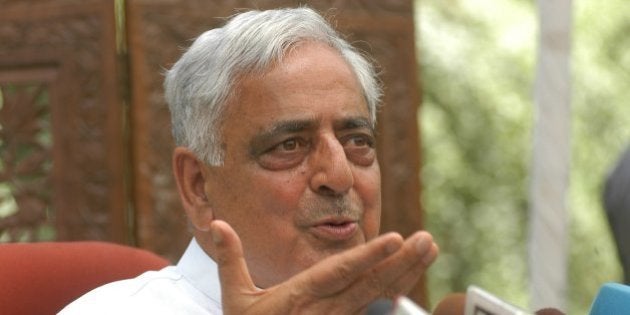 Peoples Democratic Party leader Mufti Mohammad Sayeed took oath to become chief minister of Jammu and Kashmir State on Sunday morning. Sayeed's taking charge ended 49 days of Governor's Rule since the assembly election results were announced in December.
Bharatiya Janata Party leader Nirmal Singh took oath as deputy chief minister.
The new Jammu and Kashmir State government is the first time an alliance has been formed between the PDP and the BJP. Sayeed, 79, who founded his party in 1999, has dubbed the PDP-BJP alliance as the meeting of "North Pole and South Pole."
"We have to merge North Pole and South Pole," he said after taking oath on Sunday. "We want to make this alliance a turning point. We want to do justice for all people."
Sayeed was administered the oath at General Zorawar Singh Auditorium of Jammu University shortly after 11 am. The function was attended by Prime Minister Narendra Modi and other senior BJP leaders including L.K. Advani and Murli Manohar Joshi. Modi described the alliance as a "historic opportunity."
PDP-BJP govt is a historic opportunity to fulfil the aspirations of the people of J&K and take the State to new heights of progress.

— Narendra Modi (@narendramodi) March 1, 2015
The December assembly election, which recorded one of the highest voter turnouts in Jammu and Kashmir, led to PDP emerging as the single largest party with 28 seats, BJP 25, National Conference 15 and Congress 12.
Besides Sayeed, PDP's 13 and BJP's 11 lawmakers also took oath as ministers. Separatist-turned-politician Sajjad Gani Lone, who met Modi ahead of the elections in Delhi, was also sworn-in as a minister.
In 2002, Sayeed headed a PDP-Congress coalition government for a three-year term. The PDP and BJP have agreed that Mufti will be the chief minister for the full six-year term.
Although the BJP and PDP have struck a deal, there is concern over whether the two parties will be able to function together given their vast ideological differences on critical issues like Article 370, which gives special status to Jammu and Kashmir State, and the AFPSA law, which shields soldiers from prosecution in conflict zones.
BJP has stood for the abrogation of Article 370, but PDP has pushed for greater autonomy than what is available under the current constitutional scheme. BJP backs AFSPA as necessary to battling the low-intensity insurgency in Kashmir, but PDP wants its withdrawal.
On Sunday, the J&K government released its Common Minimum Programme, a document that aims to give some insight into how the two parties plan to tackle some of these tough issues.
On AFSPA: The coalition government will thoroughly review security situation in state with a view to examine need and desirability of all the special laws being applied to state.
On Article 370: While recognising the different positions of both parties the present position will be maintained on all the constitutional provisions including special status.
In a press conference, Sayeed said that he favoured a dialogue with Pakistan, and the Indian government should consider the view point of the Hurriyat Conference, an alliance of separatist leaders. Sayeed also said that Pakistan, Hurriyat & militants had allowed for the peaceful conduct of elections in November-December.
Political opponents of the BJP and PDP have reacted to their alliance with skepticism.
"If these two political parties can come together this clearly indicates that power is a very potent clue and someday the sun can rise from the west," Manish Tewari, Congress leader told ANI.
Former Chief Minister Omar Abdullah doled out several jibes on Sunday afternoon over Twitter.
"Pakistan, Huriyaat & Militants ALLOWED peaceful conduct of elections" says Mufti Syed. I guess we should be grateful for their generosity.

— Omar Abdullah (@abdullah_omar) March 1, 2015
Ashraf was the same person who fired an AK47 to celebrate when he beat me. What the hell will he fire today to celebrate becoming minister:)

— Omar Abdullah (@abdullah_omar) March 1, 2015
BJP Ministers swearing allegiance to the same constitution of J&K that Shyama Prasad Mukherjee died trying to get rid of #irony

— Omar Abdullah (@abdullah_omar) March 1, 2015
Popular in the Community